As I'm getting ready to host a festive holiday party, a white elephant extravaganza, I'm turning a few holiday cards into treat trays! This is a great way to save those special holiday cards from friends and family you receive over the years, giving them new life! Simply add a few of your favorite sweet treats to the tray and you're ready to party!
I'm partnering with Hallmark and their 12 Gifts Campaign. This season Hallmark is sharing 12 days of holiday savings to make your spirits bright. Each day (starting 12/1) Hallmark will share a new in-store deal. Each night (starting 11/30) Hallmark will share inspiration online for making your holiday merry and bright. Tonight's inspiration is all about creative ways to display your holiday cards! Tomorrow's deal is Buy One, Get One 50% Off Hallmark Holiday Boxed Cards (equal or lesser value; limited time offer; some exclusions apply).
Join me tonight for some fun on twitter and pinterest #Hallmark12Gifts, Dec. 3rd 8pm CT, as Hallmark is giving away super fun prizes – deals by day, inspiration by night!
Here's today's inspiration – something to personalize your holiday trays!
Supplies for Holiday Card Treat Tray:
holiday card
scissors
plain tray or plate
decoupage glue (Mod Podge)
sponge brush
wrapped candy
1. Trim your card to size, making sure it's exactly how you want it on your tray.
2. Add a thin layer of glue to the blank tray and to the back of your card. Place your card onto the tray and center it, pressing it into place. Make sure you press your card firmly all around so there are no bubbles underneath.
3. Let your first layer of glue dry at least 15 minutes.
4. Add a top coat of glue to the card and all around the tray. Let this dry once again.
5. Apply a second coat of glue to give it a nice finish. Let this dry completely, up to 24 hours, before adding anything to your tray.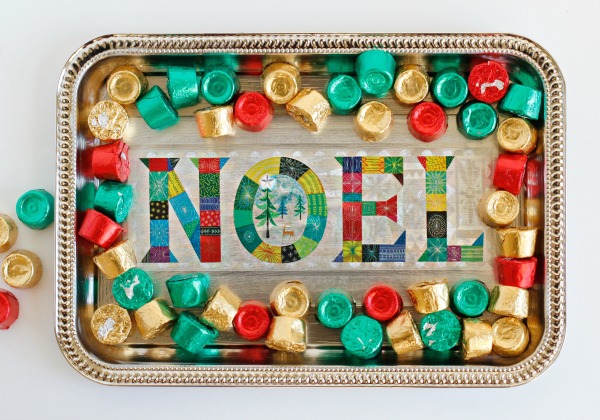 Now it's ready to add some super sweet treats! I like placing the candies around the edges, letting the center of the card show as a decorative part of the tray!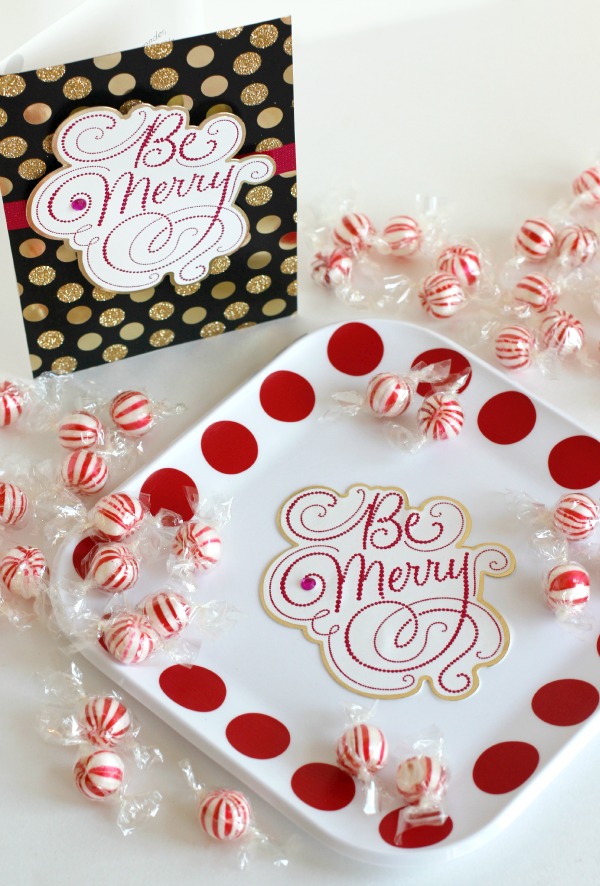 I also use this 'Be Merry' card for a tray, as the text was an added embellishment to the card. It came off easily and was fun to add to my peppermint tray!
Have fun with your holiday card collecting this season!
Be sure to follow Hallmark's #Hallmark12Gifts pinterest board for great gift ideas and special offer info. Find them on twitter, facebook, and instagram for all kinds of holiday inspiration!
* Thanks to Hallmark for sponsoring this post. Opinions and craft ideas are my own.