I admit it – we've been indulging in some delicious treats so far this summer. Strawberry shortcake, a marshmallow roast and s'mores bar, and now these tasty cookie and ice cream morsels. My girls were quite smitten with these cute and yummy mini cookie ice cream sandwiches. Cookies and ice cream are a delicious combination!
Mini Cookie Ice Cream Sandwiches
Supplies:
mini-sized cookies
ice cream
ice cream scoop, or melon baller
tray
bowls and spoons
Instructions:
Grab some mini-sized cookies and your favorite flavor of ice cream.
We went with mini chocolate chip cookies and mini vanilla wafer cookies, plus some classic vanilla ice cream.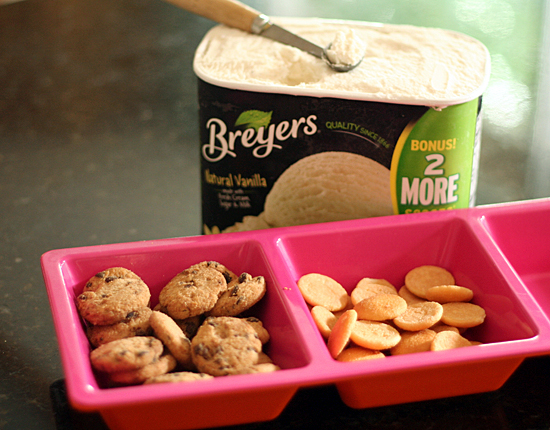 A melon-baller, measuring spoon, or cookie dough scoop work great for making small scoops of ice cream.
You'll also need a tray or plate to put your ice cream sandwiches on. Choose something that will fit in your freezer, and make sure you clear some space in your freezer before you get started. I may have forgotten that step, and had to quickly toss bags of frozen veggies out of the way to make room! :)
Put your kids to work scooping ice cream, placing it on one cookie, and topping with another cookie.
Gently press the cookies together. Remember, your ice cream sandwiches will still be delicious even if they don't look perfect! My girls had a great and messy time assembling their ice cream sandwiches.
Pop the mini cookie ice cream sandwiches into the freezer for 15-30 minutes.
Ours were getting pretty melty by the time I put them in the freezer. Next time, I'll probably have the girls make a few at a time and get them in the freezer sooner. They turned out just fine, though!
Enjoy!
Mini cookie ice cream sandwiches are a perfect cold treat on a hot summer night. And, since they are so tiny, you don't have to feel guilty about eating many of them, right? Enjoy!