I'm in LOVE with these Valentine Heart Cookie Sandwiches. And these little cookie hearts were meant to beat as one! They are perfect and cute and pink with red sprinkles. What is not to LOVE?!
Valentine Heart Cookie Sandwiches
Supplies:
your favorite cookie dough
red food coloring (unless you use a strawberry cake mix)
frosting and knife
heart shaped cookie cutters
bowl of sprinkles
Method:
1. It's best to use sugar cookie dough to cut out heart shaped cookies and you can dye the dough red or pink. But I actually made cake mix cookies and used a strawberry cake mix. It was perfect.
I still flattened out my dough and cut out the heart shape with my cookie cutter for the large hearts you see below. That could work, but they weren't perfect. So after my cookies baked, I ended up cookie cutting little tiny hearts inside the baked large heart almost right out of the oven. And we ate the left over pieces, yum. So again, sugar cookies are best, but these others worked out great and I already had the cake mix!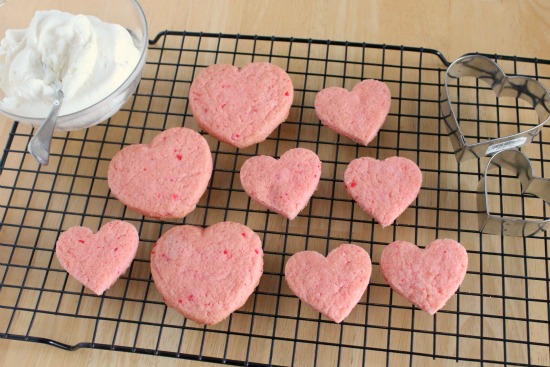 2. Spread a layer of frosting onto one cookie. The frosting could really be any color. Then add another heart cookie on top of the frosted cookie for a sandwiched cookie. You might need to run your finger or your knife along the edge of each sandwiched cookie to help keep the frosting from spilling out.
3. Carefully dip every side of frosting from your heart cookie into the red sprinkles. Shake off any excess.
These cookies are ready to give to a loved one. Perfect for your Valentine.