We love to kick-off summer vacation with some sunshine-inspired arts & crafts time! This sunshine summer journal, with a colorful paper collage cover, can be filled with drawings, stories, photos, and more. A child's summer journal is a fun keepsake, plus it's a laid-back way to keep your kiddos thinking, learning, and writing all summer long.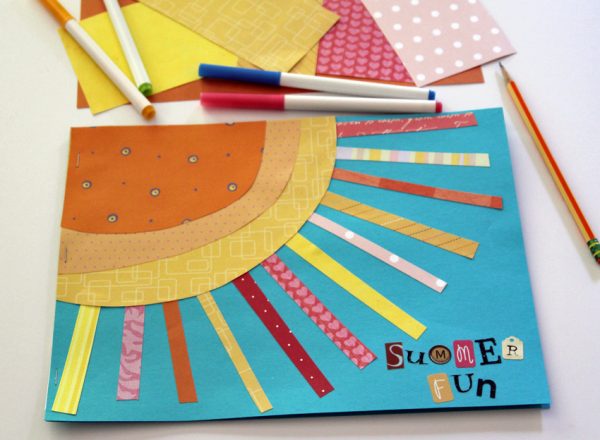 Sunshine Summer Journal for Kids
A fun summer journal starts with a bright and sunny cover! Create a paper collage sunshine using a variety of warm-colored patterned papers. This is a perfect project for using up paper scraps or recycling magazine pages.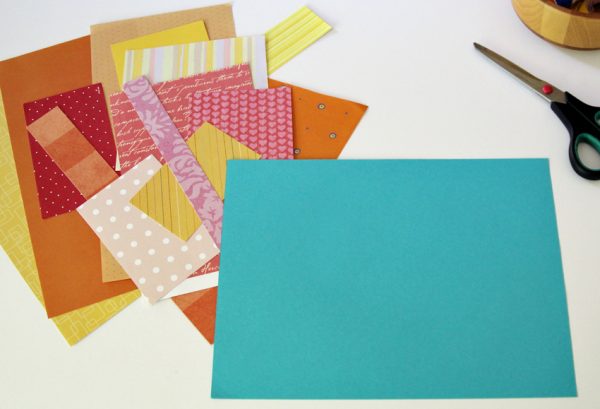 Supplies:
2 sheets of colored construction paper (9×12″)
assorted paper scraps in oranges, yellows, reds, and pinks
scissors
glue stick
letter stickers or stamps
a stack of plain copy paper (for the journal pages)
stapler
Instructions:
Start by cutting a large curved shape from a piece of colored paper. This doesn't need to be a perfect curve – just free-hand it!
Glue the largest curved paper down, then cut and glue two more rounded shapes to complete the main part of the sun. If necessary, trim off any pieces of patterned paper hanging over the edges of the cover.
Cut a bunch of strips from a variety of patterned paper scraps. Again, these don't need to be perfectly straight or all the same. Arrange the paper rays around the sun, trimming them as needed. Then, glue all the paper strips to the background paper.
Give your journal a title using letter stickers or stamps, or just write the title with markers. You might title your journal Summer Fun, My Summer, or Summer Adventures.
Stack the cover on top of some blank copy paper and another sheet of colored construction paper. Use three staples on the left hand side to finish your sunshine summer journal.
Now that your journal is ready, here are a few ideas for using this journal all summer long!
Summer Journal Ideas:
Fill a jar with ideas and prompts and pull one out each day to write and draw about. Simple prompts can be enjoyed by a variety of ages, such as design your dream house, create a new flavor of ice cream, or tell about your favorite meal.
Every day, draw or write about a favorite thing you did or saw – an outing, meal, book, friend, movie, park visit, etc.
Try writing simple poems or making sticker stories.
Add to your journal scrapbook-style by including photos, tickets, maps, etc.
Make a weather chart page, or keep track of birds you see in your yard.
Bring your journal on a summer road trip, and draw or write about your adventures.
Read a book about something new, then write a list of interesting facts.
To encourage your kids to use their journals throughout the summer, set aside a regular time most days to draw and write together. This could be right after breakfast, during inside play on hot afternoons, or for a few minutes before bed.
Have fun writing, drawing, and creating in your sunshine summer journal!