Valentine's Day is just a few days away. We're celebrating with a Valentine's night surprise for a brownie sundae for two!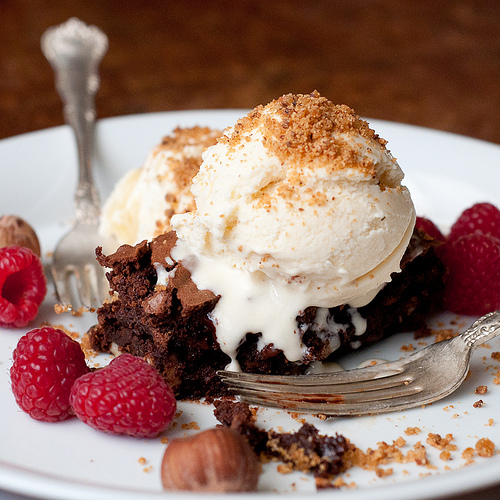 Valentine's Day Brownie Sundae
We usually stay home and put the kids to bed and try to have a romantic dinner together–usually between requests for one last drink of water and one more story :) And with dessert, I really try to make a night in special. Here is an idea I've been kicking around for a few years and decided to try finally.
Pear Ice Cream is incredibly delicious. (I made my husband a believer just yesterday.) Pears and chocolate are a match made in heaven, so naturally Pear Ice Cream and Hazelnut Brownies are perfection. I think it will be just the thing for our ordinary sophisticated Valentine's Dinner.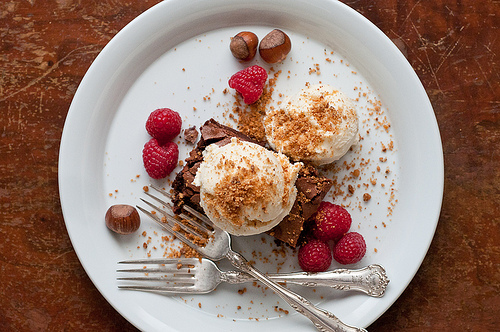 Here's what you'll need, all recipes to follow…
Supplies:
Pear Ice Cream
Hazelnut Brownies
Hazelnut Praline
Fresh raspberries, for garnish
One plate
Two forks
Pear Ice Cream
4 cups cored and peeled, diced pears (from about 6 pears)
12 oz. can evaporated milk (or whole milk)
2 cups heavy cream
4 egg yolks
1/2 cup sugar, divided
1 tsp. pure vanilla extract
pinch salt
Yields about 1 1/2 quarts.
Combine diced pears and 1/4 cup of the sugar in a heavy-bottomed saucepan. Cook over medium heat, mashing with a spoon or potato masher when pears begin to soften, about 30 minutes. Watch carefully so pears do not burn. The juices will evaporate and you'll have a thick paste. Transfer to a blender and puree until smooth. (Add a little of the milk if it's too thick.) Set aside.
Meanwhile, heat the cream and evaporated milk in a 3 quart saucepan until very hot. Whisk together egg yolks, remaining 1/4 cup sugar and pinch of salt until thick and lightened in color.
Carefully and slowly drizzle the hot milk/cream into the egg yolk mixture while whisking. Pour back into the saucepan and cook over medium heat until the temperature reaches 170 degrees F. on an instant read thermometer. Pour through a fine mesh sieve into a clean bowl. Add the vanilla extract and pureed pears, whisking well to combine.
Cover the bowl with plastic wrap and chill until very cold. Churn in an ice cream maker according to the manufacturer directions.
Hazelnut Brownies
8 oz. unsalted butter
4 oz. unsweetened baking chocolate, chopped
3 large eggs
1 1/4 cups granulated sugar
1 tsp. pure vanilla extract
1/2 cup plus 1/3 cup all-purpose flour (I used GF flour)
1/4 tsp. salt
1/2 cup bittersweet chocolate chips
1/2 cup chopped toasted hazelnuts
Butter an 8″ square baking dish. Preheat oven to 400 degrees F.
Place butter and chocolate in a microwave-safe bowl. Heat on 50% power at 30 second intervals until melted. Set aside.
Using an electric mixer, beat eggs, sugar and vanilla on high speed for 5-10 minutes, or until very, very thick and light in color. Beat in the melted chocolate. Add the flour and salt and beat until combined. Add the chocolate chips and nuts.
Spread in the prepared pan and bake for 20 minutes or until the center is almost set. (A toothpick inserted into the center should come our gooey.) Let cool slightly before cutting into squares. Can be served warm or at room temperature.
Hazelnut Praline
adapted from Joy of Cooking
1 cup granulated sugar
1/2 cup water
1/8 tsp. cream of tartar
1 cup chopped hazelnuts (papery skins removed)
Prepare a baking sheet by oiling it or lining it with parchment (NOT waxed) paper.
In a heavy-bottomed pan, bring sugar, water and cream of tartar to a boil. Wash down sides of pan with a pastry brush dipped in water to prevent crystals from forming. (Or lightly oil the inside of the pan to help prevent crystallization.) Cook until dark amber in color. Quickly remove from heat and stir in the chopped nuts. Pour out onto the prepare baking sheet. Let cool completely.
Break the praline into pieces and place in a food processor. Pulse until finely chopped. Store in an airtight container. Use to flavor cakes, pastry cream, ice cream, cookies, or as a garnish.