Let's be real. Who has time to make a homemade meal every night for dinner? Not most of us, right? That's where make-ahead meals come in. Spend a few extra minutes prepping for meals during the week. It will save you so much time in the long run. You will thank yourself on those busy nights when you only have a limited time to get dinner on the table. Plus, these meals are total knockouts and your family will gobble them up.
25 Make-Ahead Meals
1. Easy Make-Ahead Chicken Enchiladas: This enchilada recipe will become a staple in your family. Easy and so yummy. (via Make and Takes)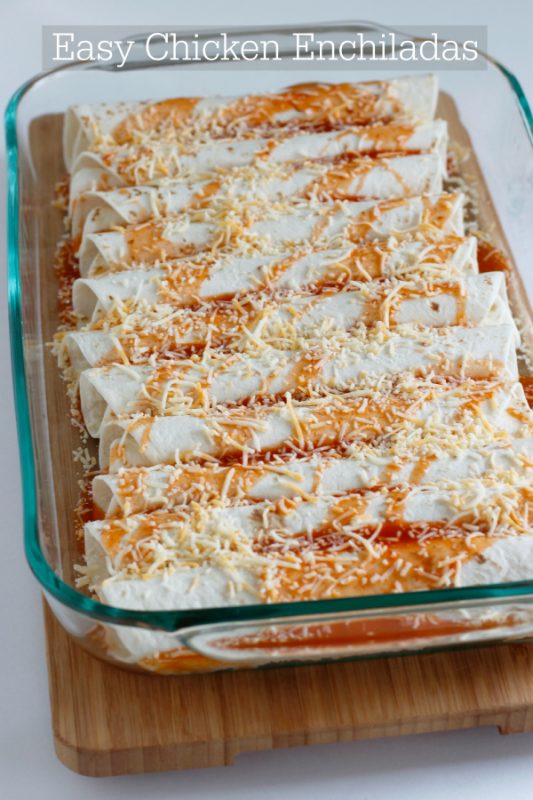 2. Ham and Melted Swiss Overnight Breakfast Casserole: No need to worry about breakfast when it's practically already made. This recipe is so delicious! (via A Bountiful Kitchen)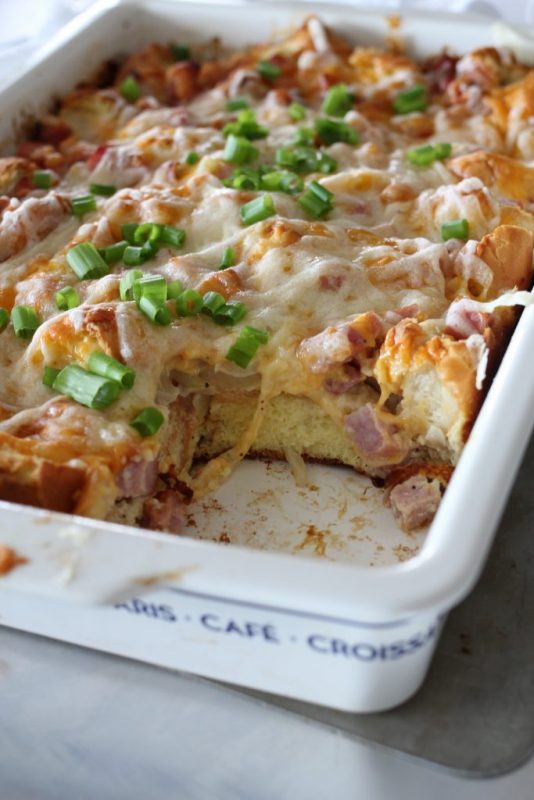 3. Freezer Breakfast Burritos: Needing a quick and easy breakfast idea? These freezer breakfast burritos are your answer. (via Our Best Bites)
4. Vegetarian Stuffed Shells: Pasta shells loaded with veggies, cheese, and marinara sauce. Make them ahead and freeze them to use later. (via Two Peas & Their Pod)
5. Crockpot Hawaiian Chicken: This chicken has amazing flavor! Prepare it, freeze it, and throw it in the crockpot whenever you need a meal. (via Chef in Training)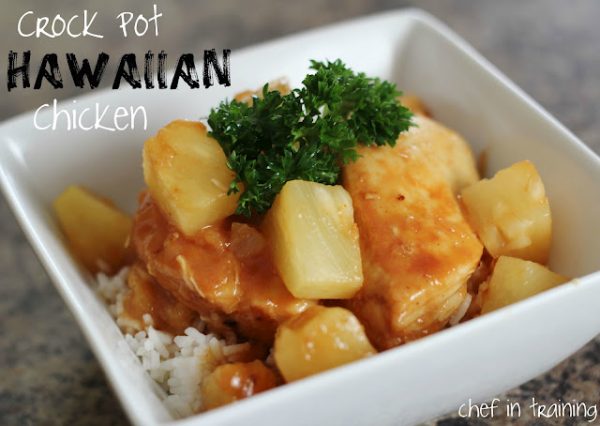 6. Faux Lasagna: This lasagna dish will save you on crazy days with no time to make dinner. It freezes great and tastes amazing after its done cooking. (via The Girl Who Ate Everything)
7. Bananas Fosters Topped Overnight French Toast: This breakfast dish is practically a dessert. Make a big batch for holidays or a family get together. (via SkinnyTaste)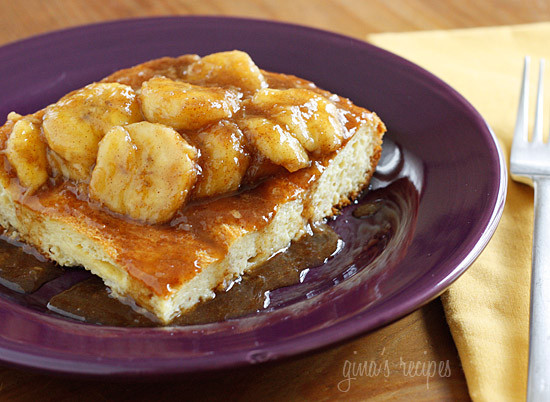 8. Cheesy Chicken and Wild Rice Casserole: I love a good chicken and rice meal. This one is perfect for making ahead of time. (via Picky Palate)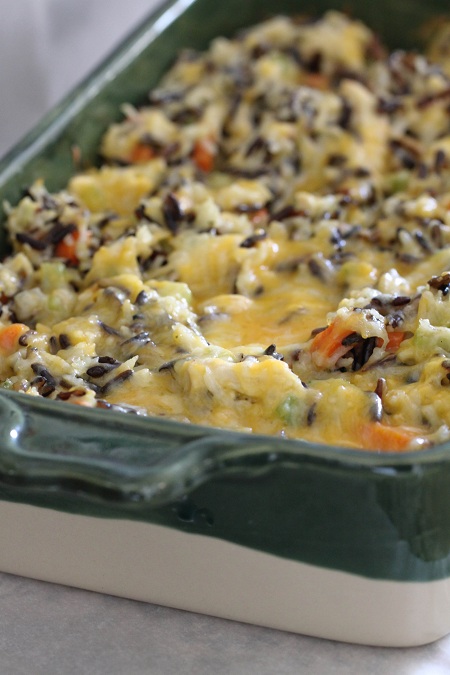 9. Easy Chicken Pot Pie Hand Pies: These hand pies are the perfect solution to busy days. Take them out of the freezer and heat them up for a healthy and yummy lunch or dinner. (via Two Healthy Kitchens)
10. Make Ahead Pepperoni Pizza Sliders: You've got to try this fun and different way to make pizza. Plus you can make them ahead of time. (via Little Dairy On The Prairie)
11. Easy Thai Baked Chicken: Satisfy your spicy, sweet, and garlic-y taste buds with this easy Thai baked chicken recipe. (via Flavour and Savour)
More Make-Ahead Meals
12. Four Ingredient Chicken Rigatoni: Four ingredients to one of the easiest and yummiest pasta dish you'll ever make. (via Grace and Good Eats)
13. Freezer Croissant Breakfast Sandwiches: You'll want one of these sandwiches every day for breakfast. (via Damn Delicious)
14. 13 Make-Ahead Mason Jar Salads: Have you tried a mason jar salad? It's a super healthy lunch idea that you can prep for the whole week. Grab and go for the win! (via Make and Takes)
15. Cream Cheese and Chicken Taquitos: Freeze a big batch of this cream cheese and chicken mixture. Use it whenever you're wanting taquitos for dinner. (via Lil' Luna)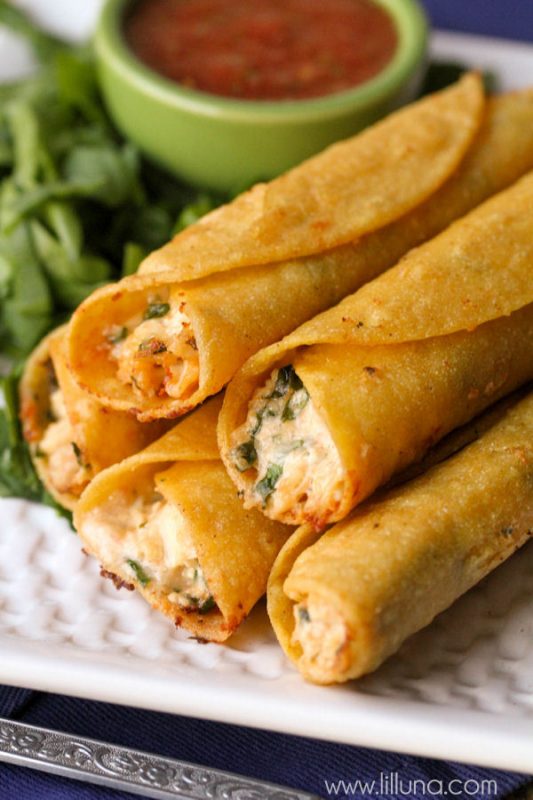 16. Caribbean Pulled Pork Sandwich: Did you know that pulled pork freezes really well? Make this caribbean pulled pork, throw it in the freezer, and use it whenever you're ready for a delicious sandwich. (via Kevin & Amanda)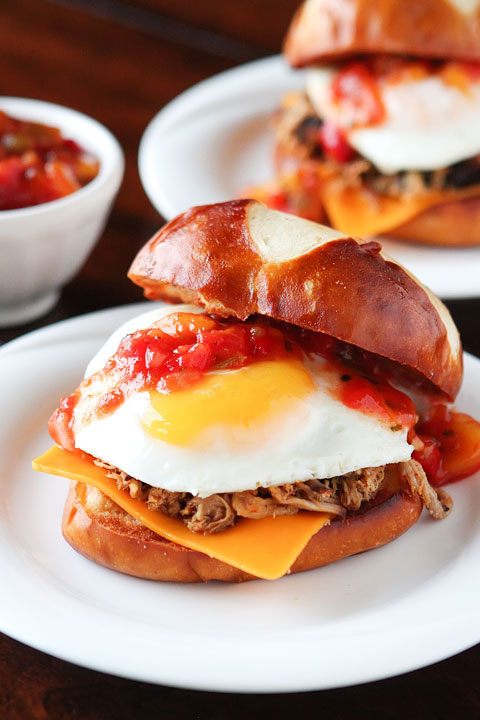 17. Baked Spaghetti Pie Recipe: I love this retro spaghetti pie recipe. It's perfect to make-ahead for a new mom or a family that needs a meal delivered to them. (via A Spicy Perspective)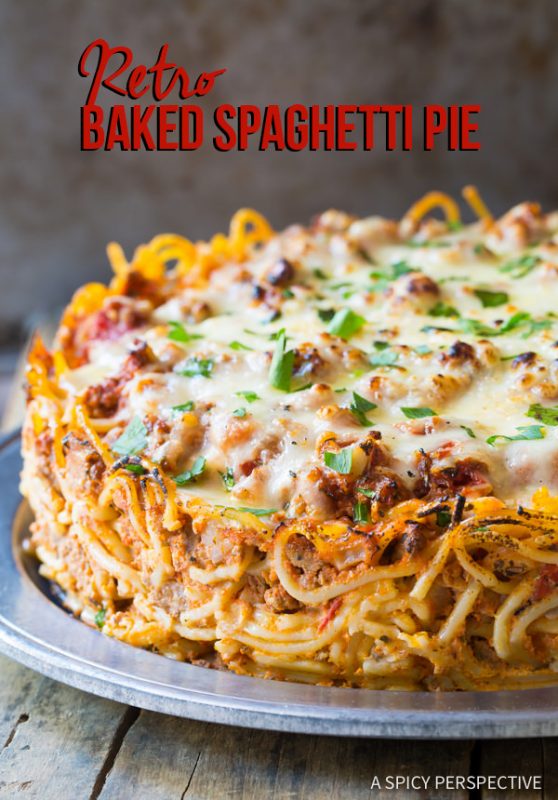 18. Italian Pasta Salad with Italian Dressing: This pasta salad just gets better with time. It's flavor intensifies the longer it sits in the fridge. (via Make and Takes)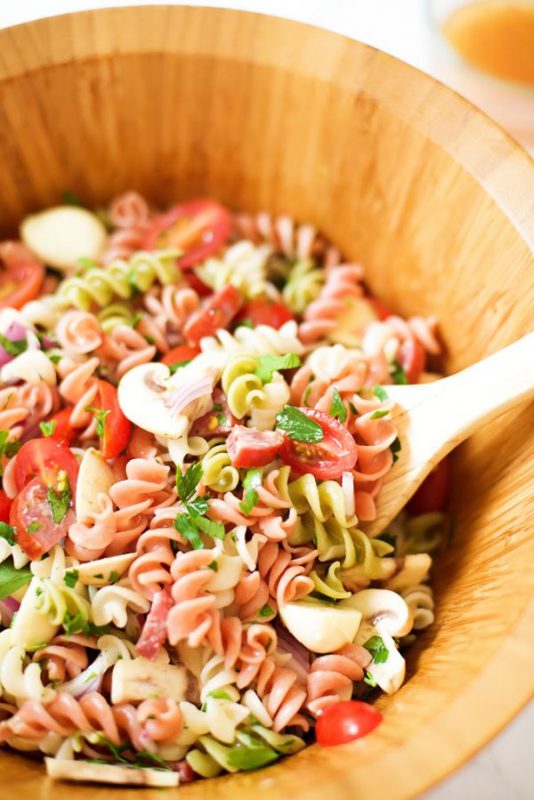 19. Freezer English Muffin Mini Pizzas: Your kids can help with these mini pizzas. Freeze them and pop them into the oven when you're needing a quick lunch idea. (via Simple As That)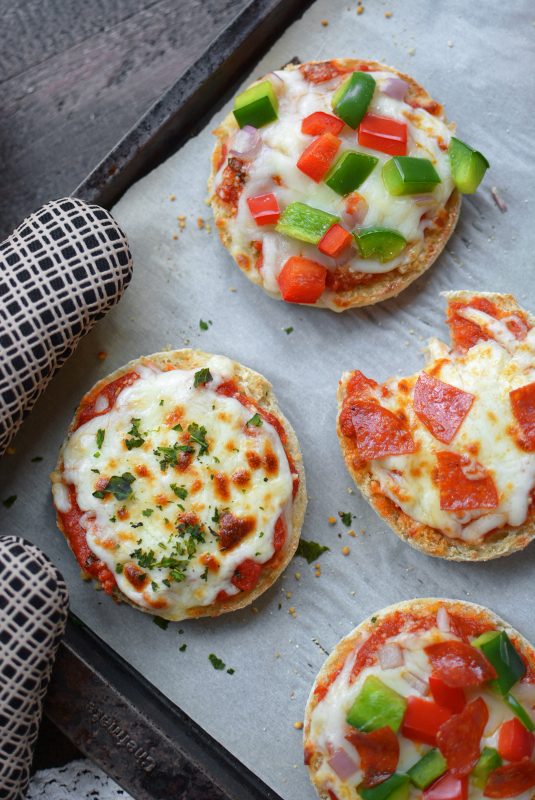 20. Zucchini Carrot Cake Waffles: Your family will devour these waffles. The taste just like carrot cake. Make a whole batch and freeze leftovers for another time. (via Will Cook For Smiles)
21. Overnight Sausage, Egg, and Croissant Breakfast Bake: Perfect sausage and egg breakfast bake for a crowd! (via Life Made Simple)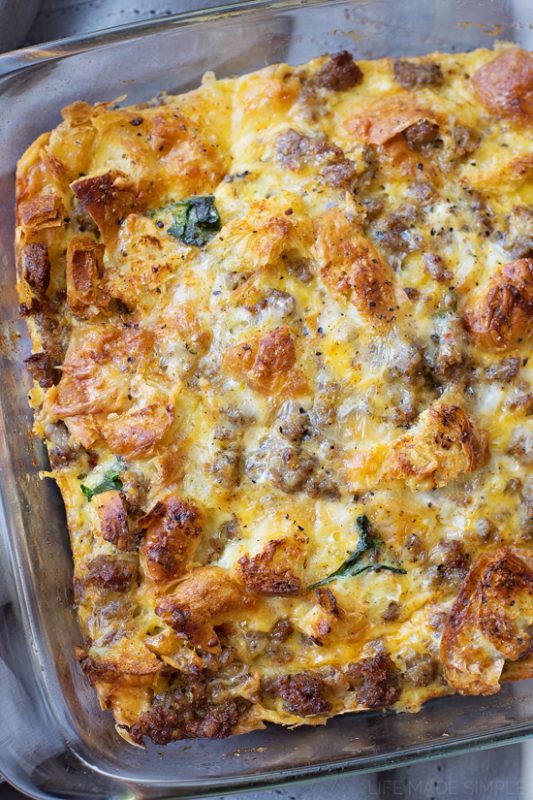 22. Quiche Muffins: So quick and so easy- you can have breakfast made for the entire week with these tasty quiche muffins. (via Make and Takes)
23. Greek Pasta Salad: This Greek pasta salad comes with a sun dried tomato feta pesto. The flavors sound amazing! (via Carlsbad Cravings)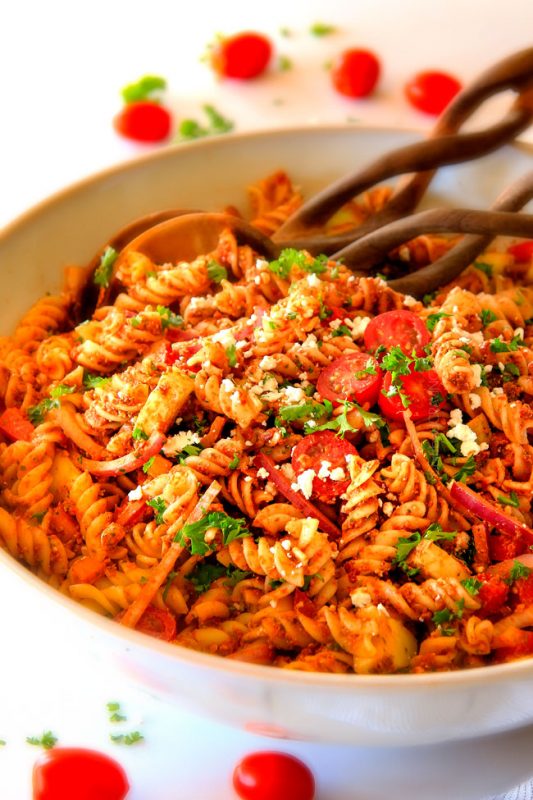 24. Easy Slow Cooker Minestrone Soup: You can chop and prep everything for this soup the night before. The next day throw everything into the slow cooker and dinner is made. (via 31 Daily)
25. Spaghetti Sauce: This is my GO-TO spaghetti sauce recipe. I make a large batch and freeze it in portions. Whenever we want spaghetti, I just warm it up on the stove. It's the best. (via The Pioneer Woman)
These make-ahead meals are going to save you on busy days. No more wondering "what's for dinner?". Take one of these out of the freezer or fridge and you're all set!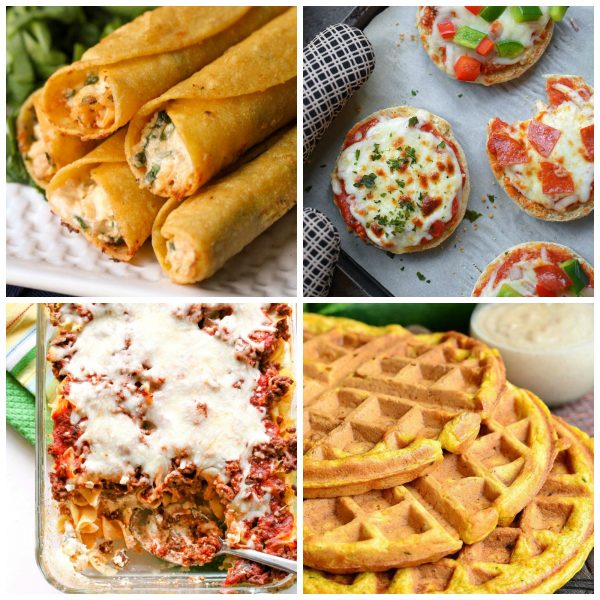 Follow us on Pinterest for more make-ahead meals inspiration!