When I saw this wooden tray at the flea market I immediately snapped it up! I knew I could use it either in my scrap room or on my dresser. I believe it is actually the game tray for the traditional African game called Mancala.
The tray was entirely wooden and to update it I painted the depressions with gold acrylic paint.
Supplies for a Wooden Tray:
wooden dish or tray
base coat
gold acrylic paint
2 foam brushes
soft damp rag
Look for these trays at flea markets, thrift shops or garage sales. You can also find new ones at Target.
Instructions:
First use your damp cloth to clean up the tray. Once dry, start by painting on a base coat. Trays like these tend to be varnished in some way, so the base coat will help your gold paint to stick. Keep the damp cloth handy, you'll need it!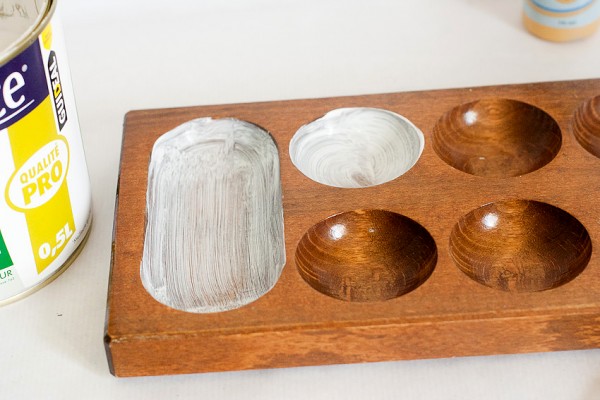 Use the damp cloth to clean off excess paint that smears on the top of the tray.
Once the base coat is dry, start painting with the gold paint.
Carefully swirl the paint brush around the depressions, trying not to go past the edge.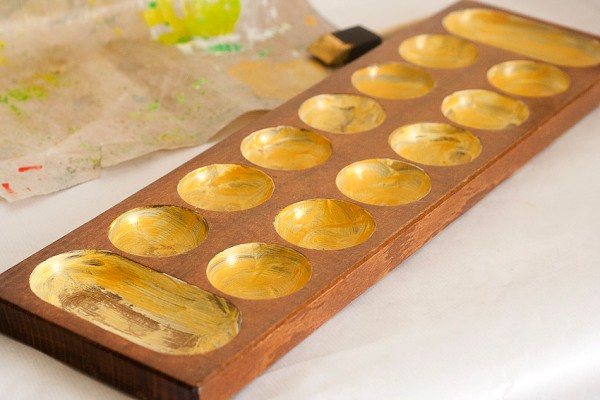 Add as many coats as needed, waiting for each coat to fully dry. I needed to paint four coats.
And now here it in on my dresser: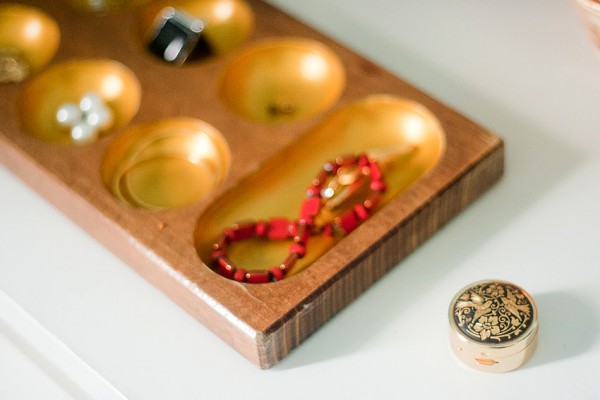 The perfect place for my small pieces of jewelry.
Other Ideas
Use a color of paint that complements your decor
Paint each depression a different color, or use 3 coordinating colors
Use as a color sorting tray for toddlers and pre-schoolers
Use for holding small scrapbooking embellishments.
What a quick and simple update!