Brighten up your home this Easter with some adorable Hanging Yarn Wrapped Plastic Eggs. It's the perfect holiday craft to make with your kids!
It's almost Easter again. Every year, I save so many plastic eggs to put in storage for next years family egg hunt and to craft with. We can make Plastic Easter Egg Flower Bouquets, Plastic Easter Egg Bunny Craft, even some Silly Alien Easter Egg Creatures. This year we decided to reuse the eggs to make some colorful Yarn Wrapped Plastic Eggs instead.
Hanging Yarn Wrapped Plastic Eggs
The plastic eggs come in a huge variety of colors and sizes and can be decoupaged, painted over or glued to, and recycled into silly and beautiful crafts year round.
Supplies:
Plastic Eggs
Colorful Yarn
Scissors &
Double-sided tape or Tacky glue
Instructions:
If you plan on hanging your Yarn Wrapped Plastic eggs,  add a hanging loop before you start wrapping the egg. The Plastic eggs that we own, already have two holes at the top. If your plastic eggs do not have them, use a sharp point or a craft drill to make two holes to loop the thread through.
Make sure the ends are knotted properly and a minimum  2-inch loop is created at the top. Make the loop as long as you need to hang it with.
It's time to wrap the yarn around the outer surface of the egg. Close the egg and add tape at the center so that the egg doesn't accidentally open midway. I used double sided sticky tape because this was the most non-messy way of doing this. Tacky glue also works and can give you the same effect. Be sure to allow ample time for the glue to dry before hanging the eggs..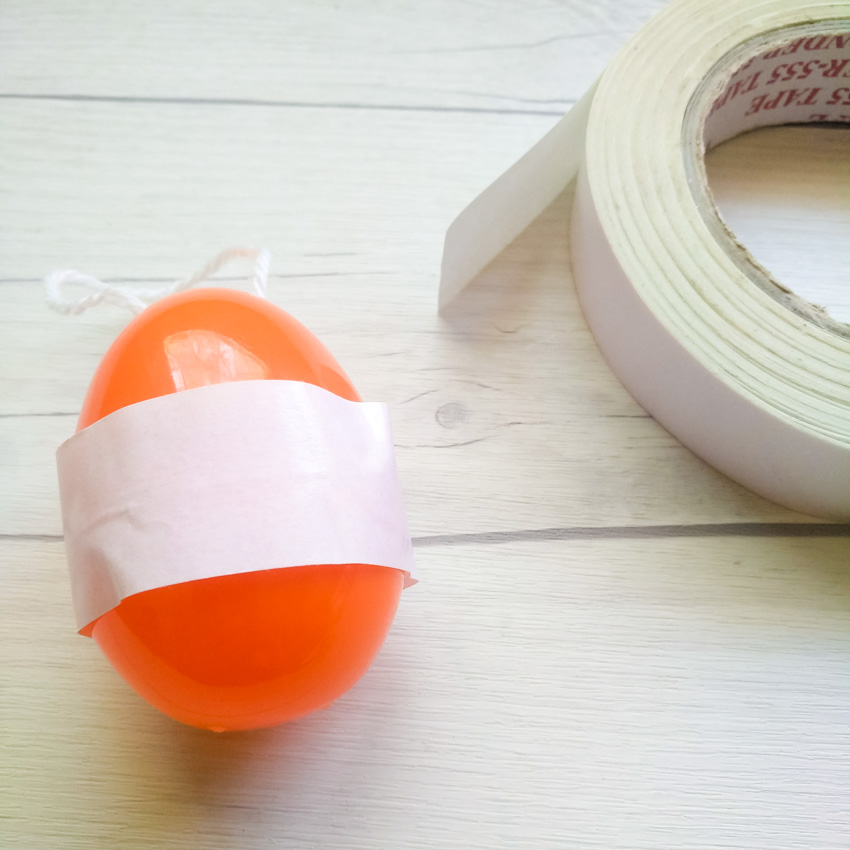 Time to wrap. Cut out strands of colored yarn, Easter or Spring colors work best. Starting at the center of the egg,  wrap alternating colors of yarn carefully around the outer surface until the whole egg is covered. Cover one side,  either the bottom or the top, and adjust the strands to avoid gaps between layers.
Wrapping the top of the egg, with the loop, could get a little tricky so adult supervision and assistance would help.

and voila! your yarn wrapped eggs are ready to be hung.  Hang them indoors on your Easter mantel, or outdoors on some garden shrubs for a festive look.
You could weave these yarn wrapped eggs into a  garland that would be beautiful to look at. Imagine all the ways you could make this your own inspiration by changing the colors of the eggs or adding glitter, buttons, etc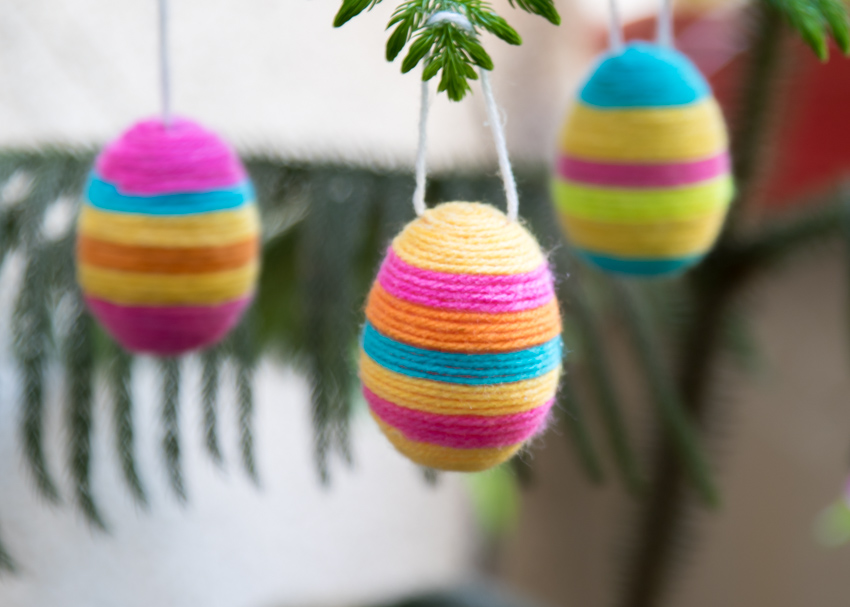 With a few simple supplies and a bit of imagination, turn them into something special…. a craft, a game, or a decoration like we did.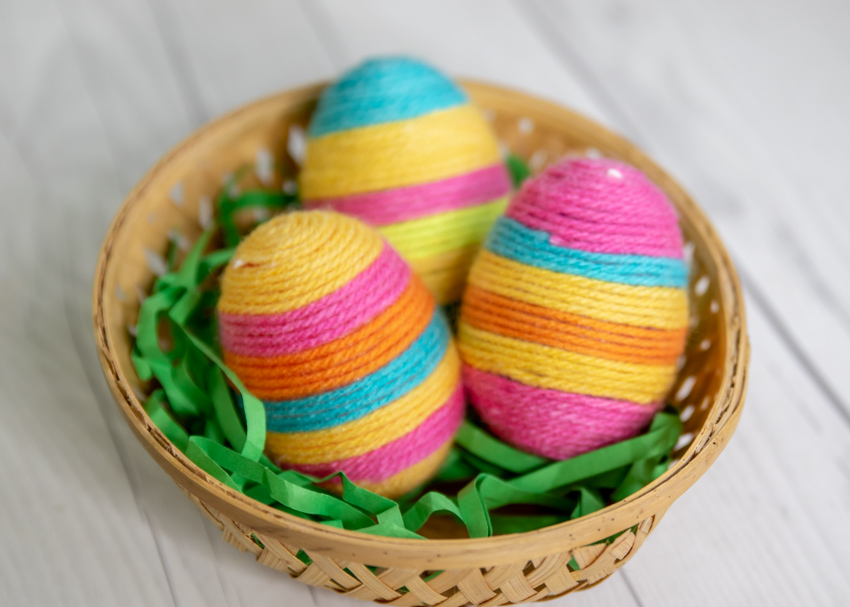 Make sure you head over to see how we made these super cute and playful plastic eggs into a cute little bunny and his carrot! SO many silly crafts to make with plastic eggs!