This post has been sponsored by Paramount Pictures.
Our family has been HUGE fans of Dora & Boots since they first came into our lives years ago! So I'm thrilled to be partnering with Paramount Pictures on their new movie Dora and the Lost City of Gold, coming to theaters August 9th, yippee! And not only is it going to be so fun to see Dora and her friends on the big screen, we'll be seeing them in a whole new way.
Hands down, Boots was my son's favorite character growing up. He'd dance and sing at the end of every show with the "We Did It" song Dora and Boots would sing. So to go along with the fun and flare of the new movie, and our love for Boots, I decided to make some of Boots' favorite banana cookies today. These cookies are so easy to make and super "delicioso" to eat!
But before we dig into the cookies, here's a little about the film!
"Having spent most of her life exploring the jungle with her parents, nothing could prepare Dora (Isabela Moner) for her most dangerous adventure ever – High School. Always the explorer, Dora quickly finds herself leading Boots (her best friend, a monkey), Diego (Jeffrey Wahlberg), a mysterious jungle inhabitant (Eugenio Derbez), and a rag tag group of teens on a live-action adventure to save her parents (Eva Longoria, Michael Peña) and solve the impossible mystery behind a lost city of gold."
Boots' Favorite Banana Oatmeal Chocolate Chip Cookies
With only 3 ingredients, you're going to love this recipe as much as we do, making it a new go-to banana oatmeal cookie in your home. Plus we've got a fun We're Bananas for Boots printable to go with it, so you can make and take cute party favors to celebrate a Dora-themed party!
Banana Oatmeal Chocolate Chip Cookies
Recipe adapted from Cooking Light
-makes 12-15 cookies
Ingredients:
2 bananas
1 cup oats
1/2 cup chocolate chips – mine are mini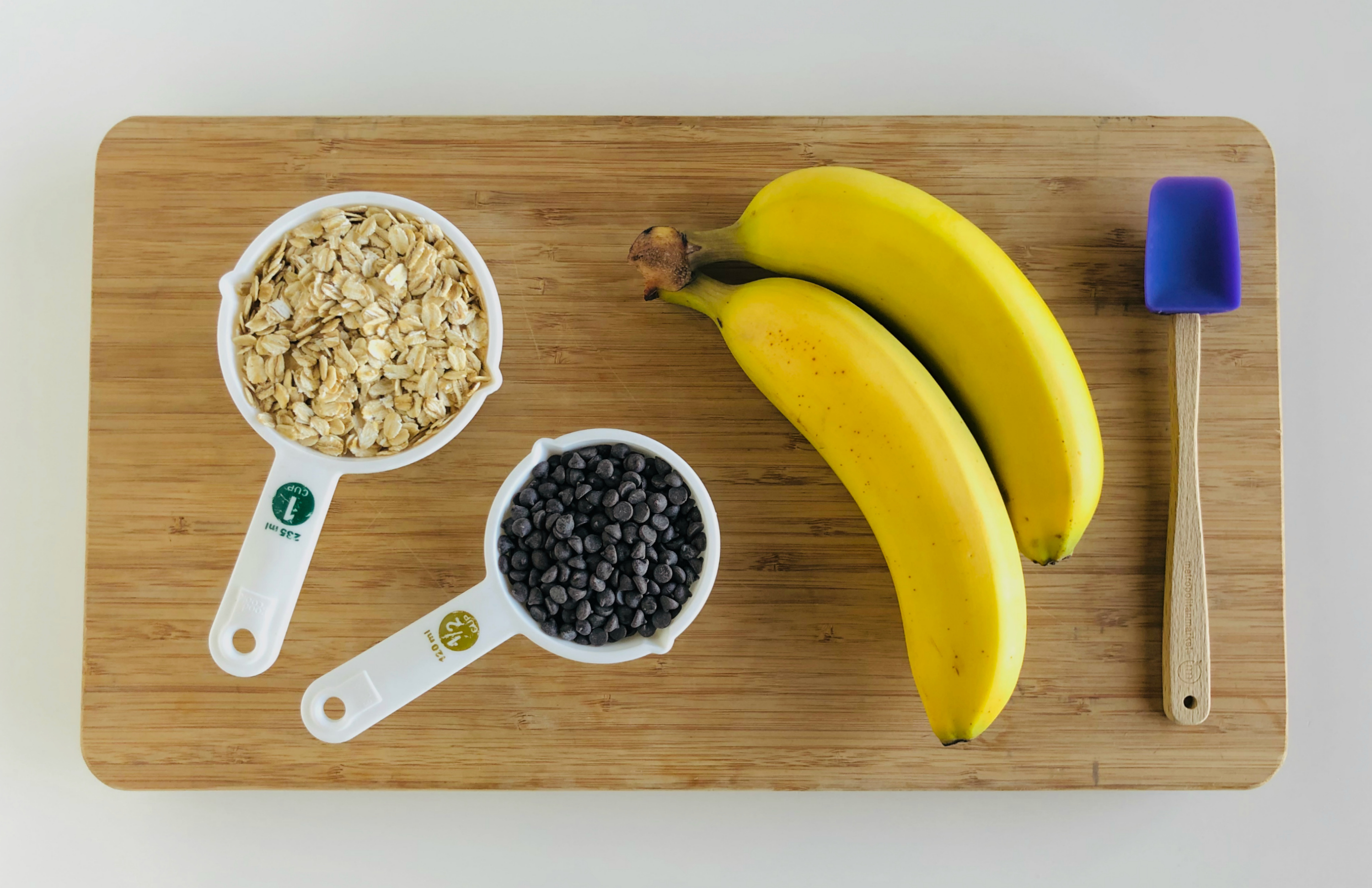 Start by mashing up your bananas. I love to use my pastry blender for this, it cuts and mashes them up perfectly.
You'll want to mush them up pretty well, making them into almost a liquid texture like the picture below.
Next, add in your oats and chocolate chips. Mix them to combine.
Using a medium-sized cookie scoop, to help get evenly sized cookies, place them onto your baking mat and pan. I can usually get between 12-15 cookies per recipe. I will often double or triple the ingredients to make up to 36 cookies
(TIP: I store them in an airtight container in the fridge for up to a week!)
Bake these cookies at 350° for 23-25 minutes, or until the edges start to become golden brown.
If you're hosting a Dora and the Lost City of Gold birthday party or celebration, be sure to print out these printables for cookie bag tags!
Cut each printable out, fold them in half to make a tent and staple or tape them in place over your 4 or 5 inch wide baggies. Perfect for a couple of banana oatmeal cookies to munch on as a treat bag party favor!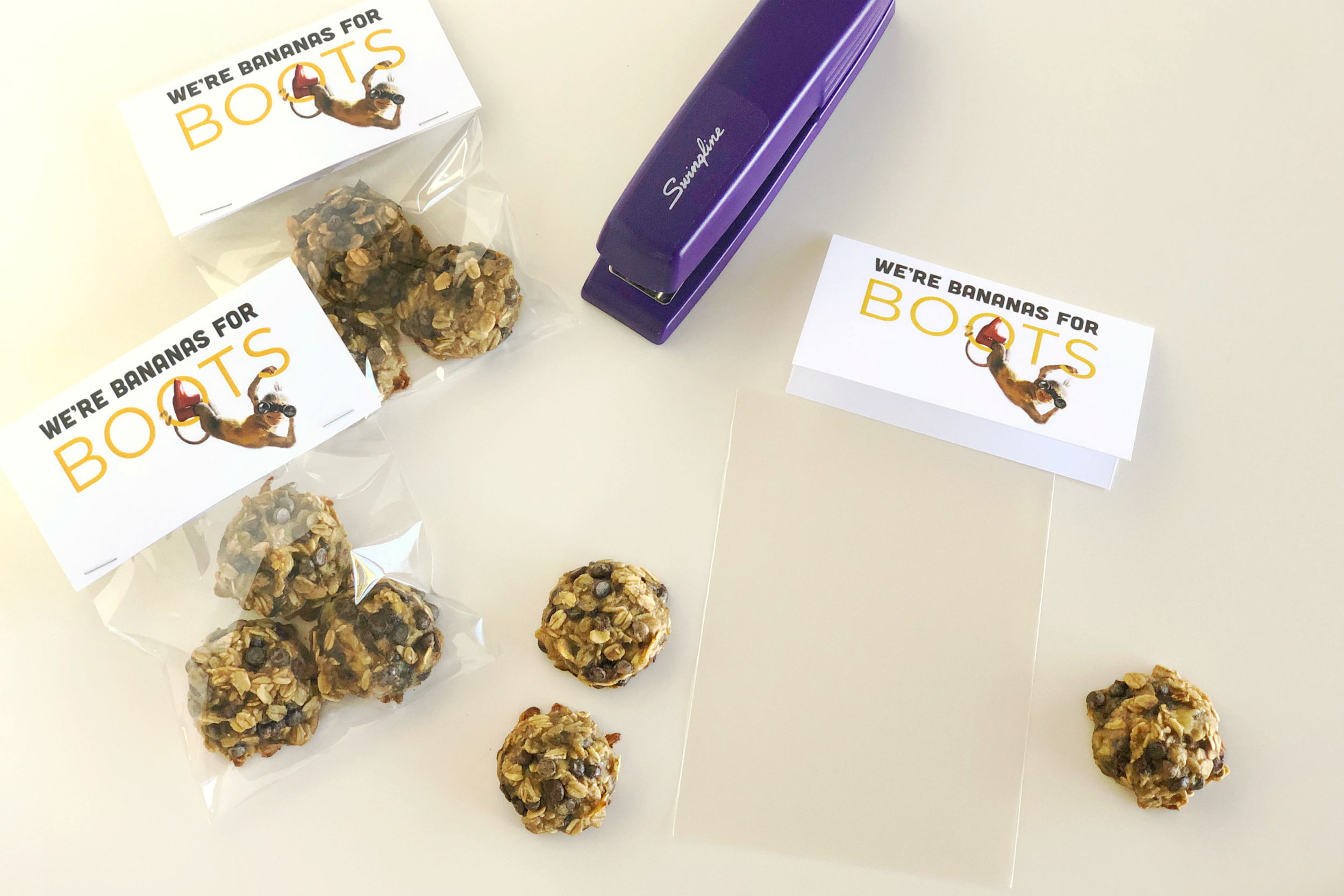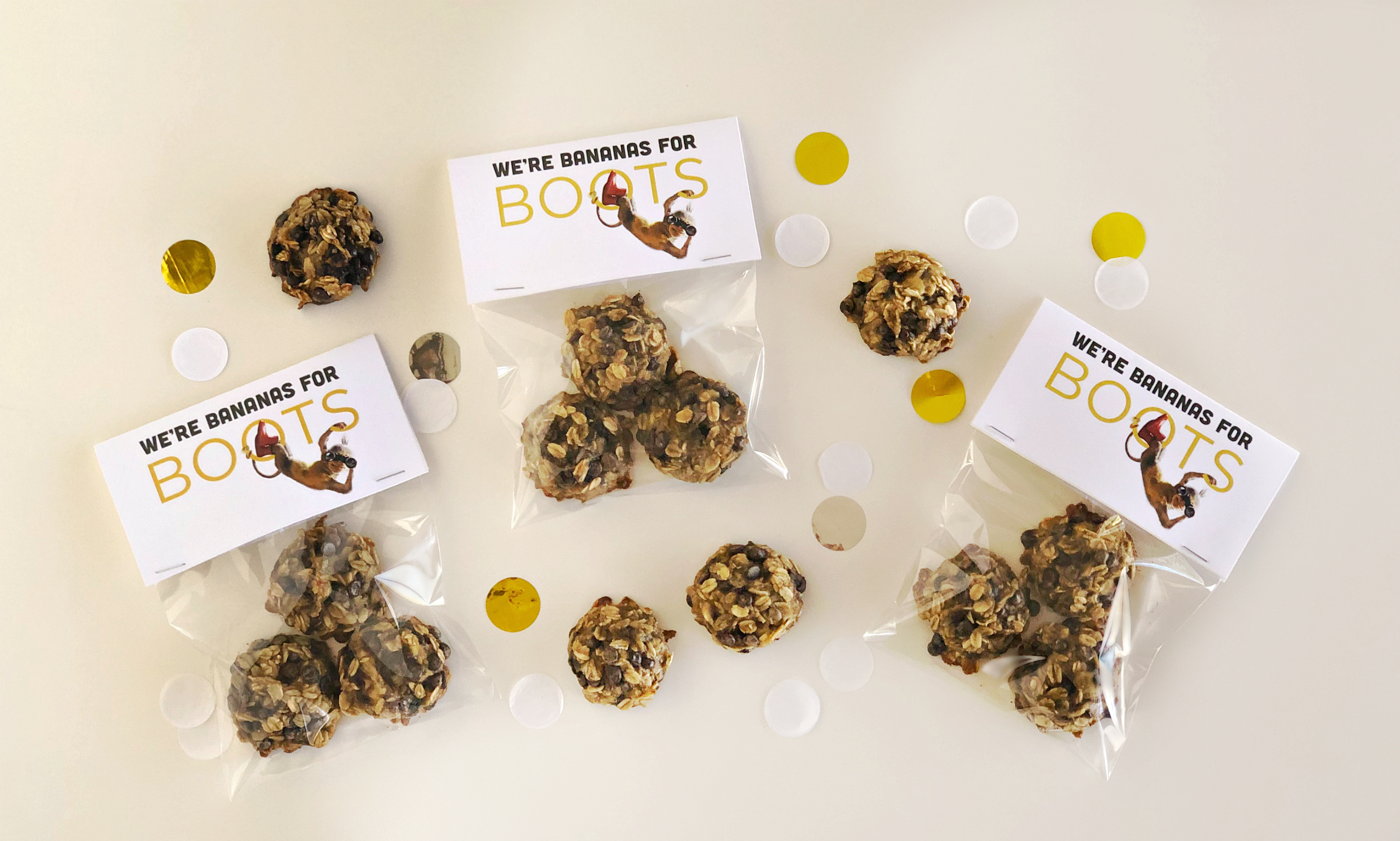 Be sure to watch the trailer and get excited for the movie coming to theaters August 9th. Get your tickets here: https://tickets.dora.movie
*Thanks to Paramount Pictures for sponsoring this post. Visit them on Facebook, Instagram, and Twitter with the hashtag #DoraMovie to explore more fun!