My girls love crafting and decorating things with washi tape. Actually, so do I! If you don't already have a stash of washi tape at home, I highly recommend adding some to your craft supplies. They can be used with almost any craft. I love all of the different colors and designs of washi tape.
These whimsical washi tape birthday cakes remind me of something from Alice in Wonderland or Dr. Seuss stories. So colorful and cute! I love having a stack of birthday cards on hand, and these cards are quick to make and low-mess. You and your kids can bust out a big stack of washi tape birthday cake cards in no time at all!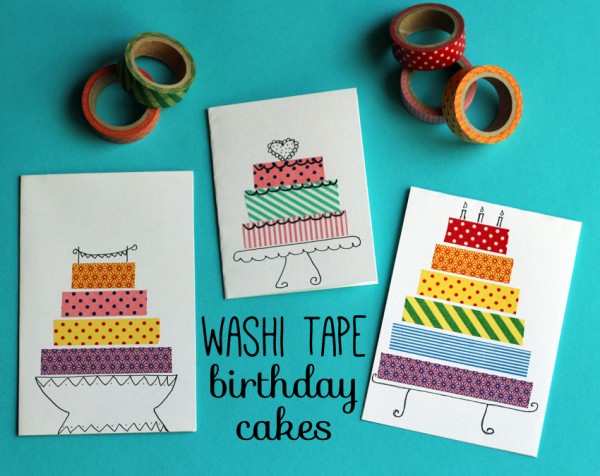 Birthday Cards with Washi Tape Cakes
Supplies:
Blank cards, tags, or gift bags
Washi tape in various patterns & colors
Fine-tip black pen
Scissors
Instructions:
Washi tape is fun for kids to work with, since it's easy to cut and move around, if necessary. Plus it comes in SO many fun colors and patterns!
Start with a strip of tape for the bottom layer of the cake. Leave some room at the bottom for adding a cake stand or plate, if you like. Washi tape is easy to tear, but I prefer a clean cut edge for these layer cakes.
Continue adding strips of tape, each piece slightly smaller than the piece below it. You can leave a little white space between each tape strip, or you can stick them right next to each other with no space. Two different looks, both equally cute!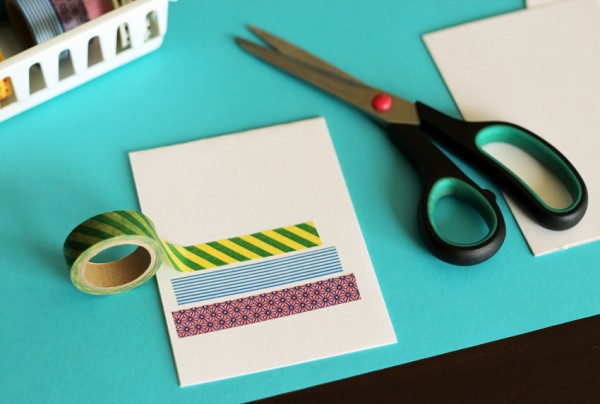 Continue adding layers of tape to the cake. Leave some room at the top of your card for candles or cake toppers.
With a fine-tip black pen, embellish the cake with some simple doodles – cake stand or plate, candles, banners, hearts, etc. This gives your cake lots of personality, so use your imagination and be creative. I love how this tall rainbow layer cake turned out – so festive!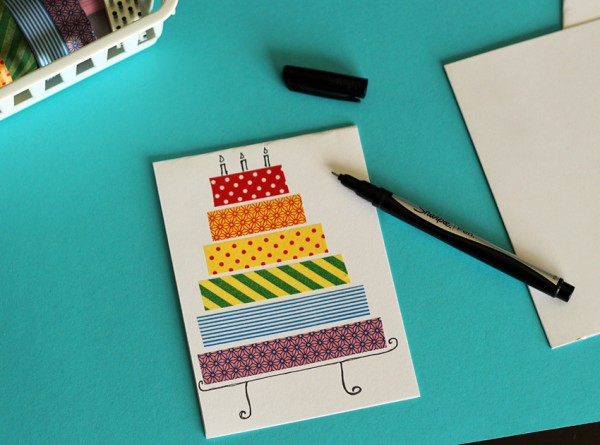 Here is a shorter layer cake with no space between the strips of tape. I also drew some details right on the tape. We used fine point permanent markers (like Sharpie®) for drawing on the washi tape.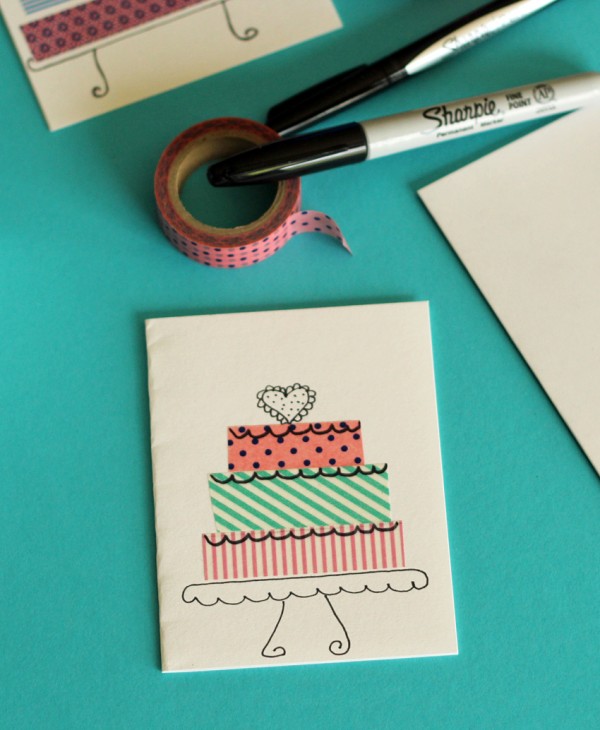 Washi tape cakes look equally cute on a small gift bag. What a fun and easy way to personalize a plain bag!
Have fun creating your own unique washi tape birthday cake cards. Your family and friends will love them!