Highlighting the best of each month of the year, 
Make and Takes for Kids
 offers 50 projects to make with kids, each centered around an upcoming holiday or season. The ideas are unique and simple to produce, and each project is thoughtfully constructed and designed to create an ideal environment and setting for crafting. Each craft requires little preparation, few supplies, and almost everything can be readily found at home or at a local craft supply store.
Author/Crafter: Marie LeBaron
Photography: Nicole Gerulat
Crafting isn't just playtime; there's a purpose to all the gluing, cutting, and coloring. Children are learning hand-eye coordination, fine motor skills, problem solving, math, teamwork, and individual expression. In Make and Takes for Kids, popular craft blogger Marie LeBaron brings her creativity and her training in early childhood development together in a truly original children's crafting book.
Outlining the learning objectives and skills that children will attain as they complete each activity, this book gives you 50 kid-friendly crafting and cooking projects that celebrate each month. You'll get simple instructions for making:
A wintry January filled with a snowman smoothie and a snow-bug hat
A February rich with a lovely heart bookmark and heart-shaped pretzel bread
A lucky March with leprechaun gold coin cookies and glitter clover cards
An April hopped up with chocolate-dipped crispy rice eggs and a watercolor coffee filter umbrella
A sunshine-filled May spiced up with Cinco de Mayo sombrero cupcakes and a tissue paper Mother's Day card
A summery June beefed up with Father's Day meatball golf balls and a milk jug toss game
A jubilant July with sparkly wands and patriotic berry ice cream boats
An August in the outdoors with a pine cone bird feeder garland and flameless kid's campfire
A back-to-school September with a teacher's pet rock paperweight and silly apple sandwiches
A spooky October with googly eye cards and monster milkshakes
A thankful November with pine cone cookies and leaf rubbing turkey feathers
A December to remember with a stained glass paper menorah and a spiral paper Christmas tree mobile
And much, much more
If you're a parent, teacher, or caregiver looking to enhance the time you spend with young children, Make and Takes for Kids makes it easy to have fun crafting with kids.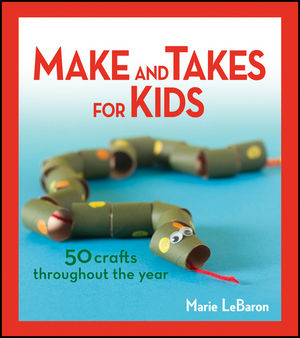 Listen to an interview, along with a review of Make and Takes for Kids, from Raising Playful Tots.
Get your copy today. Make and Takes for Kids is available from the following retailers: