We seem to have an endless supply of paper and fabric scraps around our house. I never know what to do with all of it. I'm always looking for new ways to use our stash. With pumpkin patches and jack o'lanterns on our mind, we turned orange collages into perfect patchwork pumpkins! You could also turn these patchwork pumpkins into fall-time greeting cards to send to friends and family. I know my kid's grandparents would love to receive one of these in the mail.
Craft a Patchwork Pumpkin
Supplies for Patchwork Pumpkins:
Blank card stock or construction paper
Orange paper, fabric, junk mail, magazine pages, etc.
Green paper or felt for stem
Yarn or ribbon for vines
Glue
To get ready for this project, we went on a hunt for all the orange paper scraps, fabric pieces, catalog pieces, and junk mail we could find. We included some yellows, too.
Cut your paper and fabric into pieces – no need to be perfect here, the more variation the better! Start gluing pieces onto your blank paper, overlapping and covering your whole page.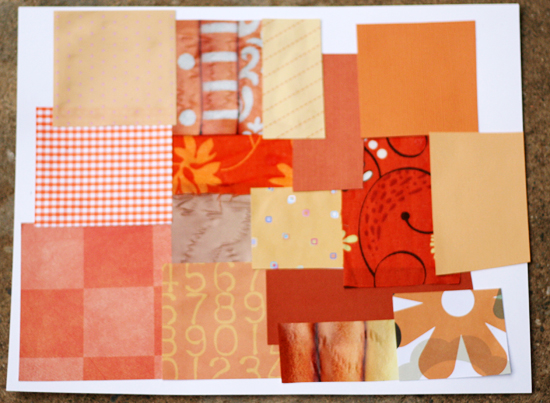 While your orange patchwork is drying, cut a stem and vines using paper, felt, yarn, ribbon, or whatever else you can find around the house.
Flip your patchwork page over and draw a pumpkin shape on the back. Will yours be short and squat or tall and skinny? Cut out your pumpkin and glue on the stem and vines.
Admire your finished patchwork pumpkin – maybe you and your kids can make a whole patch of them!
Happy fall crafting!
Here are more pumpkin crafts to try this fall:
SaveSaveSaveSave
SaveSave