Believe it or not, November is just around the corner. Like many of you, I'm sure, our family likes to spend a little extra time practicing gratitude during the month of November. We especially love activities that we can build on each day, from adding a link to a paper chain to dropping a thankful note in a jar. And, a cute craft is always welcomed by my girls, too!
I've rounded-up 10 crafty and creative gratitude activities the whole family will enjoy. I can't wait to start a few new gratitude traditions in our home!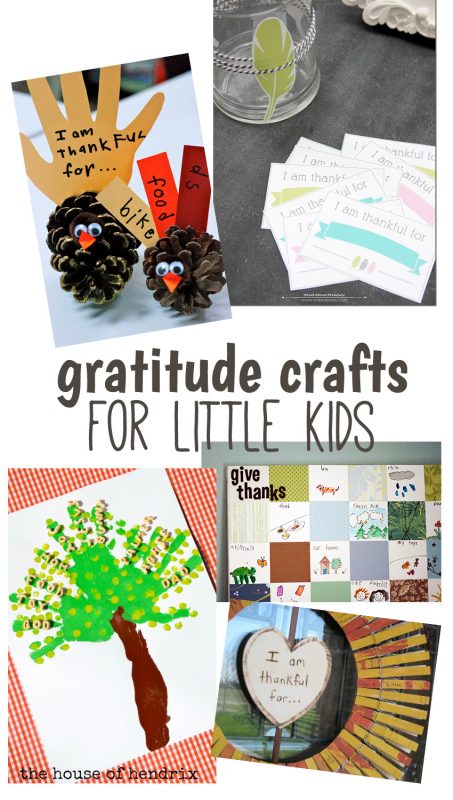 For the littles:
1. Handprint Tree of Gratitude :: The House of Hendrix
Love the use of Alpha-Bits cereal for adding words of gratitude to these cute trees.
2. Clothespin Wreath :: Chica and Jo
This would be fun to set-out at your family Thanksgiving gathering so everyone can add to the wreath.
3. Giving Thanks Paper Quilt :: Let's Explore
This is one of my family's projects that we made when my girls were 6 and 8. I still love putting it on display every fall!
4. Grateful Turkey Table Toppers :: Creating Couture Parties
You will have the most-adorable centerpieces at Thanksgiving dinner with these pinecone and handprint turkeys.
5. Thankful Jar and Printable :: Mama Miss
An adorable gratitude jar is easy to set-up with this free printable!
For the big kids:
6. Origami Ninja Star Thankful Ornaments :: One Dog Woof
Such a cute idea – fold and write on these origami stars all month long, then hang them on your Christmas tree, too!
7. Chalkboard Gratitude Rocks :: Junk Market Style
I would love to have a basket of these on my kitchen table for jotting down words of gratitude all month long.
8. Paper Bag Gratitude Journal :: Confessions of an Over-Worked Mom
Encourage your kids to jot down their thoughts with an adorable journal made from paper lunch bags.
9. 30-Day Gratitude Photo Challenge :: Positively Present
Use this list as is, or as inspiration for your own list of 30 things to be grateful for. Take your daily photos, then turn them into a photo album or collage. I know my girls would LOVE doing this!
10. Thankful Pumpkins :: Eclectically Vintage
Pumpkins aren't just for Halloween! Kids will love writing or drawing on a painted white fake pumpkin.
Here's to appreciating all the small and big things we have to be thankful for. Happy crafting!