We just told our kids we're going to Disney World and they are CRAZY excited! The only problem, I'm hearing "when is it time to go to Disney World" about 3 times a day. To help with this, we're making a Disney inspired paper chain countdown to show my kids, especially my youngest, exactly how many days until we get there!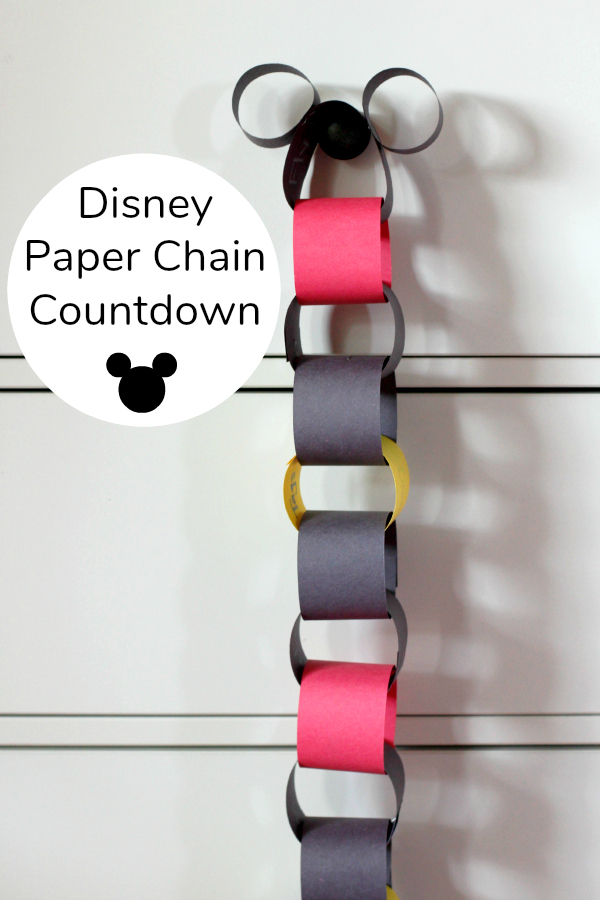 Our family is heading to Disney World in just a couple weeks for the Disney Social Media Celebration conference, eeeeek! We are all beyond excited! We've visited Disneyland a few times as a family, but never Disney World in Florida. Now my kids can count the paper chains themselves instead of asking me every 5 minutes!
Disney Paper Chain Countdown
Supplies:
black, red, and yellow art paper
scissors or paper cutter
stapler or tape – I like staples best
marker or crayons
Instructions:
NOTE: you can design your paper chain to match any Disney character, we just wanted to make Mickey for the sake of classic Disney. 
Cut your paper into 2×9 inch strips. They make for a strong chain.
Optional: write down activities to do each day as they tear off a paper chain. Do this before you attach each chain together. I'm sharing all our ideas at the bottom of the post.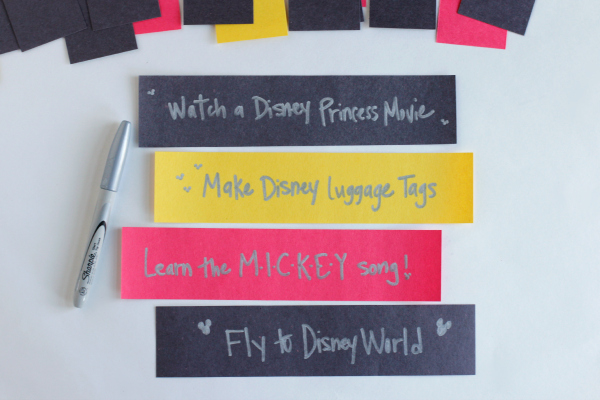 To make the top of our chain into the shape of Mickey's head, I added 2 smaller paper circles to one chain. This is my top paper chain, the one we'll end with so we can see Mickey the whole countdown. When we get down to the day we fly to Disney World, they'll see just Mickey's head and ears!
Staple the rest of the paper chains together, threading them through each other. I made a pattern with my colors, but you can add them any way you'd like.
Keep adding your paper strips to your chain for as many days as you have until your vacation!
Then get excited about counting down the days until your Disney trip!
If you're going to add activities to the inside of your paper chains, here are some ideas:
20 Disney-related activities
1. Call with a Disney Character – you can set up a time when a Disney Character will call your house and talk with the kids about their upcoming trip. This is a great one to start with! Or you could even ask a friend to pose as one of your child's favorite characters and give them a call!
2. Play a Disney Board game – we have the game Disney Beat the Parents and it's really fun to play and get us excited.
3. Make Baymax Frisbee Flyers
4. Watch your favorite Disney Princess Movie – Frozen, Aladdin, Cinderella, Snow White
5. Learn the M-I-C-K-E-Y song – I grew up listening to this and I think it's important for my kids to know it too.
6. Read up on the area where you're going, California or Florida. Take the time to learn a little about the state, weather, scenery, birds, flowers, etc.
7. Make Minnie Hair Bows
8. Listen to Mickey Mouse Clubhouse intro song
9. Watch your favorite Star Wars movie or cartoon
10. Check out our Disney Checklist for a little pre-trip prep.
11. Set up your Ride Max schedule to maximize your days at Disney World. This helps you make sure you get in all the ride you want as you go.
12. Watch your favorite Disney Pixar movie – Toy Story, Finding Nemo, UP, Monster's Inc
13. Learn the names of as many Disney characters as we can
14. Listen to a Disney Soundtrack – maybe even the Disney World Rides soundtrack
15. Watch your favorite Disney Classic Movie – Peter Pan, Jungle Book, 101 Dalmatians, Pinocchio
16. Download the Hidden Mickey app for Disney World or you can buy the book to take with you to the park as well. These are fun to find in the park, especially as you wait in long lines.
17. Make Your Own Disney Luggage Tags
18. Start gathering your Disney hats, shirts, and toys to pack.
19. Pack our suitcases. Add your Disney luggage tags to our suitcase.
20. Fly to Disney!
Have fun counting down to your Disney Vacation!
SaveSave