It's bubble season at our house. The snow clothes are put away, yet it's not quite warm enough for the pool, so out comes the bubbles. We recently made homemade bubbles, then found household items to blow the bubbles through.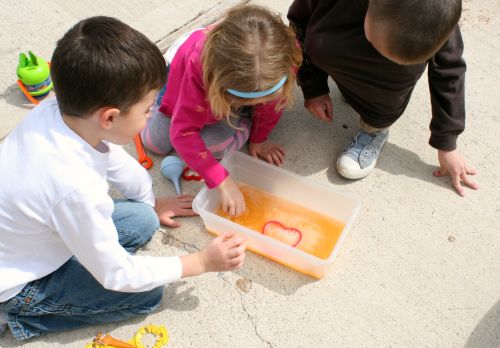 Recipe for Homemade Bubbles:
4 cups Water
1 cup Dish Soap – we had Palmolive, but I've seen Ajax, Joy, Dawn used.
1/4 cup Corn Syrup
container – plastic tub, gallon jug
(I doubled this recipe to get what you see below in the gallon jug, but used less than half for what you see in the plastic container, a little goes a long way.)
Pour and mix all of the ingredients into a bowl or jug. I suggest using a funnel to help with the pouring if you're using a plastic jug container. Using a jug is great so you can shake it up really good, but you could whisk it all together in a bowl too. Let the solution settle a little, then pour it into a flat container, like a plastic tub. This way it's easier to dip your items into the solution.
Now it's time to blow big beautiful bubbles! We used all kinds of items to blow our bubbles, things from around the house: rubber bands, metal rings, bubble wands, wiffle ball, even the top end of a salt shaker – our cousin got lots of great bubbles out of that! Anything item enclosed all the way around should work!
We even had a heart shaped cookie cutter. My kids loved that circle bubbles came out of a heart shape.
Speaking of bubbles, Mom Advice poses this question: Is Homemade Better? Have fun this Spring making big beautiful bubbles!