Add this beautiful, decorative art piece to your Christmas collection. Download the hallelujah printable. You can print on normal paper. Most at home printers are now inkjet and this project requires toner so the gold foil will stick. You will have to take your print to a copy center or to some place with a big copier which has toner. For best results ask to have it copied onto coated cardstock (glossy).write my essay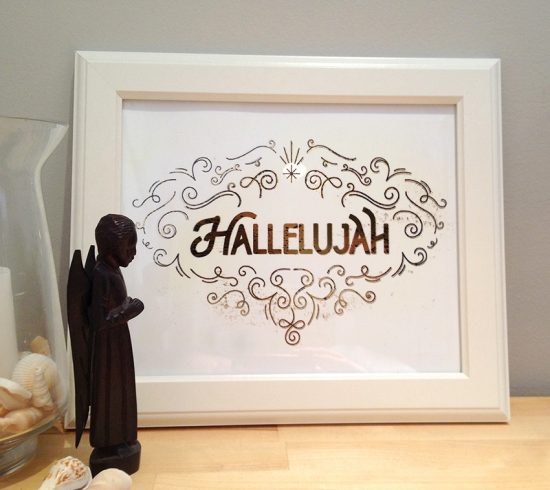 Back at home, warm up your iron to a synthetic setting. Cut a piece of gold foil transfer to fit over the ink.
One side of the foil is shiny and one is dull. The dull side should face the print.
Place freezer paper or plane white office paper over the gold foil and iron with even pressure and continuously moving. You can also run the printed page and the gold foil through a laminator to heat up the toner enough to make the gold stick to it.
After a minute, peak and see if your gold is reacting with the toner.
Slowly peel off the transfer sheet and see your gold foil stick to the page.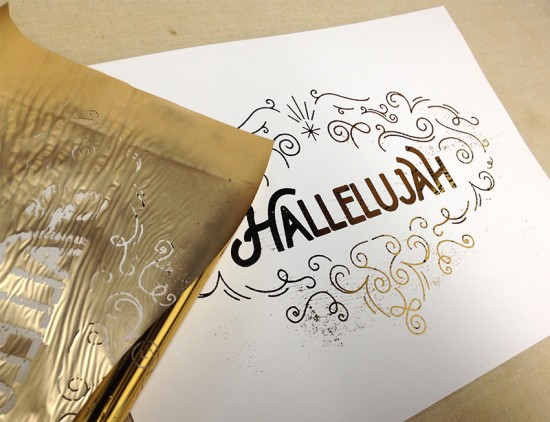 This term "Hallelujah" has been on my mind a lot this Christmas season. Merriam Webster says Hallelujah is used to express praise, joy, or thanks especially to God.
I cut mine down to 8 x 10″ to fit in a frame.
My husband and I are in a choir that will be performing Handel's Messiah and of course "The Hallelujah Chorus" is the most recognizable and popular part. It is some of the most joyful and triumphant music ever written and has really affected my mood this Christmas. I feel more joyful and blessed than ever. Many communities have sing-along performances that are thrilling to be a part of. See if you can find one in your area!
Handel's Messiah is a really good example of baroque music. In art history and architecture, baroque describes a style from the same time period that was very ornamental typically had a ton of decorative flourishes. Gilded to the hilt. So as I designed this, I thought some gold bling and lots of flourishes would pay proper homage to that baroque era.
Attribution: Ginusto Font Family and embellishments

Please do not post or redistribute the pdf. This work is licensed under a Creative Commons Attribution-NonCommercial 4.0 International License.