It's apple picking season! This is one of my favorite seasons of the year. I love fresh crisp apples when fall starts to come around. Celebrate this cozy time of year by making one or two of these happy apple crafts for kids. These red, green, and yellow apple projects will definitely put a smile on your child's face. Join them in the crafting and make it a family activity.
15 Happy Apple Crafts Kids Can Make
1. Puffy Paint Caramel Apple Craft For Kids: Do your kids like caramel apples? They can craft their own out of paper with this cute apple art project. (via I Heart Arts n Crafts)
2. Yarn Apple Craft for Kids to Make: Use yarn and a glue mixture to craft these apples. Hang them in your home for fall decor. (via As We Grow)
3. Paper Roll Apple Core: How cute are these DIY apple cores? Make them with cupcake liners and paper rolls. (via Non-Toy Gifts)
4. Marble Painted Apples: This is a fun and different way to paint. It's great for fine motor skill practicing too. (via What Can We Do With Paper and Glue)
5. Make Pipe Cleaner Apples: Pipe cleaners are super fun to craft with. Bend and shape them into apples for a fun afternoon craft. (via Make and Takes)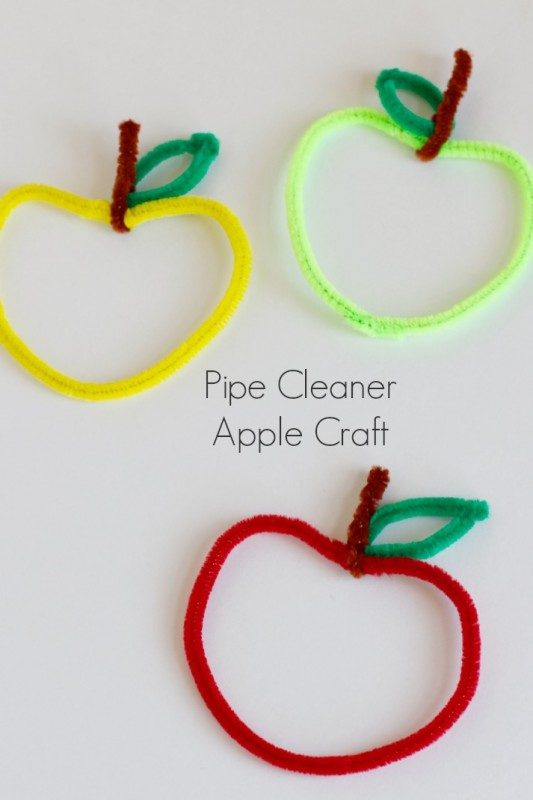 6. Apple Paper Plate Lacing Craft: Help your kids learn to lace with this apple paper plate craft. (via Our Kid Things)
7. Bubble Wrap Painting Apples Craft: Have you ever tried painting with bubble wrap? It makes such a cute texture. (via Typically Simple)
8. Erupting Apple Science: Your kids are going to LOVE this apple science experiment. It's exciting, easy, and educational. (via Kids Play Box)
9. Popsicle Stick Apples: Glue popsicle sticks together, paint them red, and add a green stem to create cute happy apples! (via Make and Takes)
10. Building with Apples: Cut up a few apples to use for this apple craft. Let your kids get creative and build anything they want. (via Fun At Home With Kids)
11. Apple Print Coasters: How awesome are these apple print coasters? I think they would be great to have in your home for fall/autumn. (via Kids Activities Blog)
12. Sippin' on Apple-Shaped Straw Buddies: How perfect are these apple-shaped straw toppers for back-to-school? Serve them in some apple juice. (via Make and Takes)
13. Gumdrop Apples: I just love these gumdrop apples. Crafting with candy is too much fun! (via Make and Takes)
14. Fruit Loop Apple Tree Craft: Sneak a little snack while making this Fruit Loop apple tree. So cute!! (via Raising Little Superheroes)
15. Apple Stamping Tree Craft: Cut apples in half and use them to stamp an apple tree for this project. It's the perfect autumn activity. (via Crafty Morning)
These apple crafts make me super excited for the fall season!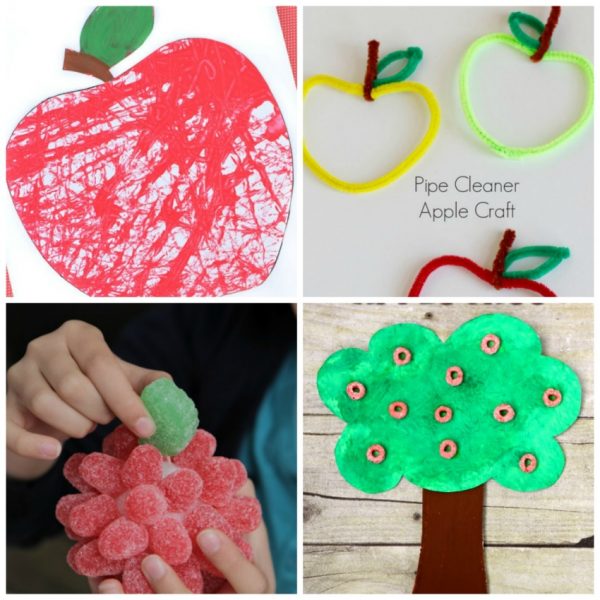 Follow us on Pinterest for more inspiration!