Whether they are paper pumpkins or real pumpkins, there's just something I love about toothy smiling jack-o'-lanterns. With just paper, glue, and a little creativity, your kiddos can turn a boring tissue box into a silly jack-o'-lantern tissue box. We always seem to need more tissue boxes around the house once autumn comes – might as well make them part of our Halloween decorations!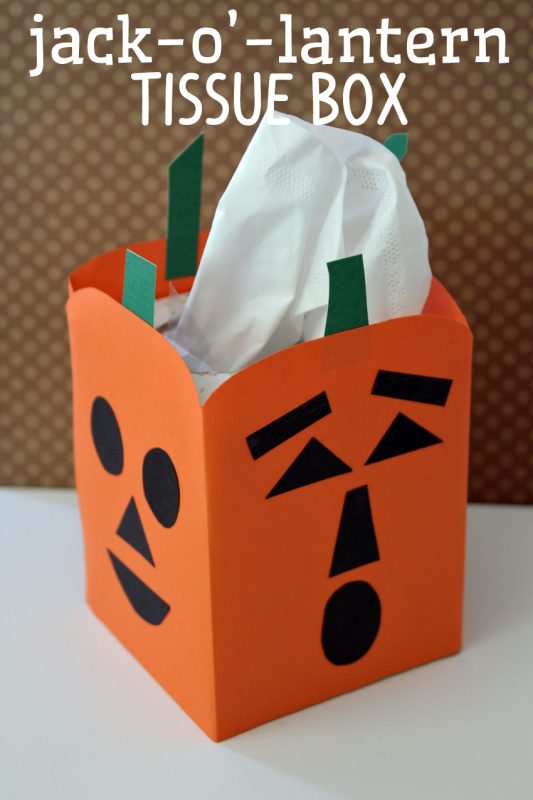 Jack-o'-Lantern Tissue Box Craft
Create these fun and easy paper jack-o'-lanterns to wrap around a tissue box. Instant Halloween decor!
Supplies:
Cube-shaped tissue box
Orange construction paper, cut to 6″x18″
Black and green construction paper (scraps are fine!)
Glue stick
Double-sided tape
Scissors
Measure around your tissue box, as well as the height, to make sure the orange paper will fit around. For my box, 6-inches by 18-inches worked perfectly. The paper should  above the top of the box about a half-inch or so. Fold the orange paper in half, then in half again, creating four even sections. Cutting through all four sections at once, round the top slightly to create a pumpkin shape. Unfold the paper.
Cut shapes from black paper for eyes, noses, mouth, eyebrows, etc. Glue shapes onto each pumpkin to create silly jack-o'-lantern faces.
Cut a variety of stems from green paper. Attach a stem to the back-side of each jack-o'-lantern with glue or double-sided tape.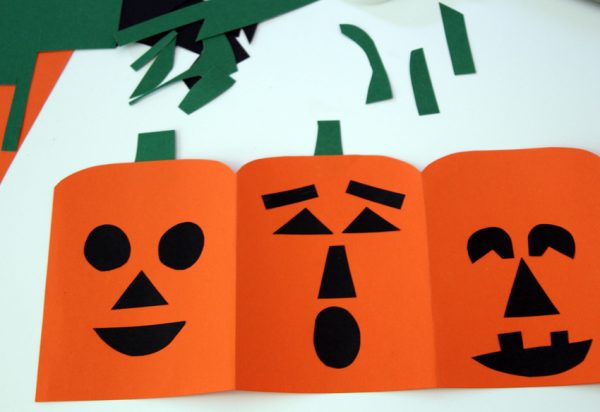 Begin attaching the folded jack-o'-lantern paper to the tissue box, one side at a time. A few long strips of double-sided tape work great for this part. Be sure to line up the bottom of the tissue box with the bottom of the paper.
If the end of the paper sticks out or overlaps, tuck it underneath at the corner and secure with tape. No more boring tissue box!
Jack-o'-lantern tissue boxes are a fun way to add a festive touch to your kid's room or bathroom this fall. And, it seems like teachers could always use more boxes of tissue in their classrooms. Surprise your teacher by bringing this fun jack-o'-lantern tissue box to school!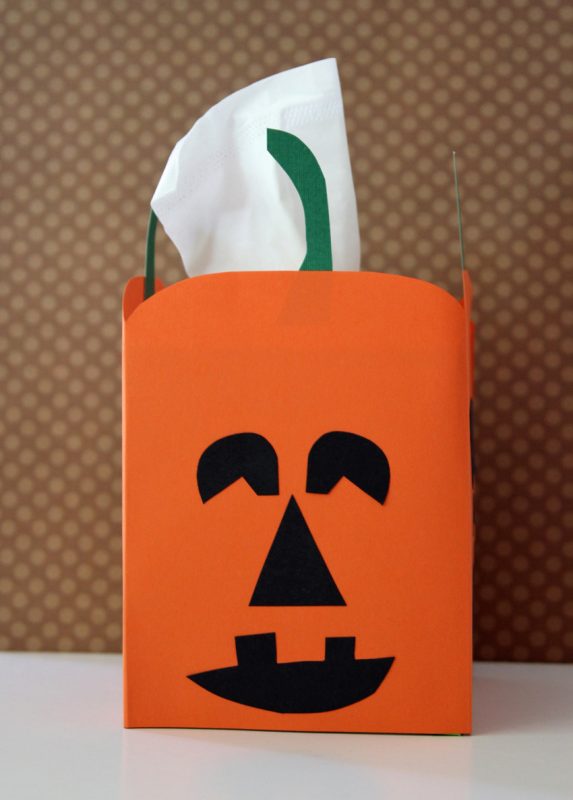 Even more Jack-o'-Lantern fun:
Paper plate jack-o'-lantern lacing | I Heart Crafty Things
Jack-o'-lantern travel felt board | The many little joys
Roll a jack-o'-lantern game | Inspiration Made Simple