Decorated flower pots have been a go-to gift in our family for a long time. Flower pots are inexpensive and easy to paint, and a new flower or herb is always a welcome gift.
As we've been getting to know our Testors® Aztek® Airbrush better, we knew its delicate spray of paint would be perfect for more intricate stencils and designs. Using a variety of lace pieces, and even a pair of tights, we painted a collection of flower pots, decorated with colorful lacy designs. These lacy flower pots would make a great Mother's Day gift!
Supplies for Lacy Airbrushed Flower Pots:
Clay flower pots
Lace trim and/or ribbon
Lace or open-weave tights
newspaper (for masking off part of the flower pot)
tape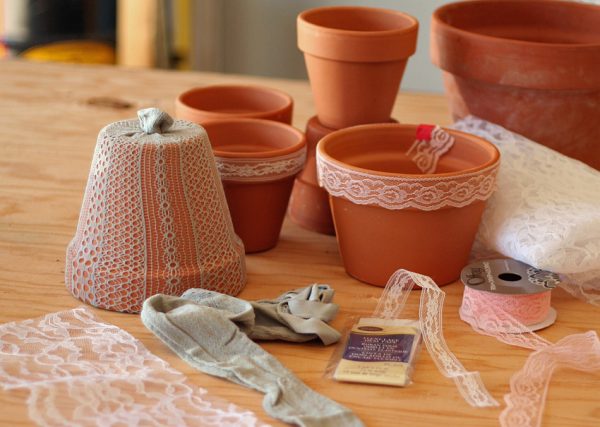 Before you start working directly on the flower pots, I recommend testing out your lace pieces on a piece of cardboard first. That will give you an idea of how well the details of the lace show up, as well as which paint colors might work best on the terra cotta surface.
For the lacy rimmed flower pot, we simply put a piece of lace trim around the top part of the pot, using a small piece of tape to secure. It's also a good idea to cover the rest of the pot with newspaper to protect it from over-spray.
Use the airbrush to paint over the lace, moving in even strokes from side to side. An extra set of hands is helpful for holding and turning the flower pot as you paint. Let dry for a few minutes and then remove the lace.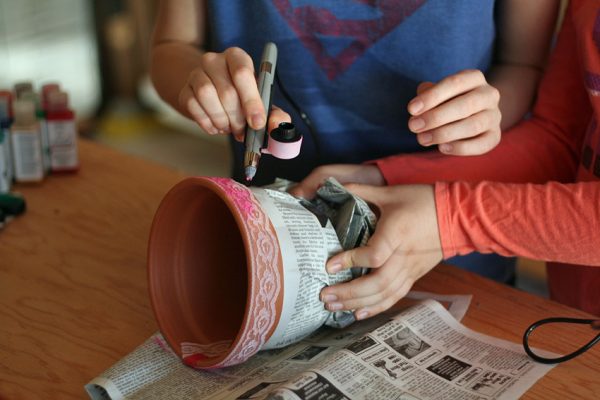 The lacy rims are simple and pretty, but my girls were even more thrilled with the results from airbrushing over lacy, open-weave tights. We stretched the leg of a tight over a flower pot, pulling it tightly and tucking the extra fabric inside the pot.

We decided to experiment with layering two colors on these pots. My girls airbrushed a darker color first, such as purple, dark blue, or red. Then, they airbrushed a lighter color over the top, such as pink or turquoise. The resulting two-tone effect is quite pretty!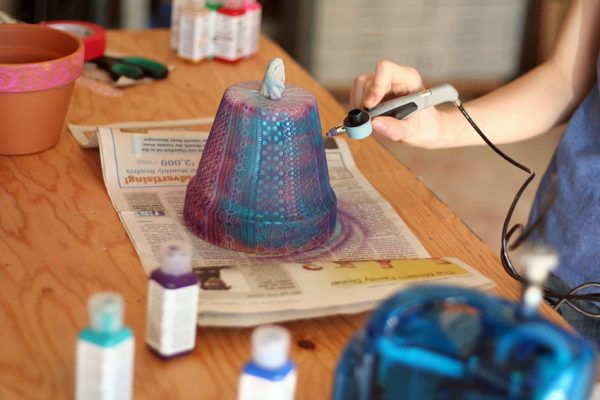 Remember to let the pot dry before removing the tights – otherwise the paint will smear and you will lose the intricate design. We were so impressed with how these turned out! The airbrush is perfect for painting a detailed stencil like this – I don't think a foam brush or sponge would work nearly as well.
Tips & tricks:
You can use the same pair of tights to paint many pots.
Darker colors show-up the best on the clay pots.
You could first paint your pots white, then airbrush the lace design in color.
Fill your lacy flower pots with flowers or herbs and gift to someone special!
**Thanks to Testors for sponsoring this post. Be sure to visit them on facebook, pinterest, twitter and YouTube for more inspiration. Testors products are available nationwide at all Michael's Craft Stores as well! And check out their ebook that contains useful product information with regards to basic usage, techniques and additional kids projects!