I just can't resist all the silly fun that can be had for St. Patrick's Day! We love to set leprechaun traps, eat green foods, and search the sky for rainbows. Maybe we will even find our own pot of gold (candy, that is!). To add a little green decor around our house, we had fun painting a lucky leprechaun painted hat, complete with a fuzzy pipe cleaner shamrock.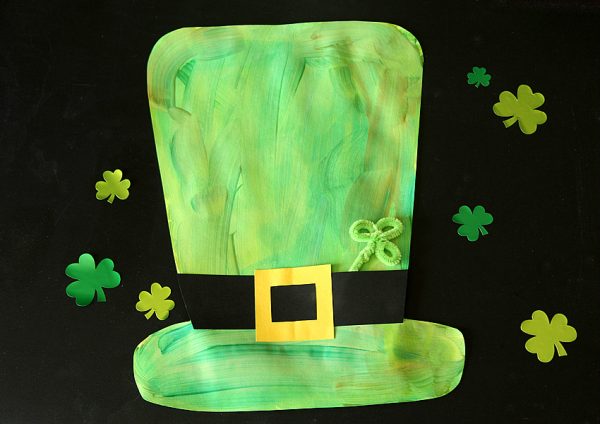 Lucky Leprechaun Painted Hat
With a basic paper hat shape and some color mixing, this leprechaun hat is definitely not too tricky to make!
Supplies:
craft paper – yellow, white, or light green, and black
scissors
pencil or marker
craft paint – yellow, green, orange
paint brush, mixing tray
optional: green pipe cleaner, glitter
Instructions:
On a sheet of construction paper, draw a basic top hat shape. We used light green paper – that way, if my four-year-old leaves some of the paper unpainted, the finished hat still looks green.
Cut out the hat, then fine-tune the shape by rounding out the top and brim of the hat.
Then, set-out a few colors of paint. In addition to green and yellow, you might also include a little white, gold, and turquoise.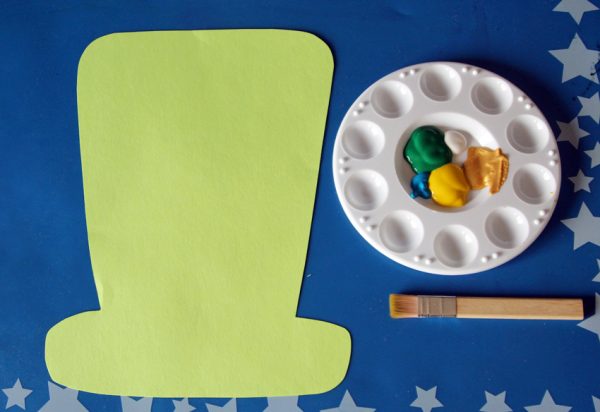 Putting the paint colors right next to each other on the palette encourages both color-mixing and loading the brush with multiple colors. Your painted hat will have a lot more interest when it's finished, than if you just used green paint alone.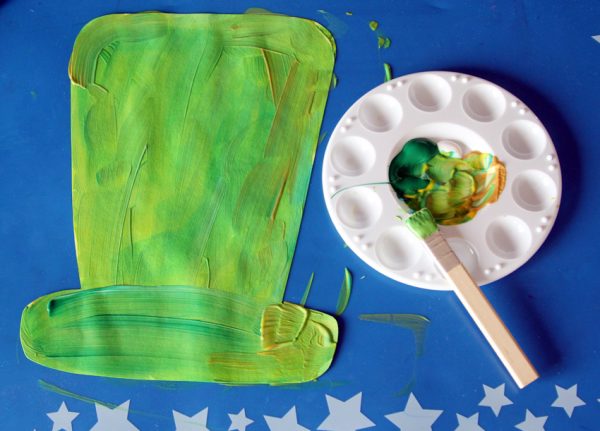 While the painted hat is drying, prep the pieces for the band around the hat. Cut a long strip of black paper – go ahead and leave it longer than you need for now. For the buckle, fold a square of yellow paper in half and cut out the center.
We also wanted a little shamrock sticking out of the hat brim, so we twisted a pipe cleaner into three loops. Then, we used another pipe cleaner for the stem. Trim the stem and tape the shamrock to the black paper. No pipe cleaners at home? Make a paper shamrock or use a sticker!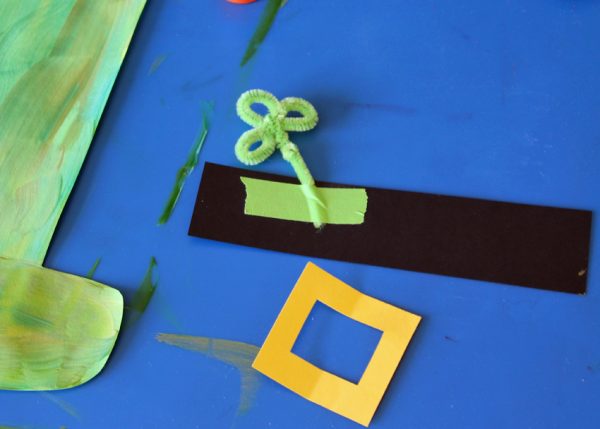 Glue the black band and yellow buckle to the leprechaun hat. Trim off the ends of the hat band, if they are hanging over. And, there's your finished leprechaun hat, ready to bring a little luck to you this St. Patrick's Day!
I was thinking we would use ours as a door decoration, but my four-year-old also thinks it would make an excellent photo prop. Just tape a straw or craft stick to the back of the hat and say, "Pot of gold!"
Pin this post for later!