With love in the air, here's a quick last minute Valentine's Day craft – Paper Tube Heart Stamps. We're using a recycled paper towel tube, along with paint and paper! So easy and so much fun for little hands to stamp.
Paper Tube Heart Stamps
Just by shaping your paper towel tube, you can create the heart shape needed to make these darling heart-tastic shapes. They are so much fun to craft. Make a whole set of cards for your Valentines! Here's the how to for making paper tube heart stamps this Valentine's day.
Supplies:
1 paper towel or toilet paper tube
red and pink craft paint
white craft paper
scissors
1. Crease and fold one edge of the tube end inward to create the center point and top ridges of your heart. Crease and gently fold outward the edge opposite your first crease. This might bend the center fold a bit, so use your scissors to create a flat heart for stamping.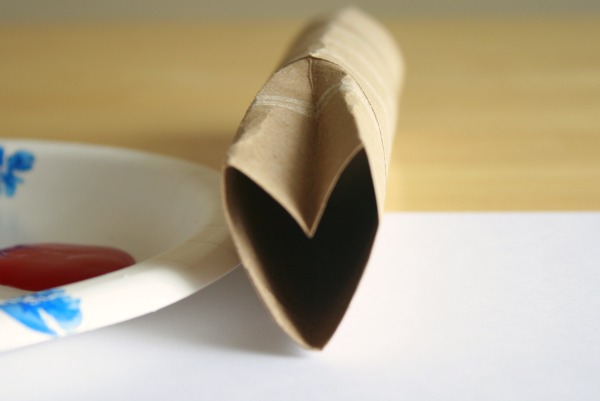 2. Dip your heart-shaped tube into paint and press onto a sheet of paper.
3. Stamp as many hearts on your paper as will fit.
4. Set to dry.
5. Once the paint is dry, cut the paper into a large heart shape to display!
If you love stamping with paper tubes, you'll love all the ideas we've been sharing.
More Paper Tube Paint Stamping:
Paper Tube Stamped Snowman – You can use all kinds of paint colors for your snowman circles, silver is cool, or pearly white. I also made a fun picture with stamped circles all over the page to represent snowballs falling.
Paper Tube Stamped Flower Power – These flowers are brightening up the place and reminding me May flowers are on their way!
Paper Tube Apple Stamps – Try making a few fun apple stamped cards to give to someone for fall! Or these would be perfect for your teacher!