We love making homemade gifts, but don't always have the time for elaborate crafts as Christmas approaches. However, these magnetic felt frames with photo pockets are quick to make and oh, so cute! The color possibilities are endless, and there are many ways to personalize them.
This craft would be a good parent/child project, and the sewing is just right for a beginner. Felt and embroidery floss are inexpensive, so you can afford to make a whole stack of frames for decorating your refrigerator and gifting to friends and family.
Supplies for Felt Frame Magnets:
felt
embroidery floss & needle
plastic sheet (we used a sheet protector)
glue gun
embellishments: buttons, chipboard shapes, felt or fabric flowers, etc.
magnets (sheet or button style)
For each felt frame, cut two rectangles of felt 2.5 inches by 3.5 inches. This will make a frame that holds a standard wallet-size (2″x3″) photo. Cut a window in one of the pieces of felt, leaving about a half-inch border.
If you are going to make a lot of frames, I recommend making yourself a template on heavy paper (like an index card). Also, chalk works great for drawing on darker felt colors.
Cut a piece of plastic (from a sheet protector, recycled packaging, etc.) just a little larger than the window. Carefully attach the plastic with hot glue and let dry.
Place a window piece of felt and the solid back piece together and sew around the edge with a simple running stitch. Start at the top of one side, go across the bottom, and up the other side. I am especially fond of the gray felt with bright colored embroidery floss, but choose any color scheme you like!
Leave the top of the frame open for inserting a photo. When you get to the top of the frame, sew the running stitch along the front piece of felt only. Knot your thread on the back of the frame.
You can leave the frame just like this, which looks adorable, or fancy it up even more with some embellishments. Buttons, fabric flowers, felt accents, or chipboard shapes would all make cute additions. Attach with hot glue and let dry. Then, glue a magnet on the back, too.
Now it's time to slide a photo, quote, or tiny piece of artwork into your felt frame. Trim your photo as needed for the perfect fit.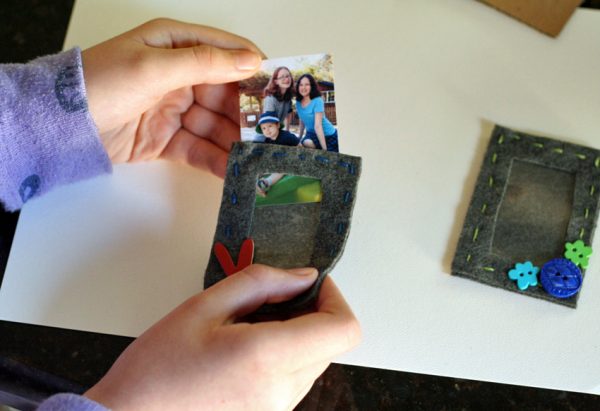 These frames are sure to brighten up your fridge or file cabinet, plus they would make excellent handmade holiday gifts! If you would like to put a quote or saying in your frame, try searching for printable Project Life scrapbooking cards. Print them at 65-70% size and they should fit perfectly! (The one pictured is from Kensie Kate.)
Need a homemade ornament? Glue a ribbon hanger on the back of the frame and hang it on the Christmas tree. Cute!