This is a sponsored conversation written by me on behalf of The Hershey Company. The opinions and text are all mine.
We're gearing up for Halloween and making a fun and crafty "bag of tricks". In our bag we'll be adding in a few toys, games, and snacks to celebrate Halloween. This could be a bag they grab from for earning a prize by completing something at home or at school, or it could simply be counting down to Halloween and getting kids excited for the big day!
I'm partnering once again with REESE'S Snack Mix Snack Size (exclusively at CVS) and incorporating these snack packs into our bag of tricks. Each snack pack comes with a mix of REESE'S Peanut Butter Cup Minis, REESE'S PIECES Candy, roasted salted peanuts & mini pretzels. So many delicious flavors for Halloween munching and trick-or-treating!
Here's how we made our Halloween "bag of tricks", as there's always room for a few tricks and treats during the Halloween holiday!
How to Make Our Bag of Tricks:
Supplies:
fabric or canvas bag
fabric markers
optional: ribbon in Halloween colors
Write the words "Bag of Tricks" on the center of your bag with your fabric markers. Draw other little fun Halloween shapes and designs around the words to decorate.
For an optional festive addition, tie on a few pieces of 8 inch ribbon to the top of the bag's handle. Super cute!
What to Fill in Our Bag of Tricks:
We're filling our bag with a few snacks and treats, as well as games and toys. For the games and toys, purchase a few new things from the dollar store or it's fun to add in a few toys your child hasn't played with in a while, making it new again! Here's what's in our bag:
REESE'S Snack Mix Snack Size packs – be sure to add a couple of these!
pack of gum
small suckers
erasers
toy car
deck of cards
mini coloring book
colored pencils
stickers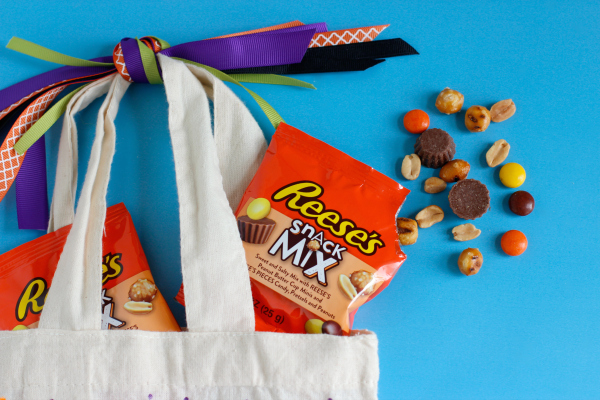 Have fun with your "bag of tricks" as you celebrate this Halloween holiday!