Summer is the perfect time for crafts with the kids, especially ones with summer flowers! Help your little ones find their creativity with these sunflower art mixed media creations!
Mixed Media Sunflower Art Project
Sunflowers are one of my favorite flowers. What's not to love about something so bright and cheery? These mixed media sunflowers will keep your artists busy with a fun mix of techniques – drawing, painting, cutting, and gluing.
Mixed Media Sunflower Art
Supplies:
Watercolor paper (or other heavy drawing paper), cut into a square (mine is a 9″ square)
Oil pastels or crayons
Watercolors
Yellow and brown construction paper
Sunflower seeds
White glue
Instructions:
Trace and cut circles from the brown and yellow construction paper. I used a glass and small dish to make my circles. The brown center circle is about 3 inches and the yellow circle is about 5 inches. Center the brown circle on the watercolor paper and lightly trace around it – no gluing yet!
On the watercolor paper, draw some big sunflower petals with oil pastels or crayons. Use a combination of yellows and oranges, and add any details you like inside the petals. Make sure your petals go past the circle you traced in the center.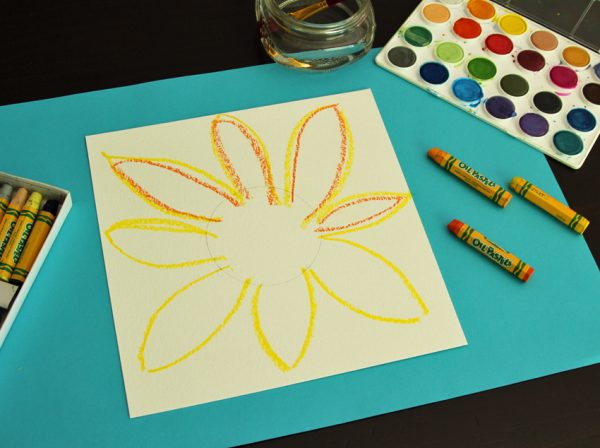 Using watercolors, paint the petals orange or yellow. The pastels or crayons will resist the watercolor paints.
Add a wash of light blue paint, or another color of your choice, to the background around the flower. Set aside to dry.
Add some details to the brown center circle. I painted a simple crosshatch pattern with brown watercolors and the edge of a flat brush. You could draw with pastels, crayons, or markers, too.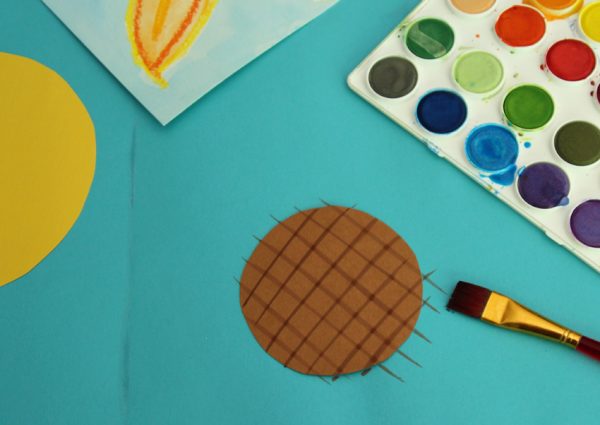 Glue the brown circle, centered, on top of the yellow circle. Cut fringe all around the yellow circle, stopping when you get to the brown center. Play around with the fringe – folding, bending, curling – until you like how it looks.
Glue the fringed center onto the painted sunflower. For a finishing touch, glue sunflower seeds to the center of the flower. Use small dots of white glue to attach the seeds. So cute!
More ideas for summer crafts:
I'm thinking a sunflower-themed art and snack time would be a fun way to spend an afternoon this summer. In addition to making the mixed media sunflower art project, we could:
Read books about sunflowers (Eve Bunting's Sunflower House is a favorite!)
Have fun creating and celebrating the happy sunflower!
*Originally posted 7/11/16