For months now, I have been craving stuffed peppers, so this recipe for Moroccan Spiced Stuffed Bell Peppers is the perfect dinner tonight. This is strange because I have only ever eaten them a few times in my life that I can remember, and only one of those times was it good.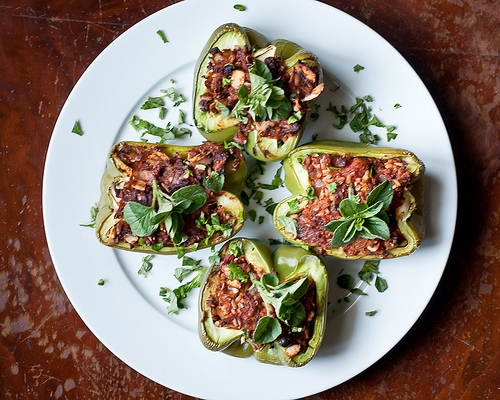 Moroccan Spiced Stuffed Bell Peppers
I wanted to trade in the ground beef for vegetables and fried fruit in the stuffing.  And I wanted it to be spicy.  All in all, I was very happy with how the peppers turned out.
If you're looking for a great meatless main dish (add some roasted veggies to round out the meal) or a flavorful side dish, stuffed peppers will certainly fit the bill.
Moroccan Spiced Stuffed Bell Peppers
Serves 2 as a main dish, or 4 as a side
Ingredients:
2 large bell peppers (green, red, orange, or yellow)
2-3 tsp. extra virgin olive oil
1/2 onion, finely chopped (about 1/2 cup)
1 carrot, peeled and finely chopped
2-3 large garlic cloves, minced
1/2 tsp. chili powder
1/4 tsp. each: ground cinnamon, ground cumin, ground cardamom
pinch each: ground cloves, ground nutmeg, cayenne pepper
salt and pepper, to taste
1/2-1 tsp. dried oregano, crumbled (1 Tbsp. if using fresh)
1/2 tsp. dried mint, crumbled (1/2-1 Tbsp. if using fresh)
1/4 cup canned diced tomatoes with juice (might need a little more if too dry)
2 Tbsp. golden or dark raisins
2 Tbsp. chopped dates
a little sugar
juice of 1/2 lemon
1 cup cooked brown or white rice
water, for cooking
Method:
Preheat oven to 400 degrees F.
Heat the olive oil in a medium-sized skillet and add the onion. Cook until onion starts to turn golden and softens. Add the carrots and garlic. Continue cooking until the carrots are soft. Add a little water to the pan if it gets too dry to prevent burning. Sprinkle the spices over the vegetables and cook for a few minutes until they toast and become fragrant. Add the dried or fresh herbs, canned tomatoes, raisins, dates, a little sugar (about 1/4-1/2 tsp.) and the lemon juice. Stir well. Add the cooked rice. Season well with salt and pepper; taste and adjust seasonings as desired.
Cut the bell peppers in half lengthwise, leaving stem end intact if possible. Remove the seeds and ribs from the inside. Spoon the rice mixture into each half, packing it in. (If it looks like you won't have enough, add more rice.)
Place the halves into a baking dish. Add enough water to cover the bottom and 1/2″ up the sides of the peppers. Bake for about 30 minutes, or until the peppers are tender.
Remove from oven and serve.
Cook's Notes:
If you want the peppers to be really soft, you can quickly submerge the seeded halves into boiling water for about 5 minutes, drain them, dry them off, and continue with the recipe.
These would be fantastic served on the side of beef, chicken or lamb kebabs, or served with roasted squash or cauliflower on the side.