It's that time of year… back to school! With my kids settling in, it's time to cheer on our teachers and let them know we're excited for this new school year. To help celebrate these fabulous people, I've partnered up with Scotch Expressions to make something fun, flashy, and personalized. Jazz up a plain 'ol mug with a some snazzy tape and it's ready to hold all of teachers most important supplies… pencils!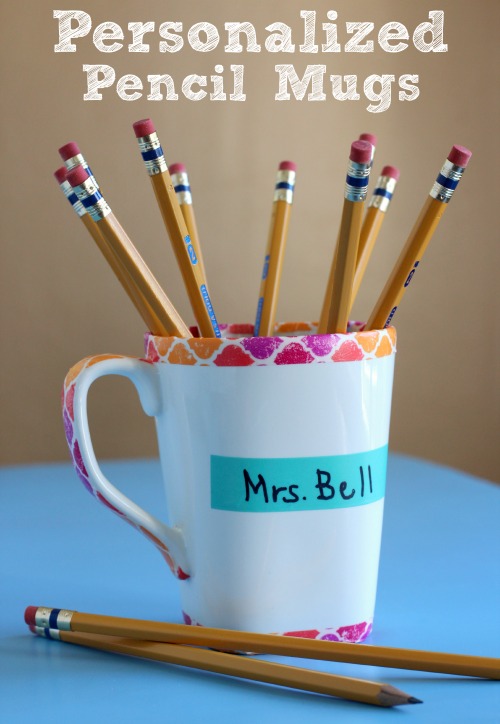 Let your kids decorate these mugs with all sorts of fun washi tape, decorative masking tape, and expressions tape. Teachers love personalized gifts from their students, and these are super easy and fun to a make. Here's the how-to!
Supplies for Personalized Pencil Mug:
mug or drinking glass
pencils
Scotch Expressions Tape
permanent marker – optional
1. Clean and dry your mug so it will be ready for some decorating. NOTE: you can repurpose an old mug or a thrifted mug. The tape will cover up any blemishes!
2. Grab your favorite decorative tape and start adding it to your mug. The possibilities are endless. And just in time for this back to school season, Scotch Expressions Tapes are available in over 100 colors and patterns and four varieties — magic tape, masking tape, washi tape and shipping tape. Yippee! So many fun styles to choose from.
What I love best is this tape is very easy to remove if you need to place it onto a different spot on your mug. Very forgiving!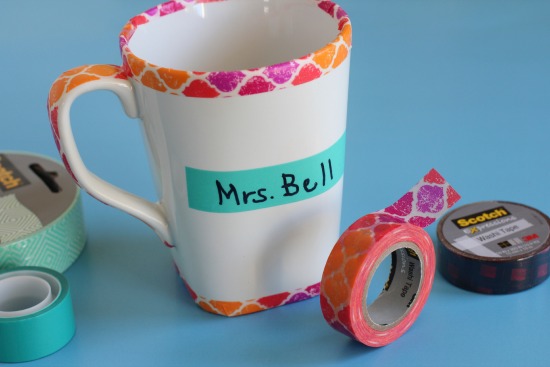 3. Once your tape is down, you can add your child's teacher's name on one of the pieces of tape to personalize it even more.
4. Add some brand new sharpened pencils and it's ready to gift to teacher. They're going to love this fun bright spot on their desk!
Be sure to visit Scotch Expressions on facebook, twitter, and pinterest with the hashtag #ScotchBTS to see more fabulous ideas for back to school fun! Find them available at office superstores and mess retailers nationwide, as well as online. Head to ScotchBrand.com/EXP to find a store near you. It's easy! Just type in your zip code.
Here are 10 more ways to decorate mugs! And check out this darling DIY Confetti Painted Heart Mug!
*This post is sponsored by Scotch Expressions. All ideas and opinions are my own.