This rainbow sailboat collage art project has a little bit of everything – some painting, drawing, cutting, and gluing. First, use a few unique paint tools to create a wavy ocean background. Then, use simple shapes to design your own rainbow sailboat. A few puffy clouds are the finishing touch to this colorful collage project!
Rainbow Sailboat Collage Art Project
We love to set aside the paintbrushes and paint with other tools and objects around the house. I keep a few inexpensive plastic combs with our art supplies for projects like this!
Supplies:
light blue craft paper
washable tempera paints in blues, greens, and white
painting tools with "teeth," such as hair combs, plastic forks, or cardboard combs
craft paper scraps in rainbow colors
scissors
glue stick
cotton balls
First, paint some ocean waves on the bottom half of the light blue craft paper. You can use a regular paintbrush, or experiment with one or more comb-type tools, such as plastic forks, plastic hair combs, or homemade cardboard combs.
Squirt some blue, green, and white paint onto the paper. Then, drag the tools through the paint in wavy or straight lines to create wave-like texture. Continue adding more paint, as needed, to create the ocean waves.
While the painted background is drying, draw and cut out some simple shapes to make a sailboat. Depending on the age and abilities of your kiddos, you can cut shapes out ahead of time, or you can draw shapes on paper for your kiddos to cut out. Older kids can draw and cut out the shapes themselves. Sometimes, drawing a few sailboat ideas with simple shapes can be helpful.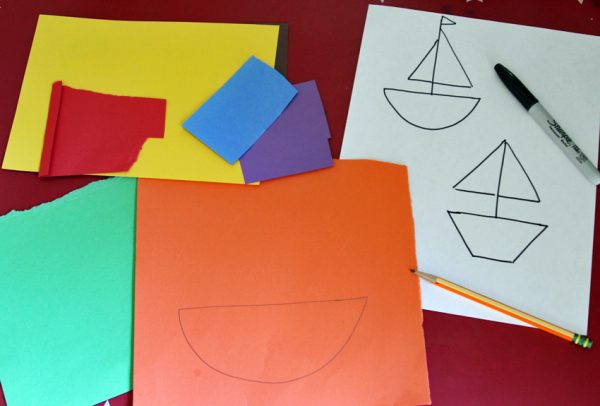 Cut at least one shape from each of the rainbow-colored paper scraps. We added a few sail decorations using some of our colored paper. Once you have all your shapes cut out, glue them to the painted background paper using a glue stick.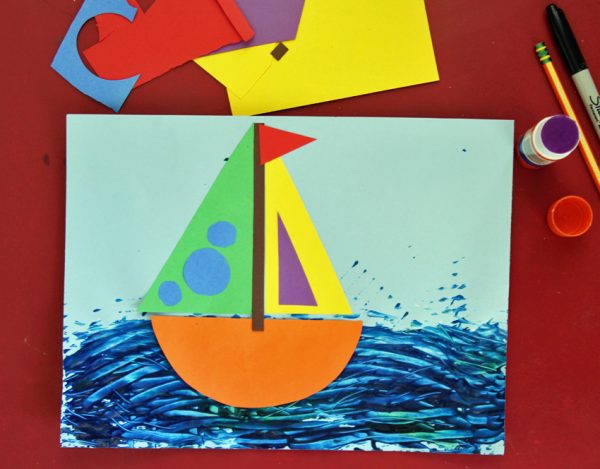 For a final touch, pull apart a few cotton balls to create wispy clouds. Then, use a glue stick to stick them in the sky around the sailboat.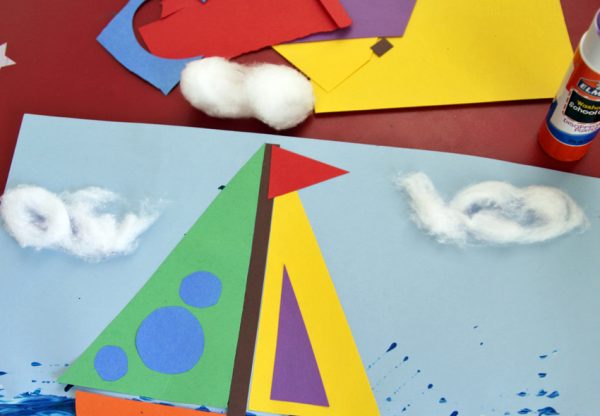 I love the bright colors and interesting textures on our rainbow sailboat collage art. My little guy especially loved painting with the comb, so I'm sure we will be revisiting that kind of painting many more times!
Also, these apple slice sailboat snacks are genius, and will be making an appearance at one of our snack-times very soon!
Happy crafting!