Happy Spring! Some of my favorite springtime memories are of my kids' little umbrellas bobbing up and down as they splashed and stomped in rain puddles. This art project is inspired by those colorful umbrellas and rainy day play.
Starting with a simple drawing, we created texture rubbing umbrellas with all kinds of fun materials from around the house. After we made the crayon rubbings, we finished our pictures with some colorful watercolor paints.
Draw a Rainy Day Textured Umbrella
With a black crayon or oil pastel, draw a simple umbrella on white drawing paper. For the best texture rubbings, use a lightweight paper. Here are the steps we used to draw our umbrellas:
Draw a large arch across the page.
Add four small arches or "hills" to form the bottom of the umbrella.
From the top center of the umbrella, draw curved lines down to where the small arches meet to form the sections of the umbrella.
Draw a curved handle and a small button on top.
Now, look all around the house for some interesting textures. If it's not a rainy day, you might take your drawing outside and go on an outdoor texture hunt, too. Some ideas for texture rubbings include:
mesh produce bags
sandpaper
corrugated cardboard
window screens
tree bark
baskets
lace or doilies
sidewalk
leaves
Legos
coins
combs
bottoms of shoes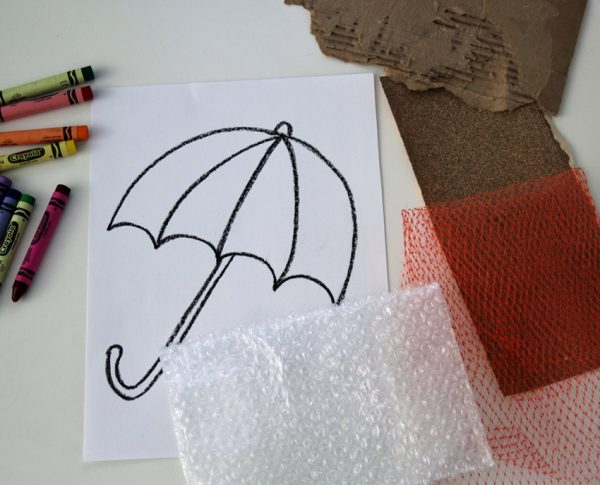 With your paper on top of a textured surface, color one section of the umbrella, using the flat side of a crayon or oil pastel. Crayons will work fine, but the softer pastels will pick up even more detail. Continue choosing new textures and making rubbings until the umbrella is colored in.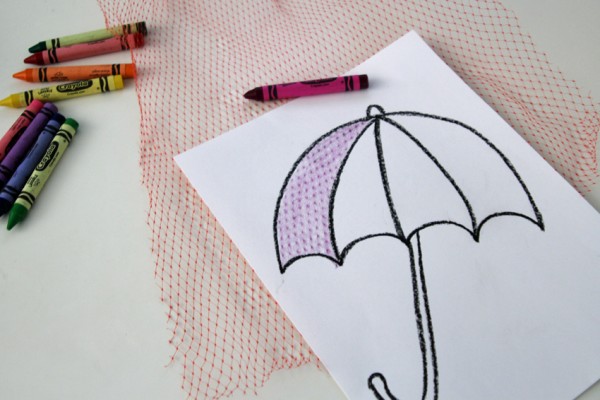 Color the umbrella handle, and add raindrops in the background. You can leave your umbrella just like this – so fun and colorful! Or, you can grab some watercolors and create a classic watercolor crayon resist painting.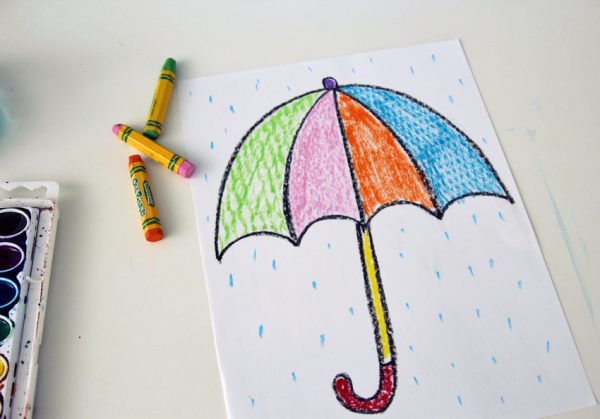 Paint your umbrella and background with watercolor paints. The crayon textures don't show up as well as the oil pastel rubbings, but I think both ways look beautiful! You can paint your background a bold blue, or just add a little blue paint to some water for a lighter wash.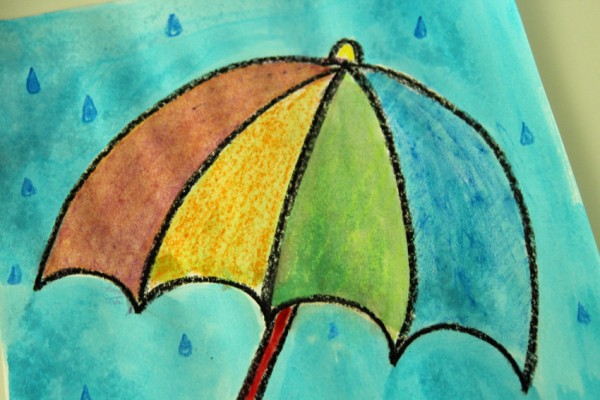 These colorful textured umbrella drawings are a great way to brighten up a rainy spring day. Maybe you'll be inspired to grab a real umbrella and head out on a rain walk!