There is nothing I love more than taking something old and making it new again. I love visiting thrift stores and finding treasures that I can upcycle into pretty new things for our home. A splash of paint can instantly bring new life to something old or ordinary. Turning items into vases is one of the quickest and easiest upcycles because there are so many different objects you can use.
Flower Arranging with a Re-Purposed Jar
For today's re-purposing craft, I'm going to turn a simple jar into a vase that is going to make flower arranging so easy. There's nothing I dislike more than buying a  beautiful bouquet of flowers at the farmer's market only for them flop everywhere in the vase if it isn't just right size.
Supplies:
Jar with a metal lid

Glass paint
Spray paint
Drill with a drill bit wide enough to make holes for flower stems
Hemp cord
Instructions:
This is a fairly easy craft with only three steps.
Step 1: is to drill holes into the lid of the jar.
Take your time though, you don't want to put dents in the lid or buckle the metal. Slow and steady and you'll have perfect holes in no time.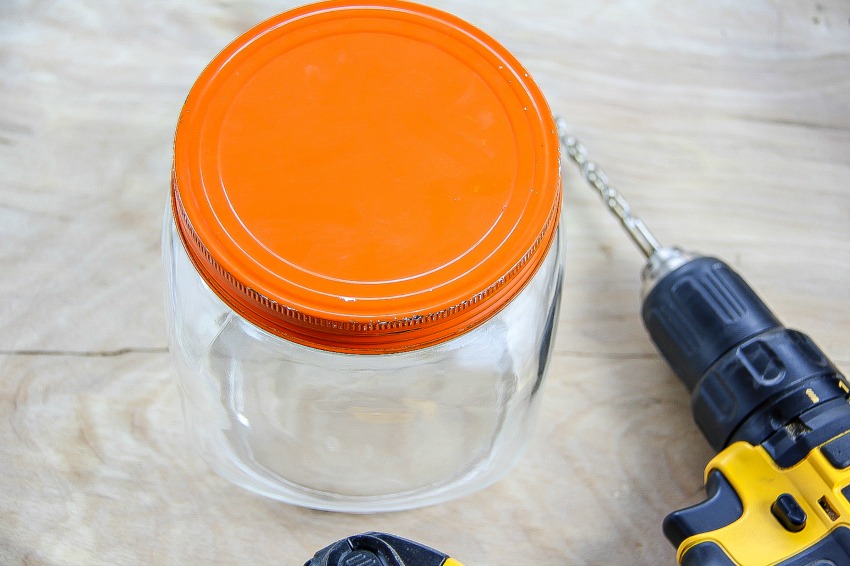 Step 2: paint the lid with spray paint any color you like.
I went with a basic white for mine, but feel free to get creative and add a little color.
Step 3: is to paint the glass jar.
I used a frost on mine, but there are a few different options available.
Set aside to dry, preferably overnight.
Wrap hemp cord around the top and you have the perfect vase that will suit many different decorating styles but particularly farmhouse or shabby chic.
Play around with cutting your flowers and filling at different lengths to create a beautiful flower arrangement.
Please pin this post for later: