For the Easter holiday, we're prepping a fun family-friendly dinner where everyone can build their own savory crepes. I love to get the kids involved in all parts of kitchen prep. These DIY savory crepes are a great way to serve dinner and let your guests build their own meal, especially with kids!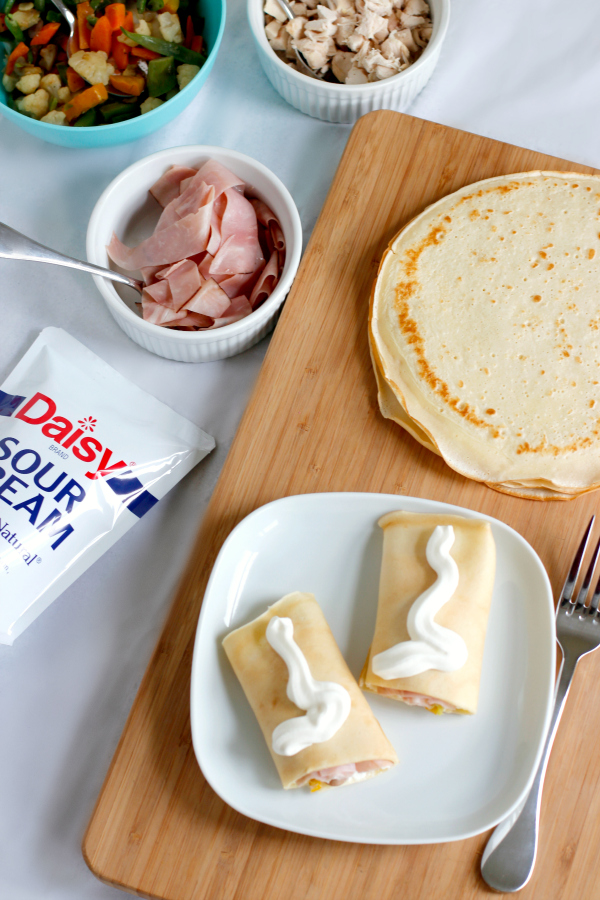 I'm partnering with Daisy Sour Cream for our Easter dinner bar. Daisy Squeeze Sour Cream makes it easy to create simple, family-friendly appetizers, main dishes, and desserts the whole family will love with the goodness of Daisy® Sour Cream. Even little ones can help with the Easter prep in the kitchen without the mess and these easy squeeze containers, yippee!
Savory Crepes Dinner Bar Ideas
Here are a few options for making crepes and filling them up for your family dinner!
Simple Crepes Ingredients:
2½ cups milk
1 cup flour
2 eggs
1 tablespoon oil
2 tablespoons sugar
1 teaspoon vanilla essence
Head over to our Simple Crepes Recipe for making these delicious crepes!
Filling Options:
2 cups cooked diced/sliced meat – chicken, ground beef, shredded pork, sliced ham
2 cups cheese – cheddar, feta, pepper jack, mozzarella
2 cup sautéed veggies – carrots, squash, broccoli, mushrooms, onions, peppers
1 cup diced tomatoes
Daisy Sour Cream
Method:
Add all ingredients to a medium-sized bowl, starting with the flour and sugar, and then adding the wet ingredients. Using a manual hand blender, mix on medium speed for a couple of minutes, or until the top of the batter becomes slightly frothy.
Heat a small, shallow non stick pan on medium-low heat and spray with some oil the bottom of it. Slowly pour batter into pan until the bottom of the pan is covered in a thin layer of batter. Let cook for 2 minutes, or until the bottom is a light brown. Flip the crepe and let the other side cook for another two minutes. Makes around 12 medium-sized crepes.
TIP: You can make crepes ahead of time and chill in the fridge over night. Warm them up when you're ready to serve. They are best served warm.
Once your crepes are all cooked up and ready to go, place all your fillings on the dining table. Now all your guests can make up their own crepe however they'd like with all the ingredients provided.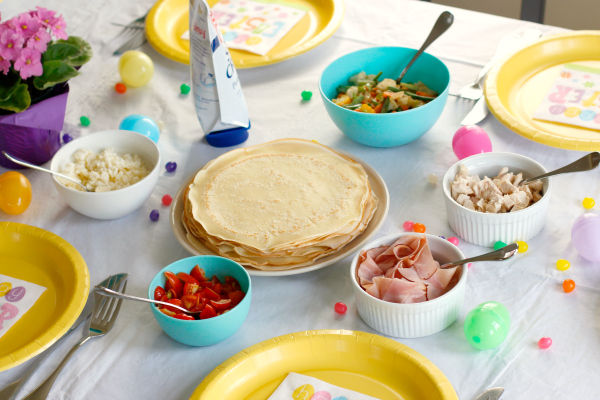 Even my kids have fun building their own crepes for dinner. My 7 year old is already a squeeze master with the sour cream! I love when dinnertime is just as much fun as it is tasty!
Fill your crepes, roll them up, and they are ready to eat!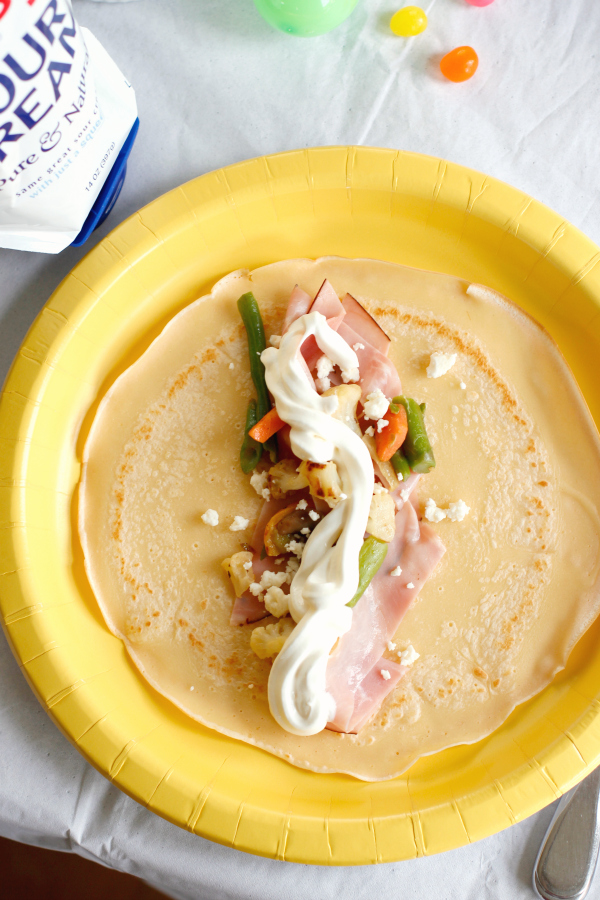 Perfect way to share some holiday fun with the whole family for Easter dinner.
This post is brought to you by Daisy Squeeze Sour Cream. Squeeze more out of Easter with a #DollopOfDaisy.