I'm a sucker for home decor items made by my kids. I love decorating with their handmade treasures each season, from little toddler handprint art to big kid painted vases.
When we had the opportunity to try out the Testors® Aztek® Airbrush, I knew I wanted to get my daughters involved in making something with it. Little did I know how much they would love working with the airbrush! Our porch was in desperate need of some attention, so we decided to try our hand at airbrushing a doormat with some bright flowers.
My daughters are 10 and 12, and they made this colorful spring flower doormat with very little help from me. My main job was answering questions and cleaning the airbrush in between colors. They are so proud of their creation, plus they now have a long list of airbrush projects they want to make!
Supplies for Spring Flower Doormat
Plain doormat
Card stock, thin cardboard, or file folders (for stencils)
Before we could get busy painting our doormat, we needed a variety of flower stencils. I wanted to use the girls' illustrations for stencils, so I had them draw different flowers on pieces of file folders. We left plenty of room around each flower for catching extra paint. I did most of the tricky cutting.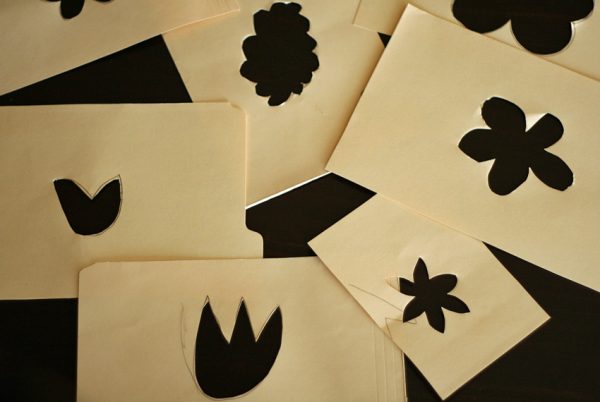 Having never used an airbrush myself, I wasn't sure how quickly we would get the hang of it. Well, this little airbrush is easy to put together and use. After spending a few minutes with it, I gave the girls a quick tutorial, then set them free to practice on some scrap cardboard. They had no trouble working with the airbrush and were instantly hooked!
Before we started painting, we put down some newspaper to protect our surface from over-spray. You could also tape a piece of newspaper in the center of your doormat if you're worried about getting too much paint outside the border. We had very little over-spray, thanks to our large stencils, and any that we did have blended in with the doormat.
Working with one color at a time, we stenciled flowers onto the doormat with the airbrush. The airbrush paints are already thinned to the right consistency, so no extra work there! We did a quick rinse and cleaning between colors, so in the interest of time, we painted all our pink flowers first, then moved on to blue, etc.
The acrylic airbrush paints are easy to clean-up with water. I also ran a small amount of water through the airbrush in between colors. We always started a new color by painting on the cardboard, just to make sure everything was working. We worked in a ventilated area, and I felt comfortable letting my girls work with these water-based acrylic paints.
Continue adding flowers until the border is full. Feel free to overlap some of the flowers and colors, too! My girls experimented with making light and dark flowers, varying the amount of passes they made with the airbrush. Even with the rough texture of the doormat, we were able to get bright colors and crisp edges.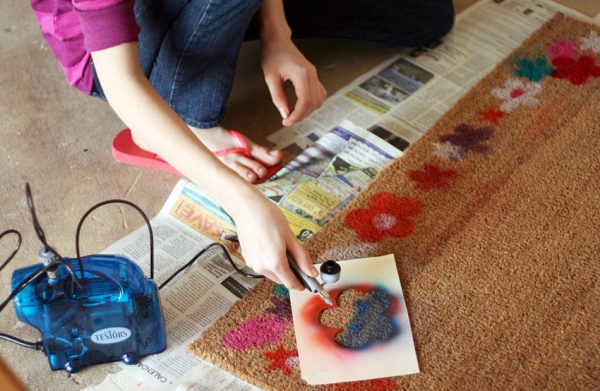 At this point, my girls were feeling quite confident with the airbrush and decided to free-hand some flower centers and leaves. After another quick practice round on cardboard, they got busy adding details. They enjoyed "drawing" with the airbrush, and definitely want to try more free-hand art on another project.
Here's a close-up of our bright and colorful flowers. I just love how whimsical and cheery they look!
Whether you're still shoveling snow (I hope not!) or already working in the garden, this spring flower doormat will brighten up your front porch. Also, I'm pretty sure the grandparents would not complain if your kiddos gifted them a new, kid-decorated doormat.
The Testors® Aztek® Airbrush, along with it's adorable mini blue compressor, is quite a nifty little crafting tool. My whole family had fun playing with it, and we can't wait to test it out on wood signs, T-shirts, and ceramic pots, just to name a few!
*Thanks to Testors for sponsoring this post. Be sure to visit them on facebook, pinterest, twitter and YouTube for more inspiration. Testors products are available nationwide at all Michael's Craft Stores as well! And check out their ebook that contains useful product information with regards to basic usage, techniques and additional kids projects!