We love picture books! Even though my girls can read big, fat chapter books now, there is still something magical about a silly or sweet story paired with the perfect illustrations. We've found 4 childrens' book illustrator websites worth checking out!
My girls often use picture books as inspiration for their own drawings, so lately we've been surfing the web to check out some of our favorite illustrators' websites. My younger daughter loves all the printables that feature some of her favorite story characters, while my older daughter gets inspired reading the biographies of each illustrator. Getting a peek "behind-the-scenes" of an illustrator is a great creativity spark in our house.
4 Childrens' Book Illustrator Websites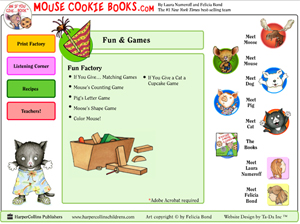 This site is the home of author Laura Numeroff and illustrator Felicia Bond's series of "If You Give…" books, some of my girls all-time favorite picture books. You'll find online games, printables, recipes, and author/illustrator biographies alongside super-cute animations of the stars of these books – Moose, Mouse, Pig, Cat, and Dog.
My kids' picks: Cat's Cupcake Decorating Game, the hip-hop mouse cookie song in the Listening Corner, and the treats in the recipe section.
My girls are huge fans of Mélanie Watt's quirky and extra-cautious squirrel. They love the illustrations of Scaredy's maps and charts. At the bottom of the Games page, you'll find suggestions for a Scaredy Squirrel themed party. Great kids' book club idea!
My kids' picks: Create your own emergency kit printable and all the silly warnings as you click around the site.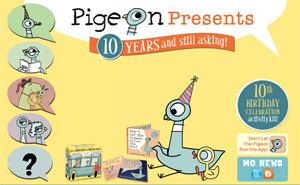 Your kids are friends with Mo Willems' Pigeon, right? This website is full of fun activities with Pigeon and his pals. My girls enjoyed watching the "Mo History" video in the Grownup Stuff section.
My kids' picks: Elephant & Piggie Dance Game, how-to-draw Pigeon, and the Knuffle Bunny drawing activities.
Last, but definitely not least, Seussville is like a Dr. Seuss paradise online. If your kids love The Cat in the Hat, the Sneetches, and Sam-I-Am, they'll have fun exploring all the activities on this site. You can even create your own Who!
My kids' picks: Lorax Quest in Games & Activities and checking out the character "conveyer belt."
Happy surfing and creating!