There is real talent when it comes to thrift store shopping. I'm lucky to live near two of the top thrifters around, Allison and Kami. These ladies are skilled in their approach and attack! After going with them on a recent trip to the thrift store, I learned a thing or two. Here's a few tips for the next time you go thrift store shopping.
1. Get there early! I arrived just before 10 am to my local Utah thrift store and witnessed close to 30 people lined up to get in. They are the real bargain hunters. Kami and Allison are usually among them! They say most people head in towards the collectibles first, seeing what's new for the day. You could probably go every single day and find something new.
2. Pile it in, decide later. It can get pretty hairy in there, people spying in your cart to see what you've got. So if you're thinking about a specific item to buy, just put it in your cart. Allison's cart is piled high, both of them. She likes to make sure it's all in her cart, so no one else can snag it. Then decides later if she's really going to buy it. (She's got an iron grip on those carts! ;)
3. Will I use it? If you've got something specific in mind for an item, like Allison's really cool jug or this clock of Kami's or this mirror that's going to get a fresh coat of paint, then get it! But if you're not going to use it, don't buy it. It'll just be adding more junk to your junk.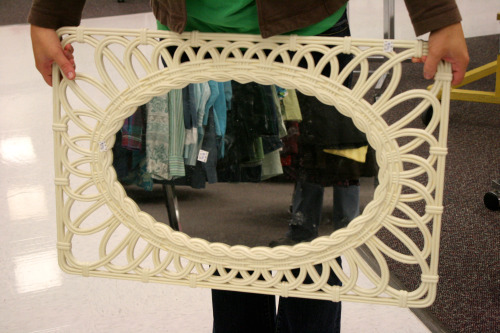 4. Go with a friend. This tip is helpful with tip #3. I was constantly asking them their opinion if I should buy something. Should I get this or this? What would I use it for? Can I borrow your black paint? Will I really end up wearing it? It's nice to go with someone who can tell you yes or no, otherwise you might buy a whole bunch of stuff you really don't need.
Here's what I found and purchased. I'm beyond thrilled with my wooden lollipop tree. My grandma had one of these out at Christmas when I was little and I've been wanting to find one ever since. (That dude behind me is totally eying my find, I know it!)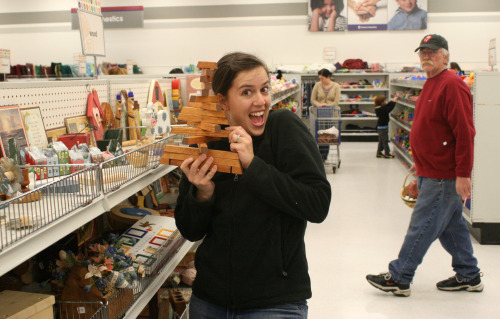 My baby also got a cute dress, I have a new fun red purse, a couple of plates that will start showing up in recipe posts, and a tissue box cover that Kami convinced me to paint (I'll share the new look when it's done).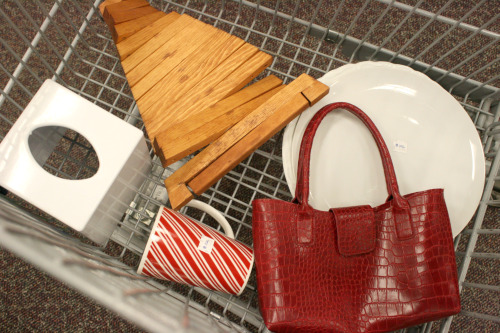 What thrifting tips and tricks do you abide by when shopping at thrift stores?