The 4th of July is approaching and our family is getting ready to decorate and celebrate. We just love the colors, fireworks, and excitement that come along with the holiday! There's just something special about all that red, white, and blue. Here are a few of the fun holiday inspired projects we've created for 7 patriotic crafts. I hope you have a great time recreating them with your own family!
**With each of these crafts, you could change up the colors to celebrate other countries and cultures.
7 Patriotic Crafts for the 4th of July
1. Red, White, and Blueberry Skewers: These festive treats are great for the kids to help with and make for a yummy potluck snack. You can't go wrong with berries during the summertime- and the kids will love the marshmallows sandwiched in between!
2. Pipe Cleaner Fireworks: Don't want to light fire on the 4th? Try making these kid-friendly sparklers. You could even put the bigger kids to work making these for little ones!
3. Ribbon Wrapped Baskets: Fill these red, white, and blue baskets with toys and treats for your backyard party. Perfect for storing games, party favors, and more! And you'll have an extra basket for laundry once the party is over!
4. Patriotic Paper Lollies: These darling paper lollies are fun and festive, perfect for a holiday table. I can even see one atop a giant brimmed sun hat! Don't the colors just POP?!
5. Firework Yarn Pom Poms: No need for the tiniest members of your family to be left out of the fun. Your little ones can cheer on the parade with these simple yarn and pipe cleaner pom poms. Perfect for those littlest ones who are scared of sparklers or at risk of being burned!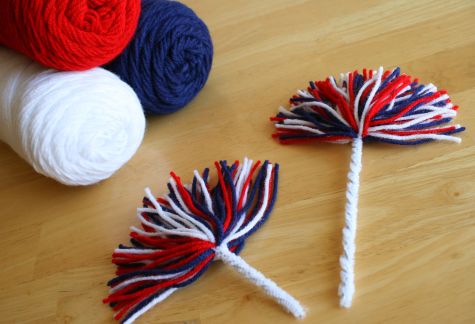 6. Coloring Rice for a 4th of July Centerpiece: We love to color rice, as it's bright and fun and perfect for filling a holiday centerpiece. When the holiday is over, you can re-use the rice for a sensory play bin!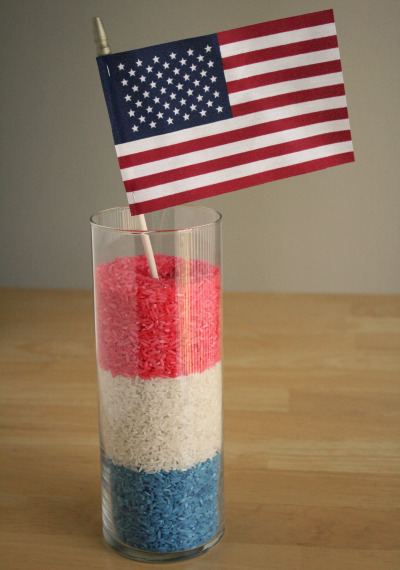 7. 4th of July Coloring Pages: Download and print out these free coloring pages for your little ones to color. They're a great activity to keep the kids busy while you're waiting for the fireworks to start!
July 4th is always such a fun holiday to spend with family and friends, celebrating the birth of the USA! I hope these ideas help to make your holiday even more enjoyable! Happy celebrating!