Everyone knows accessories are what make your outfit! Even kiddos need some good go-to accessories. These simple bracelets are colorful and easy to make, and can even work as updated versions of friendship bracelets. Make a few to give to friends or family. This project is super easy and you probably already have all of the supplies in your home. So gather everything you need and get crafting.
Embellishing Elastic Band Bracelets
Supplies:
Chubby elastic hair bands
Foam stickers
If you buy your supplies at the dollar store, this project can be as cheap as $2 for a whole arm full of cool bracelets. How great is that? Easy on the budget, that's for sure! This will also make a great group craft for birthday parties or scout meetings.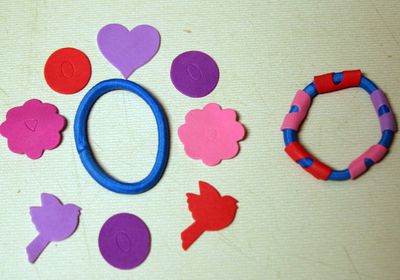 Instructions:
Choose your favorite foam stickers and stick to elastic bands, Band-Aid style (you know, like around your finger). Repeat, and make one for all your friends! It's as easy as that.
More bracelet projects to try:

Heather Mann is a regular contributor at Make and Takes. She's is the mother of three boys, ages 3,  2, and baby. She publishes Dollar Store Crafts, a daily blog devoted to hip crafting at dollar store prices, CROQ Zine, a print magazine devoted to hip crafting, and also CraftFail, a community blog that encourages crafters to share their not-so-successful craft attempts.