My girls love the freedom of creating abstract art projects. They can experiment with colors, shapes, and lines and really enjoy the creative process. For this project, we're basically making a piece of art, cutting it up, and gluing it down to make a whole new creation. Draw, cut, collage!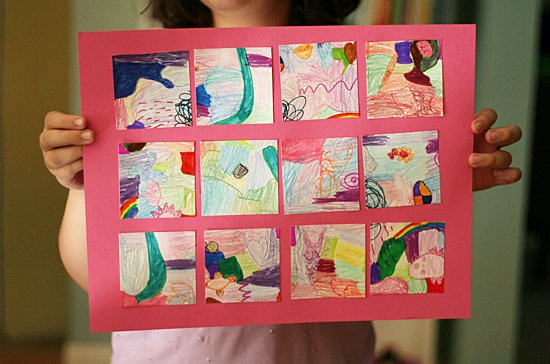 Draw, Cut, and Collage an Abstract Art Project
Supplies:
Pretty much anything goes as far as materials for this art project. If you want a low-mess, quick project, stick with crayons and markers. But, this works equally well with paints, watercolors, oil pastels, or any combination of art materials. This would be fun to do with one of your little one's finger paintings, too!
Instructions:
My girls used markers and crayons, filling their pages with doodles, shapes, and random patches of color. A heavier paper is nice, but not necessary unless you are using watercolors or other paints. They had a lot of fun making their art look as crazy as possible!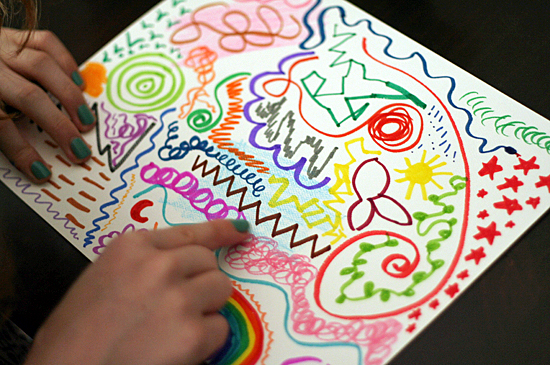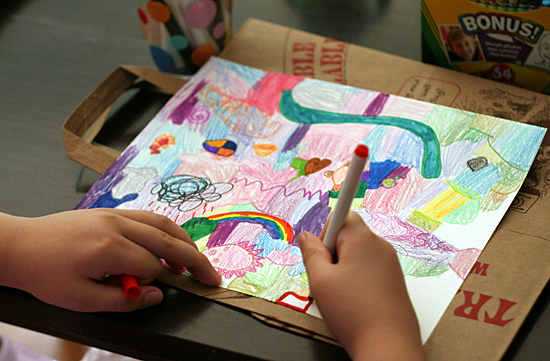 When your artwork is complete, it's time to cut it up! If you used paints, make sure you let your project dry completely before cutting. Cut your paper into strips, squares, or rectangles. Natalie chose to cut hers into 1″ strips, and Delaney went with 3″ squares. I cut these with a paper cutter, but you could also draw lines on the back and cut with scissors.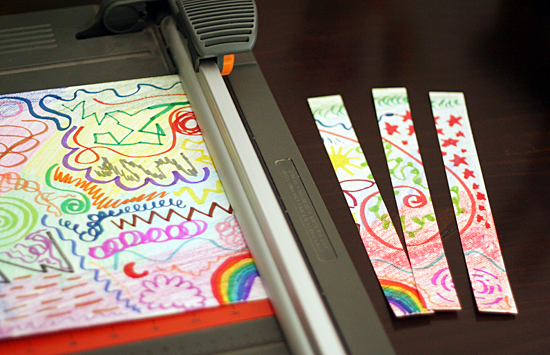 You'll need a larger piece of paper for your background. Our drawings were on 9″x12″ paper, so we used 12″x18″ construction paper for our backgrounds. The background paper was a little bit long, so I just trimmed a couple inches off one side. Mix up your pieces and start arranging them on the background.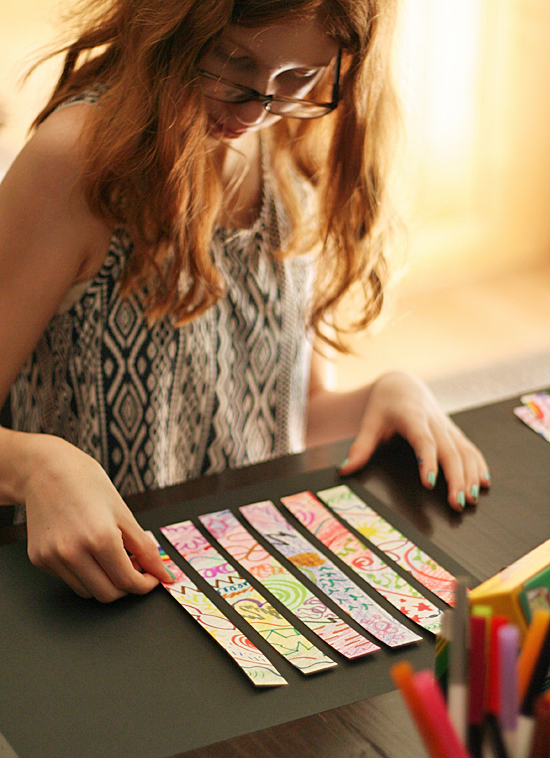 Try different patterns until you find the one you like, then glue your pieces down. You might like an organized grid with equal spacing, or a more random placement. It's abstract art – anything goes!
That's it! My girls found this process really intriguing. We've been brainstorming more ideas to try, like:
Do a drawing with only black pen.
Paint a self-portrait, cut it up, and arrange it in an unusual way.
Draw or paint a landscape.
Take a photo, print it as an 8″x10″, and use it for this project.
Trade some pieces with another person.
Think of crazy, unique titles for each piece of art
I hope you try this with your kids – I think they will love it! Happy crafting!