With the Christmas holiday just around the corner, here's a really artistic and festive way to get crafty with the kids! Make an Abstract Christmas Tree for a fun and different way to decorate.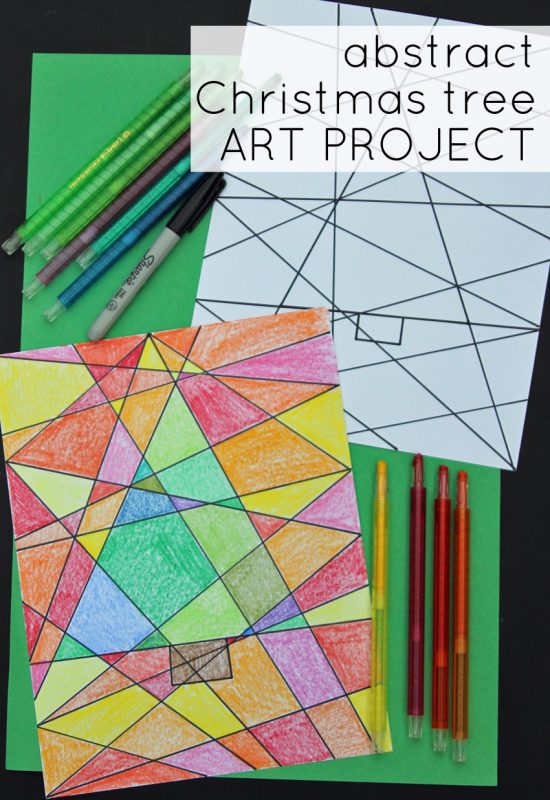 Here's a fun art project for the coloring fans in your house, young or old. These are colorful abstract Christmas trees! By drawing some simple straight lines, you can create your own unique Christmas tree coloring page. This is the perfect project to pull out on a cold day when you can't play outside. I plan to join my kids for some zen coloring time, with some Christmas music playing and a mug of something cozy and warm to drink. How perfect does that sound? Keep reading for all the details on this project. Let's get coloring! 
Abstract Christmas Tree Coloring Project
You will only need a few basic art supplies to make these fun and colorful abstract Christmas trees.
Supplies:
white paper (card stock works well)
black marker
ruler
coloring supplies (crayons, markers, or colored pencils)
Instructions:
With a black marker and ruler, draw three straight lines across the paper to create a triangular tree shape. Draw a small tree trunk, too.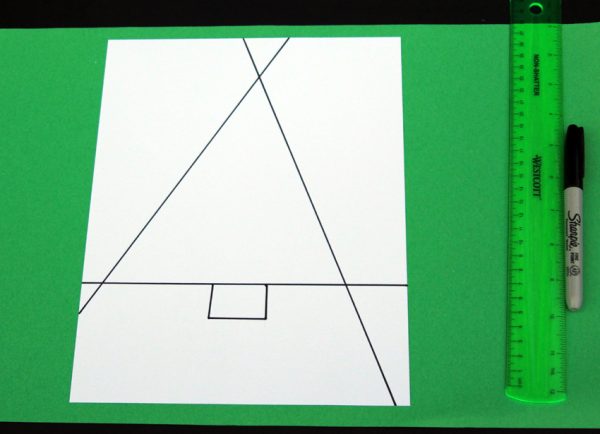 Continue drawing straight lines across the paper in various directions. The more lines you draw, the more coloring spaces you will have. Make it as detailed as you like!
Now it's time to color! You could use crayons, markers, or colored pencils for this project – I like to use something with a large selection of colors.
Start by coloring all the spaces inside the Christmas tree with a variety of cool colors – greens, blues, and purples. I did mostly greens, with a few blue and purple spaces. Color the tree trunk brown.
Once the tree is completely colored, start filling in the background shapes around the tree with various warm colors – reds, oranges, yellows. Continue coloring until the whole page is filled in.
I love how bright and cheery the finished project is! These abstract Christmas trees would also be a fun and easy project to bring on a road trip or vacation. Just do the drawing ahead of time, then bring along a big box of crayons for on-the-go art time! These drawings would even make great gifts to give for the holidays. Tie them up with a treat and pass them out to neighbors, friends, and family.
Happy coloring and Happy Holidays!
Looking for more holiday and winter-inspired drawing projects? Try one of these: