Apples just seem to shout… "Back to School"! Plus they're perfectly in season during the fall! So we're sharing a take on the apple by making art with an apple stamp. Find all those bad and bruised apples and slice them in half to make these apple stamped cards! Just make sure you keep a couple of good ones to the side for snacking on!
Apple Stamped Cards for Back to School
You could make a whole set of cards to gift to teacher. They will love to receive these cards, as they are always needing a few thank you cards for the gifts given to them at the beginning of school. Or you can use them yourself as thank you notes or a fun fall greeting!
I'm sharing the full tutorial and supply list over at CreativeLive for these crafty apple stamped cards. Head over to see the DIY and be sure to sign up with CreativeLive for my upcoming Halloween Party Planning Show. I'll be on LIVE and FREE on October 3rd & 4th showcasing all kinds of fun ideas to plan the ultimate Halloween Party with Kids! RSVP for the show today!
More Fun Apple Crafts for Fall:
Looking for more apple-themed fun this fall? You've come to the right place!
Popsicle Stick Apple Craft
This popsicle stick apple craft is perfect for little ones, and you probably already have all the materials you need to make it!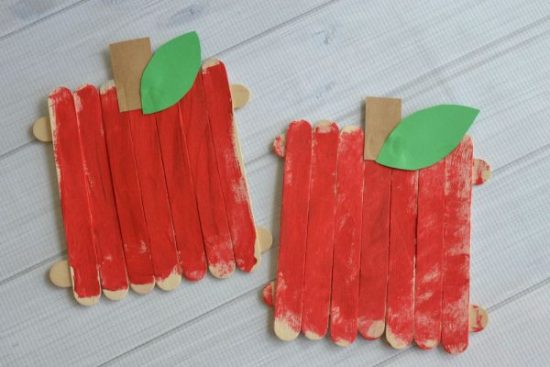 Pipe Cleaner Apples
These little apples made out of pipe cleaners couldn't be cuter, and crafting doesn't get any easier than this!
Apple Shaped Cupcakes for Fall
I don't know about you, but around here we like to celebrate everything with cupcakes! These apple shaped cupcakes are perfect for welcoming fall!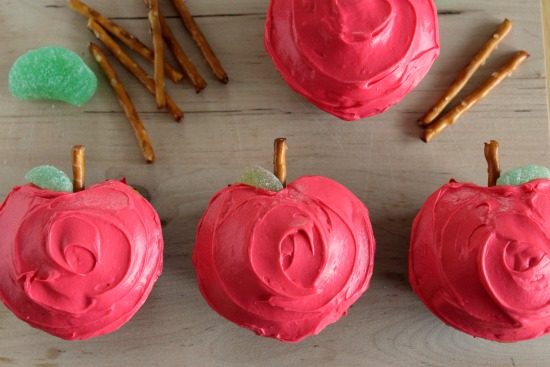 Marble Painted Apples
Another great craft for kids. It's so fun to roll the marbles around and watch the design appear!
Apple Shaped Straw Buddies
These adorable apple-shaped straw buddies will brighten even the dreariest fall day!
Gobbling Turkey Apples
This apple craft tastes good, too! These little apple turkeys are perfect for snacking on while you're waiting for Thanksgiving dinner to be ready!
Apple Stamped Crab Kids Craft
There's more than one way to use an apple as a stamp! This apple stamped crab craft is a fun way to use up apples that are too bruised to eat!