For quite a few years, my girls have been keeping journals. They write about family activities, make lists of favorites, compose poems, and try creative writing techniques for home school projects. This school year, we decided to start new a new project for art journaling to keep things fresh and interesting. So far, the art journaling has been a huge hit!
Art Journaling with Kids: My Hands
One of our first art journal pages was all about our hands. I love that on this one page I have their hand sizes, handwriting, and thoughts all recorded to look back on – so cute!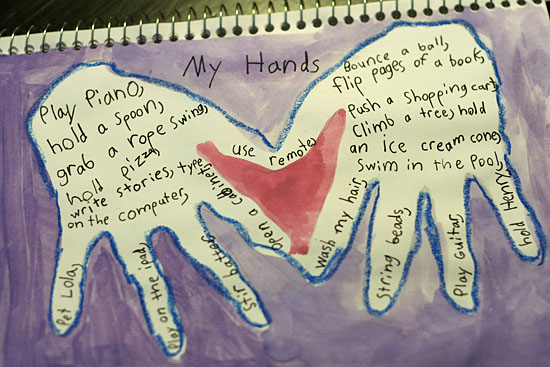 Start by tracing your child's hands upside-down on the page, with thumbs and pointer fingers touching to form a heart shape in the center. I traced their hands with pencil, and they traced over the lines with marker or oil pastel.
Next, decorate the background around your hands. Delaney chose to paint her background with watercolors and Natalie filled her background with blocks of color – using all 64 colors in her box of crayons!
Now, fill the inside of your traced hands with words, phrases, or sentences about all the things you can do with your hands. Big kids can write their own words, and littles can draw pictures or dictate their words to a grown-up. Some of my favorite things the girls came up with: flip pancakes, grab a rope swing, play guitar, and give high-fives.
Of course, you can make this as a stand-alone art project. Or, maybe this will inspire you to grab a few sketchbooks and start a family art journal club in your house. Happy creating!
Want more ideas? Try these other hand art projects: