We've been enjoying a lot of soup this winter in Seattle, it's been a gray and rainy one. And most times, I make soup out of what we have on hand. That's why I LOVE this Simple Italian Soup. It's great for adding in whatever meat you have on hand, as well as simple veggies and spices. Do you have spinach? Or kale? Any greens will work in this soup too!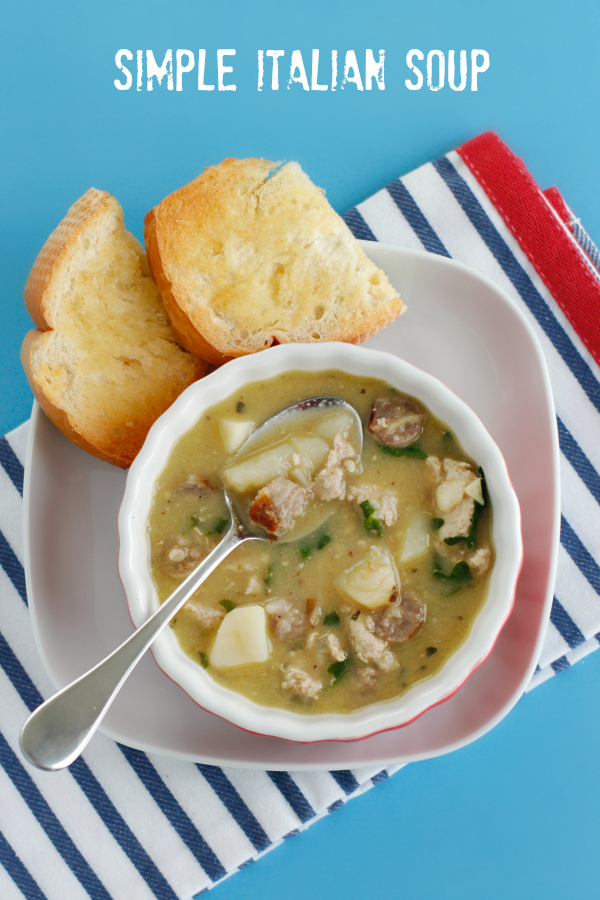 It's perfectly paired with some toasted crusty bread. Dip your bread into the broth for extra goodness! This soup is ready for lunch or dinner. Or I actually just ate some leftovers for breakfast this morning too, ha :)
Simple Italian Soup Recipe
Ingredients:
1-2 lbs cooked meat
– any meat you have on hand, I used 1 lb ground turkey and 12 oz. breakfast sausage links
3 medium potatoes, peeled and diced into 1/2 inch pieces
– I used brown russet potatoes, but you could use red or sweet potatoes.
1 cup greens, chopped in 1 inch pieces
– I used arugula, but you could use spinach or kale
32 oz broth
– I used chicken broth
3/4 cup milk
– I used coconut milk
1 T oil
– I used olive oil
spices
– 1/2 tsp oregano, 1/2 tsp basil, 2 cloves of minced garlic, 1/4 tsp salt and 1/8 tsp pepper or to taste
Method:
1. Cook the meat and drain it. Set it aside and let it cool. If using whole pieces of meat, dice them into 1/4 inch chunks or slices.
2. In the same pan as cooked meat (with all those brown meat juices), add in the oil. Add in garlic and onions. Let these cook and steam for 3-4 minutes. Add in the other spices: oregano, basil, salt and pepper Stir.
3. Add in the diced potatoes and let them brown up a bit on all sides for 1-2 minutes.
4. Add in the broth and bring it to a boil. Once at a boil, turn down the heat to low and let the potatoes soften for 8-10 minutes.
5. Add in the cooked meat to warm back up, also the milk. Add the greens now as well. Stir and let it simmer for another 2-3 minutes.
It's ready for dinner. Yummy simple soup the whole family will love!
Want more soup recipes?
2. Slow Cooker Butternut Squash and Apple Soup