As the weather starts to cool down, it's time to look for comfort food recipes for cold nights. Homemade soup is my ultimate comfort food and we have so many to share with you including 15 winter soups and homemade chicken noodle soup. We are sharing our recipe for a hearty fall harvest soup below too.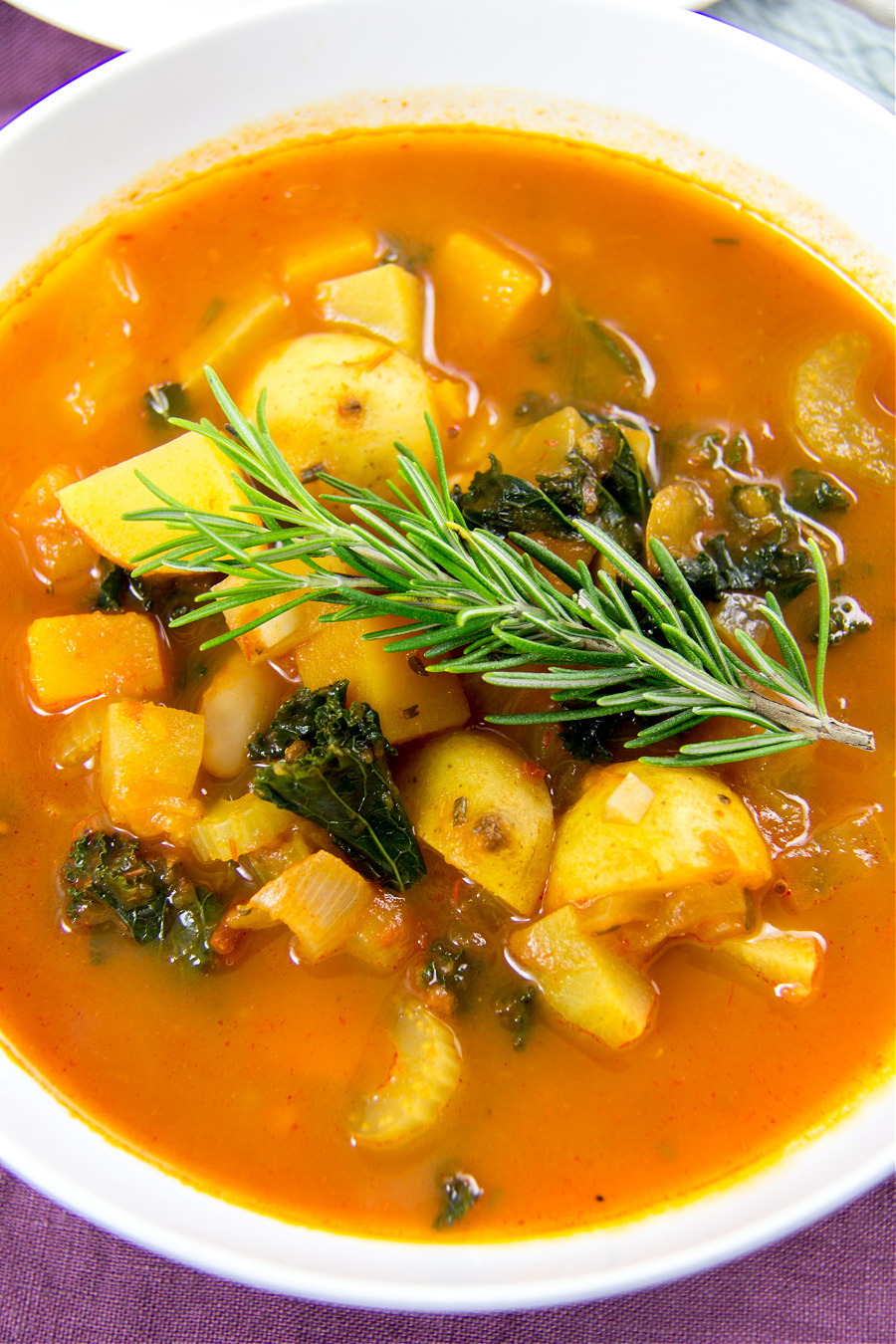 This fall vegetable harvest soup is healthy, hearty, and delicious; the ultimate cold-weather comfort food to pair with warm crusty bread.
How to make fall harvest soup
This one-pot soup is so easy to make, and the perfect way to use up leftover vegetables.
Ingredients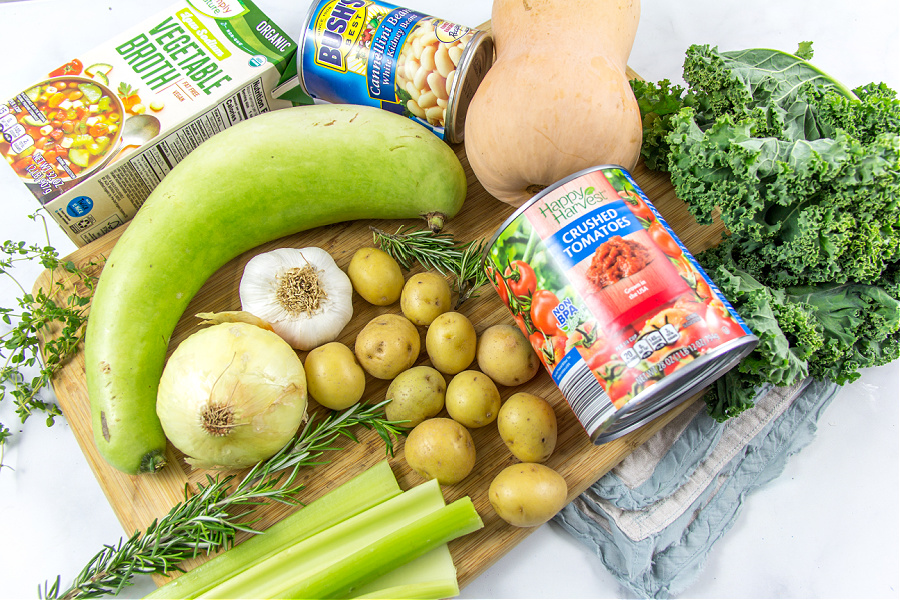 The main ingredients for this recipe are:
Butternut squash
Cucuzza squash
Yellow baby potatoes
Kale
Celery
Onion
White kidney beans
Crushed tomatoes
Vegetable broth
Garlic
Herbs
Just because I used these specific ingredients doesn't mean you have to. There are so many delicious options you can choose to include in yours, or remove from my list if you don't like a particular ingredient. I added cucuzza squash to mine because a local farmer gave me five of these huge squashes recently so I've been adding them to everything.
Here are ingredients that you could add to (or substitute) in your soup:
Smoked sausage
Carrot
Pumpkin
Sweet potato
Lentils
Wild rice
Parsnips
Instructions
The first step to making this hearty soup is to prepare all of the ingredients.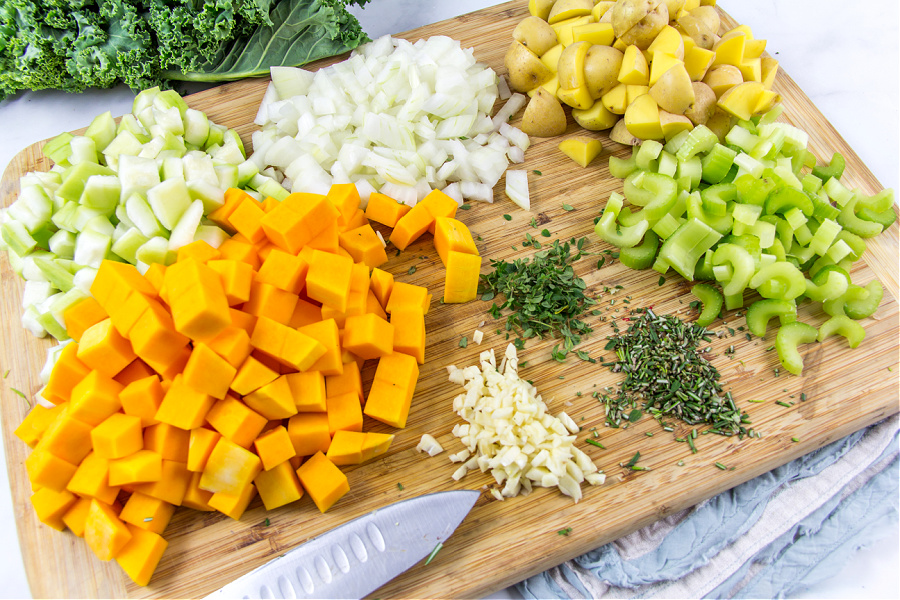 Make sure that the baby potatoes and squash are cubed into small bite-sized pieces. The smaller they are, the quicker the soup will cook (and the easier the soup will be to eat).
If using fresh rosemary, you will need to very finely chop that too. Rosemary is hard, so you will want it to be as small as possible. You could also add an extra sprig of fresh rosemary (for more flavor) to the pot and then remove it before serving the soup.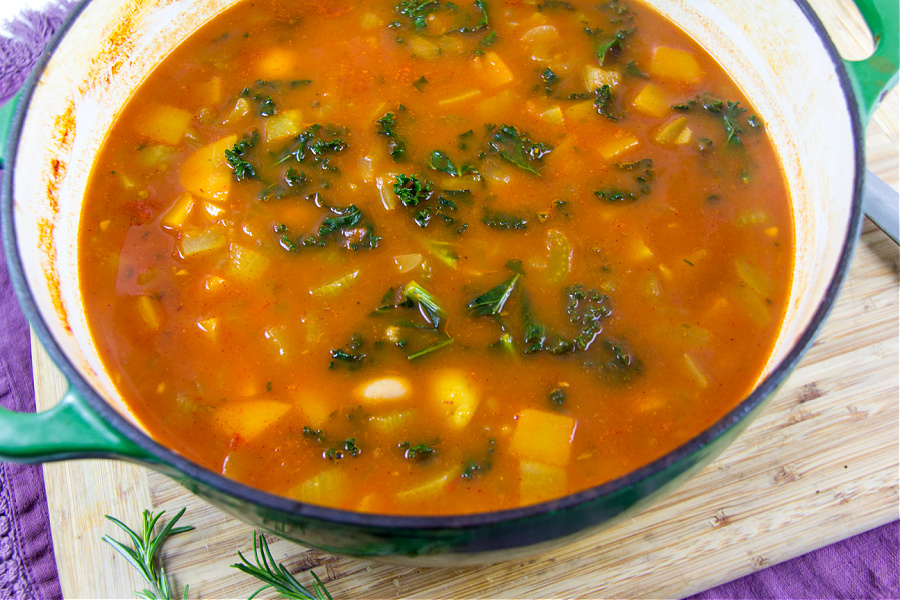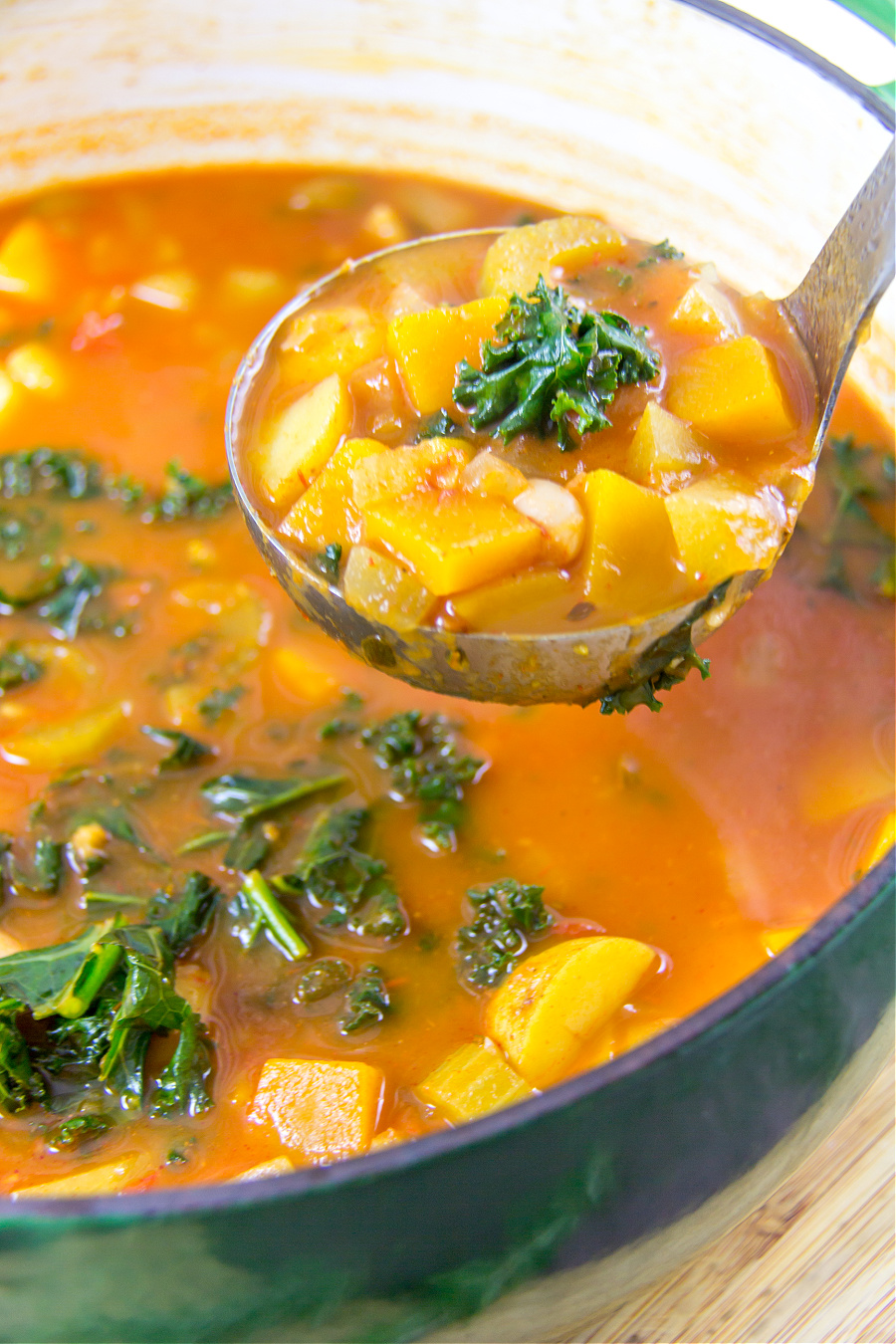 This soup recipe uses just one large pot making clean-up so much easier. Print the full recipe below.

Fall Harvest Soup
A delicious, healthy, and hearty fall harvest soup is the ultimate comfort food.
Keyword:
autumn soup, fall soupll, harvest soup, vegetable soup
Ingredients
1

tbs

olive oil

1

medium

yellow onion

finely chopped

2

large

garlic cloves

finely chopped

2

cups

butternut squash

cubed

1.5

cups

yellow baby potatoes

cubed

1

cup

celery

sliced

8

cups

vegetable broth

1.5

cups

cucuzza squash

cubed

28

oz

can crushed tomatoes

2

tbs

fresh rosemary

finely chopped

2

tbs

fresh thyme leaves

15.5

oz

can white kidney beans

2

cups

kale

roughly chopped
Instructions
Prepare all of your ingredients.

Heat the olive oil in the large pot of medium-high heat.

Add the onion and garlic and saute until the the onion is translucent.

Add the butternut squash, celery, and potatoes, and continue cooking (while stirring occasionally) for about 5 minutes.

Pour in the vegetable broth. Turn the heat up to high.

Add the cucuzza squash, herbs, and crushed tomatoes. Stir and bring to a slow boil.

Reduce the heat to simmer and add the kidney beans. Cook for 20 minutes.

Add the kale, stir, and cook for a further 5 minutes. Serve immediately.
Please pin post for later