Do you have a baby turning one soon? Sometimes babies get left out of the big birthdays because they seem too little to party. But they need to have some sort of fun theme to celebrate their first year. So I am sharing a few ideas for an easy Building Block Party, perfect for small babies. These ideas are super simple and won't break the bank.
Building Block Birthday Party
Decorations:
You can make a few of these fun photo cubes with pictures of your baby on it. You could show off all the fun "first" moments from the year.
Invitations:
Print out this Paper Box Pattern. Write out your party details in the squares of the pattern. You can either send out your invitations like this and let your party goers assemble the box, or cut and glue this paper box together handing out your box assembled to each guest.
Food:
Serve juice boxes for the drink.
Cheese squares and square crackers for snacks.
Cake:
Rice Crispy Treat Squares – I added sprinkles to the treats to give it a little more flare for the party. They are the perfect block shape and stack easily!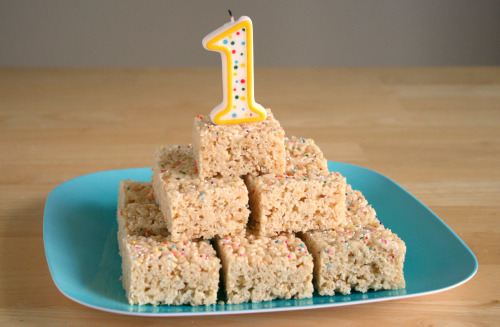 Games:
Stack'em Up – Using all kinds of blocks, small pattern blocks below, have the children build up tall towers. You can even make some fun soft fabric blocks that would be fun for stacking.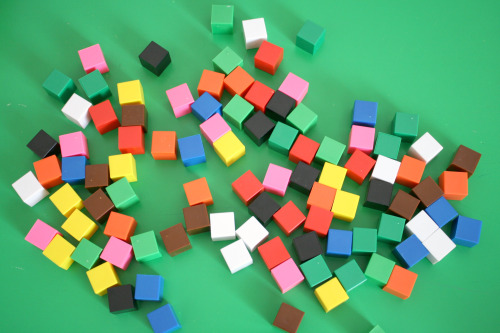 Tub Toss – Using any size clear tub, have the children stand a little ways off and toss in a square bean bag. You can also use these same soft fabric blocks to toss in.
Marshmallow Tinker Toys – Cut bendy straws in half and have the children attach the large marshmallows to either end to create their structures.
Party Bags: Send each child home with a set of blocks. These are foam letter blocks, I found them for less than a dollar at the supermarket. Or you can get the real "abc" blocks. They can be found pretty cheap to at the dollar store.
More themed birthday parties for baby's first birthday:
Looking for baby shower ideas? See these 43 of the Best Boy Baby Shower Ideas!