Can you believe that school is almost back in session? I finally bought supplies this week and can I just tell you how hard it was to not spend money on all the adorable apple-shaped erasers and staplers and tape dispensers! So, instead of spending a bunch of money on unessential things, I got inspired looking through the supply aisles and decided to make our own school supply fun! The kids and I  jazzed-up their brand new, number 2 pencils with some DIY Pipe Cleaner Toppers.
We made all kinds of fun shapes and I photographed a few of our favorites for you. The project reminded me a little bit of making shapes out of balloons in that the possibilities are as endless as your imagination! This project is also the perfect afternoon craft and a fantastic (and super inexpensive) thing to make for friends and teachers at school. Make a bunch and have your kids pass them out to their new classmates.
Pipe Cleaner Pencil Toppers
Supplies:
pencils
pipe cleaners
scissors
Step 1
Select a pipe cleaner and grab a pencil. Twist your pipe cleaner into any shape. Think: geometric shapes, hearts, starts, diamonds, lighting bolts and you can even twist to form a cute apple! Use only the first four or five inches of the pipe cleaner to form the shape because you'll need the rest for the next step!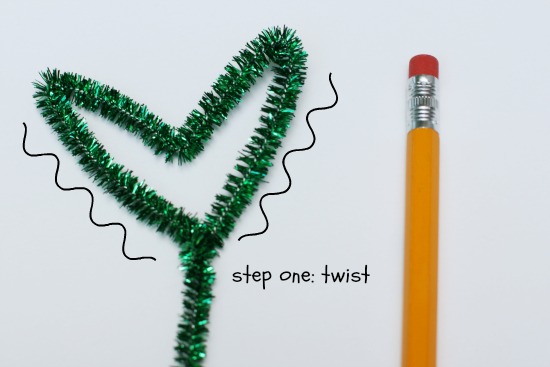 Step 2
Wrap the remaining portion of the pipe cleaner around the eraser side of your pencil in a spiral fashion. Secure by pressing your fingers firmly around the pipe cleaner so it hugs the pencil snuggly.
Repeat these two steps as many times as you wish creating endless designs for your pencils. Destination school never looked better!