We're planning quite a few breakfast picnics this summer. We're in the middle of a streak of 100°+ days. I even saw 115° in our upcoming forecast – phew! While we love eating outside in the summer, it's way too hot for a picnic by the time lunch rolls around. Just can't stay outside for that long in that hot hot heat. We can get up and out of the house early, while the air is still slightly cool, and head to a favorite park for playing. Plus, eating breakfast outside is a nice change of pace! Changing things up is sometimes a good idea.
Beat the Heat with a Breakfast Picnic
A plastic bucket is the perfect container for a summer breakfast picnic, don't you think? My girls were pretty excited to see what goodies I packed inside. You can customize your breakfast picnic with whatever your kiddos like to eat. I kept ours pretty simple, including some convenience items that we don't eat very often. It's always fun to throw in a couple extra surprises. Don't forget to pack things you will enjoy too.
Ideas for breakfast picnic foods easy to pack & eat:
mini muffins or scones
mini bagels with cream cheese
croissants
cut-up fruit in small containers or on skewers
yogurt tubes
yogurt, granola, & fruit parfaits in jars
egg muffins (make the night before)
applesauce pouches
granola bars/cereal bars
string cheese
little oranges
juice boxes, smoothies, or milk cartons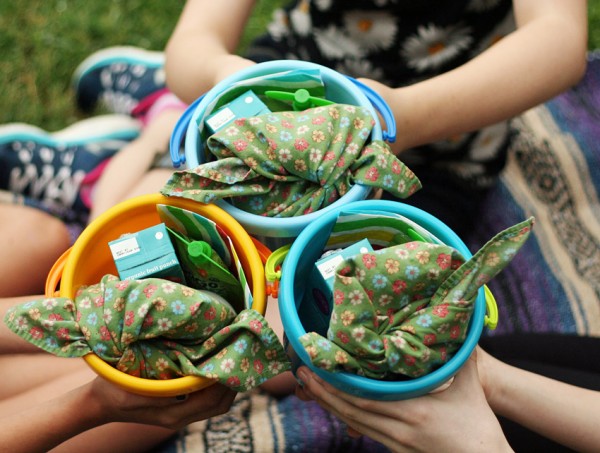 I wrapped a variety of bakery treats (mini muffins, scones, and bagels) in cloth napkins. These napkins made the perfect personal tablecloth for each kid! If you don't have cloth napkins, a square of fabric would work great, too. Aren't these little packed breakfasts so cute? I love this fun idea and so do my kids!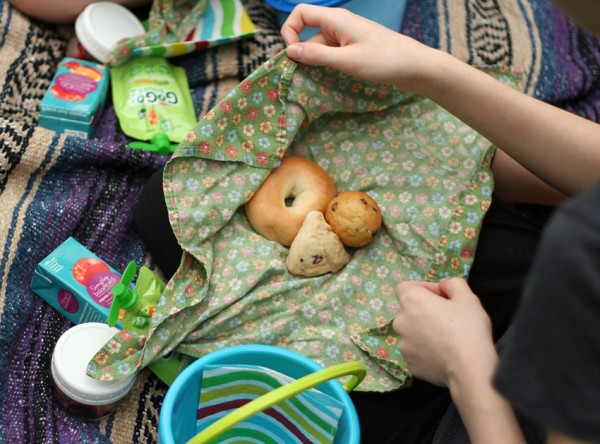 Our first breakfast picnic of the summer was a big success! After a busy morning eating and playing at the park, we were ready to hunker down for games, reading, and play time during the hot afternoon. I hope you and your kiddos will venture out for a breakfast picnic adventure of your own! Hoping you and yours stay cool this summer.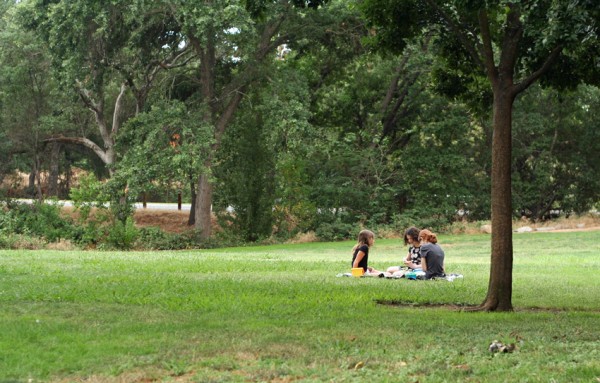 This post is part of our Get Out and Play Summer Series! Be sure to see all posts in our series to help your family find something fun to get outdoors and play this summer!