I love coming up with simple and fun learning activities to do with my kids at home. Making learning fun has always been important to me. My second child is in preschool this year. He is learning letter recognition in class. I wanted to come up with an easy alphabet activity that we could do at home. With the holidays coming up I decided to come up with a Christmas inspired ABC's activity. A candy cane alphabet hide and seek game would be perfect. Easy to prep and a lot of fun for the kids. This is also something we can do over and over again.
Candy Cane Alphabet Activity
Supplies for Candy Cane Alphabet Activity:
plastic candy canes
painters or washi tape
sharpie marker
Directions for Candy Cane Alphabet:
First start out and fold tape over on the candy cane. I chose painters tape so I could peel it off easily later and reuse the candy canes if I decided to.
I took a black sharpie marker and wrote the alphabet out in upper case or capital letters.
How to play Candy Cane Alphabet Hide and Seek:
Take the candy cane letters and hide in the yard or in the house.  You can play this inside or outside.
Once all the candy canes are hidden let the kids seek them out.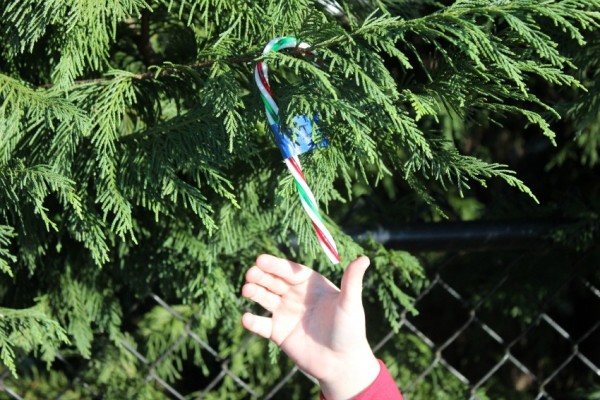 3. After the kids have found all 26 letters have them work on putting the alphabet in order from A to Z.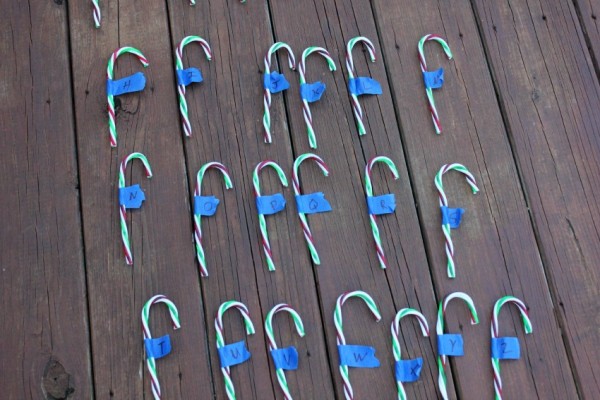 This easy candy cane activity is a great way to learn the letters in the alphabet.  And my kids give it 2 thumbs up. Your kids will love this activity as well. You can even go over letter sounds with the kids as you sort. So glad the kids could have a good time while learning. Have fun with candy canes!
SaveSaveSaveSave