I am all about the potato life; potato chips, baked potatoes, mashed potatoes, and French fries. I love them all, including potato salad. During the summer months, I make a cold potato salad with egg and bacon that we serve alongside grilled meats or seafood. You are going to love this warm potato salad though, which is perfect during the cooler months.
Cast-Iron Skillet Warm Potato Salad
I've made a little twist to this potato salad… it's warm, it's delicious, it has bacon, but I also added ground sausage. So now, it's almost a meal in itself. Serve it with grilled corn and your favorite green vegetables.
Warm Potato Salad
This warm potato salad with bacon and ground sausage takes about 35-minutes to cook, but can be made ahead of time and reheated, or kept warm in the oven until ready to serve.
Although this is mostly a one-pan dish, you will need to boil the potatoes a little first to reduce the starch in them.
Pop the whole baby potatoes into a pot of cold water with a pinch of salt, bring to the boil, and then boil for about 5-minutes. Strain and cool them before cutting them in halves or quarters.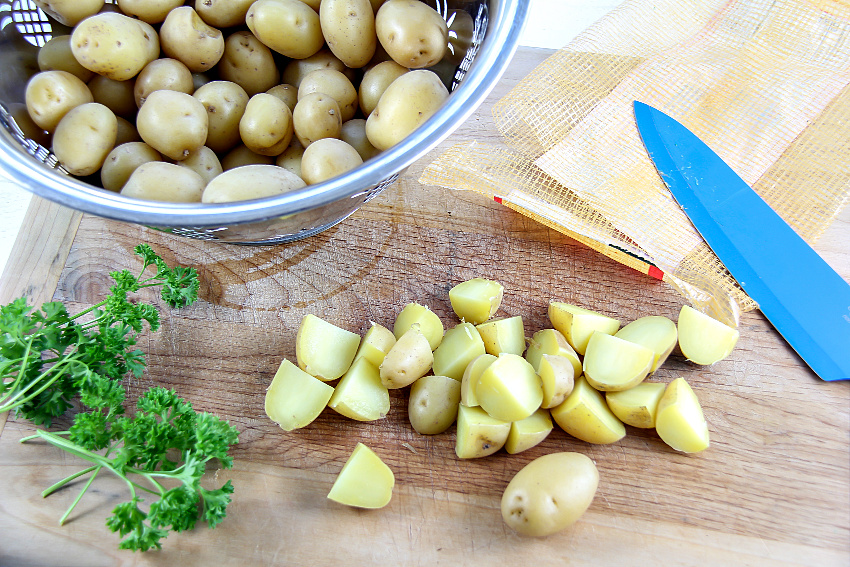 While the potatoes are boiling, you can begin cooking everything else in the skillet. Start with the bacon, removing it to cool before chopping it into pieces, add the sausage, again, removing it to drain the excess oil, and then cook the onions until translucent. You are essentially going to be cooking everything in the bacon fat for more flavor, so aside from spraying the cast-iron skillet with a little cooking spray (if you like), you don't need any other oil or butter to make this dish.
In a jar, combine everything for the dressing (listed in the ingredients list below).
Add the potatoes, sausage, and bacon back into the skillet with the onions and toss to coat the potatoes with the bacon fat. Pour the dressing over the top, and again toss to coat everything, and then pop your skillet into the oven on 375F for about 15-minutes. I like to poke one of the potatoes to make sure they are soft, but not falling apart.
Remove from the oven and garnish with fresh parsley.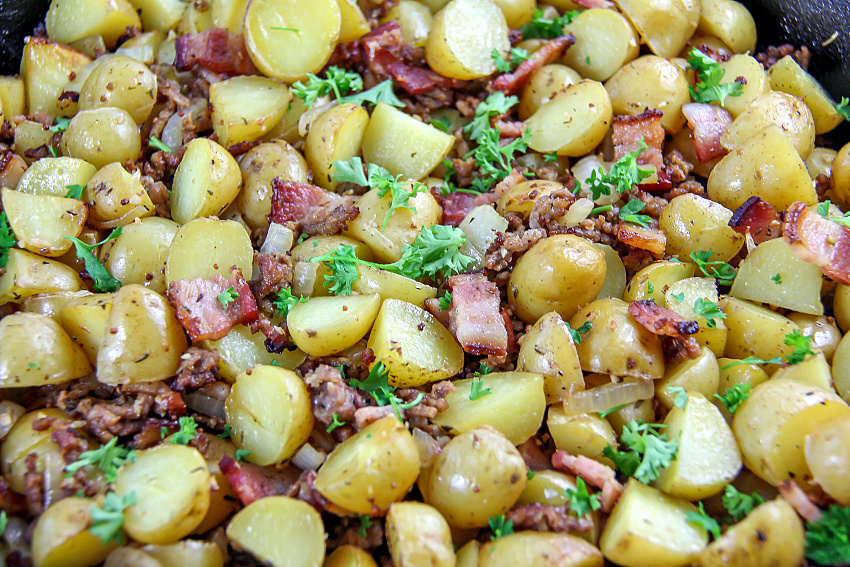 Transfer to a serving dish and enjoy!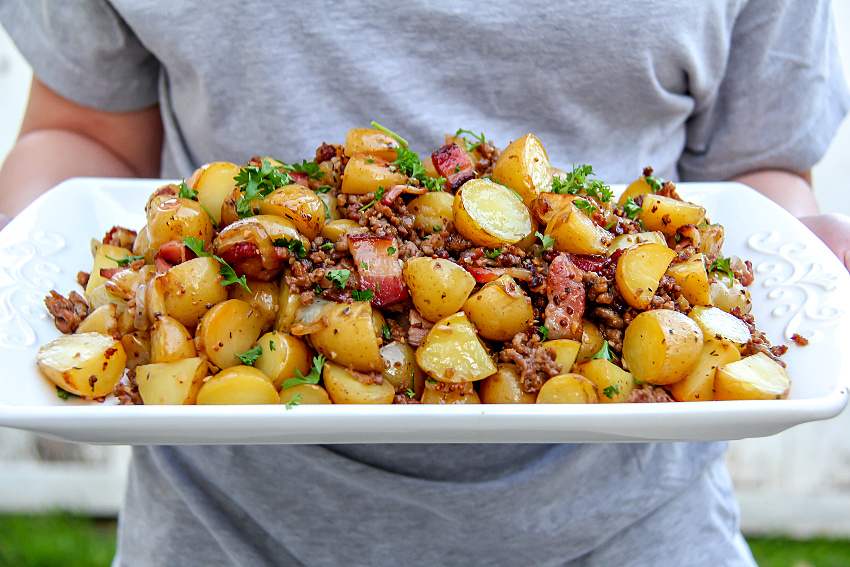 Please Pin Post For Later: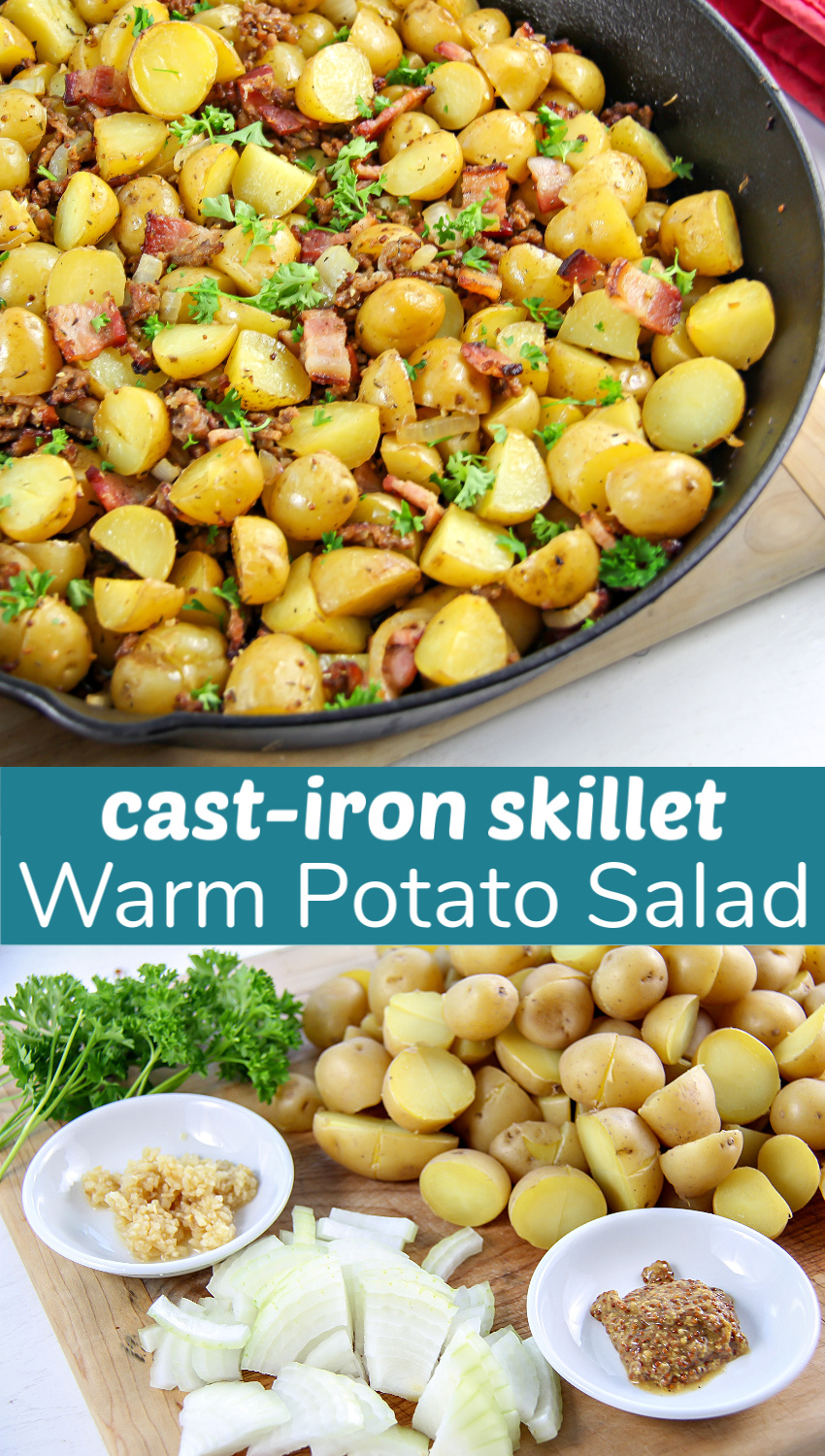 Warm Potato Salad
A cast-iron skillet warm potato salad recipe with bacon and sausage
Keyword:
cast-iron skillet recipe, potato salad
Ingredients
2

lbs

baby potatoes

6

rashers

thick-cut bacon

1

lb

ground sausage

1

yellow onion

(mine was large so I used just a half)

2

tsp

crushed garlic

2

tbs

apple cider vinegar

1

tbs

stone ground mustard

1

tsp

dried thyme

1

tsp

sugar

1

pinch

salt & pepper

parsley

(garnish)
Instructions
Add potatoes to a pot of water with a pinch of salt, bring to the boil, and then boil for 5-minutes. Remove from the heat, drain, and cool before cutting them into halves or quarters.

Add bacon to a cast-iron skillet (you can use a little cooking spray first if you like). Cook evenly on both sides until cooked, but not crispy. Remove from the pan and pop on paper towels to remove excess oil and cool before dicing.

Add sausage to the bacon fat in the skillet and cook completely. Again, remove from the pan and pop onto paper towels to drain excess oils.

Add the onions to the skillet and cook those in the bacon fat too. Once translucent, add the potatoes back to the pan, toss to coat with the bacon fat, and then add the diced bacon and sausage back to the skillet as well. Reduce the heat to simmer.

Combine the mustard, vinegar, garlic, pepper, sugar, and thyme in a small jug and pour over the potatoes. Toss until everything is coated. Remove the skillet from the heat and transfer to the oven for approximately 15-minutes.