Have you ever made drawings with glue and colored sand? If you haven't, you should definitely try this project. This is a fun and tactile project for your little artists – colorful drawings made with glue and sand. Drawing with a glue bottle takes a little patience and control. This is good for working on those fine motor skills. After the glue part is finished, you get to go a little crazy and cover your design with brightly colored sand. Sounds fun right? Your kids are going to love this craft and ask to do it again and again! The best part is you can draw whatever shapes, animals, or words for this art project. Hope you like it!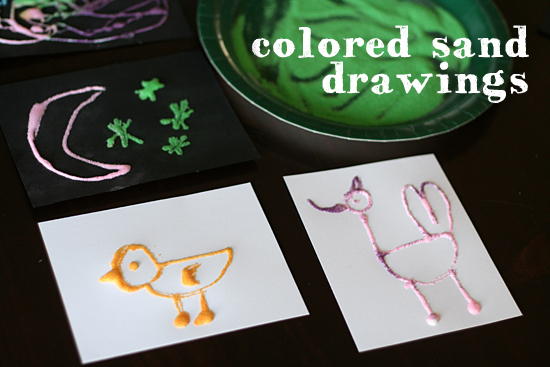 Colored Sand and Glue Drawings
Supplies for Colored Sand & Glue Drawings:
bottle of white glue
paper – construction paper or card stock
colored sand
plates, trays, or dish tubs for sand
You can find colored sand at the craft store, or order online from Discount School Supply. A little goes a long way – our supply has lasted us for a few years of projects! You can also make  your own colored salt for this project using the tutorial at Flax & Twine.
Gather some plates, trays, or plastic tubs for sprinkling and dumping the sand. If you're crafting with little ones, I highly recommend using tubs to contain the mess.
The first step is drawing a picture with glue. We used small pieces of paper to keep our designs simple. Draw a simple shape, animal, person, or even an abstract design of lines and dots. It takes a little practice to control the glue – remind your kids to touch the paper with the tip of the bottle and gently squeeze as they move.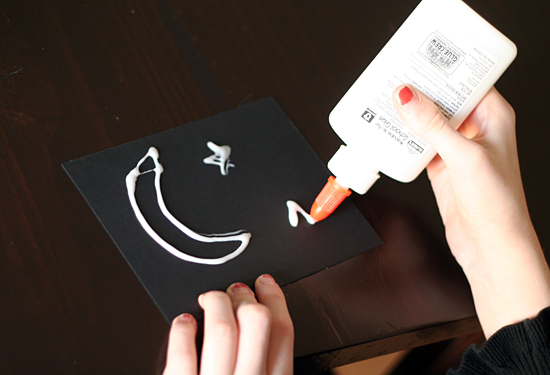 When the glue drawing is complete, cover the design completely with sand. Use just one color for the whole picture, or do parts in different colors. Just sprinkle and dump each color before moving on to the next.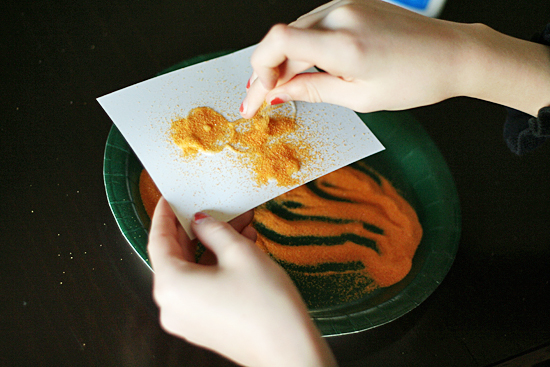 When your glue is covered with a thick layer of colored sand, dump off the extra sand and gently tap your paper to reveal your picture.
Let dry completely and display! We especially like the way the colored sand pops on the black paper. So pretty!
The colored sand is fun to play with, too – don't be surprised if your kids want to spend some extra time running their hands through it.
Happy creating!
SaveSave
SaveSaveSaveSaveSaveSaveSaveSave