We do a lot of simple paper and glue collage projects at our house – they are no prep, low-mess, and every project turns out uniquely beautiful! Those are the best kinds of crafts right? We often make more abstract designs, but sometimes it's fun to collage an animal or scene. Any favorite animals you've been wanting to craft lately? I love owls- they are too cute. These fun and funky owl collages are made with a variety of colorful papers cut into simple shapes. Sounds easy enough right?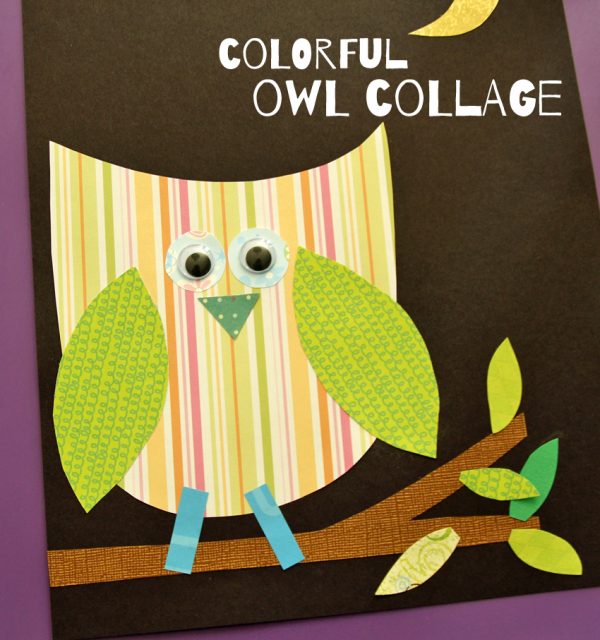 Colorful Owl Paper Collage
assorted colorful, patterned papers (paper scraps work great!)
black construction paper
googly eyes
scissors, glue stick, and white glue
You will need an assortment of colorful paper for this project. This is a great time to use up some paper scraps from your stash! You could also use wrapping paper, magazine or catalog pages, or recycle some of your kids' artwork.
Cut the owl's body, wings, legs/feet, beak, and eyes from various papers. Draw each shape on the back of the paper before cutting, or cut the pieces freehand. If your little ones aren't proficient with scissors yet, you could pre-cut the pieces for them to assemble.
If you want to add any other details to your picture, such as the moon, stars, trees, or branches, cut those as well. I find this is where kids often get very creative, adding things like flowers, food, houses, clouds, or baby owls. Anything goes!
Now it's time to assemble your picture. I like using black paper for the background, since the colorful papers really stand out on black. Using a glue stick, assemble your owl and other details on the background paper.
When your paper pieces are all glued down, add some googly eyes for a finishing touch. White glue works best for attaching the wiggly eyes. Look at that cute owl!
Of course, you could make other colorful animals with this same mixed paper collage technique. How about a family art night where everyone crafts their own colorful collage animal? Sounds like fun to me!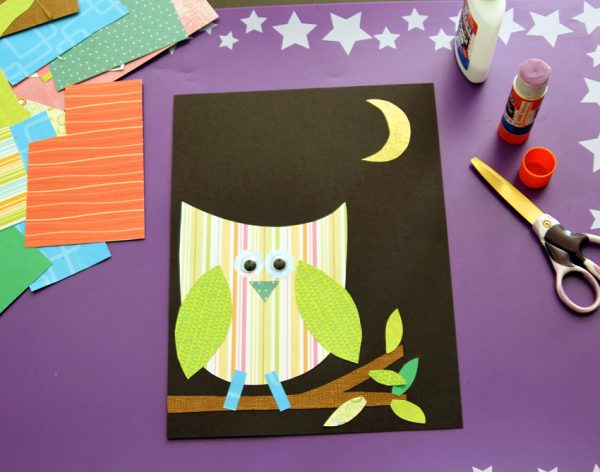 Looking for more stash-busting paper projects? Try these fun projects:
SaveSave