This colorful paper gumball machine collage project is perfect for preschool and young elementary kids who have basic tracing, cutting, and gluing skills! With just a few basic shapes, you and your child can create a fun paper gumball machine collage. How many gumballs will you put inside?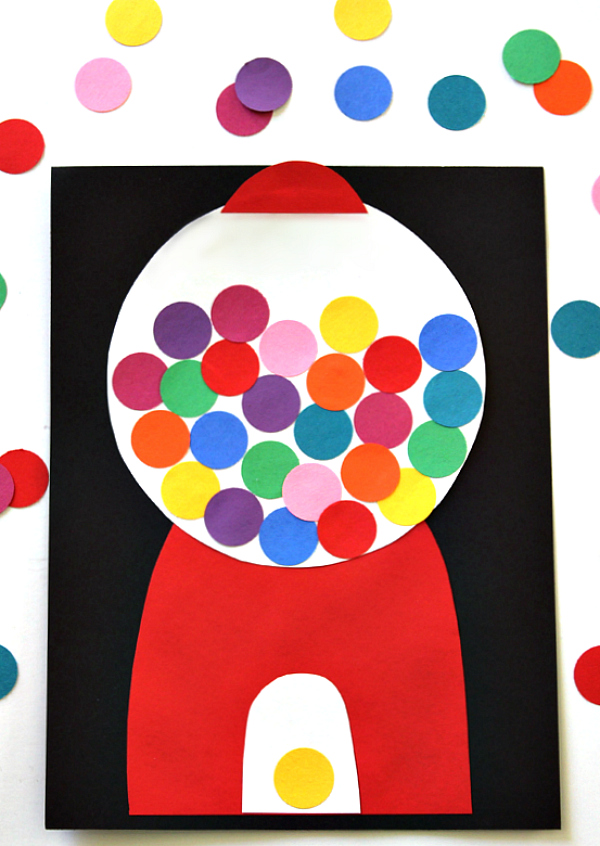 On a recent library visit, my four-year-old and I read Keith Baker's Gumballs: A Mr. and Mrs. Green Adventure. In this story, Mr. Green, the crocodile, wants to guess the number of gumballs in a giant gumball machine. My little guy was very intrigued by the colorful gumball machine, so we decided to make one of our own!
Colorful Paper Gumball Machine
Supplies:
1 sheet each of red, white, and black construction paper
construction paper scraps, assorted colors
1-inch circle punch
scissors
glue stick
Let's start by drawing a few basic shapes to build the gumball machine. On the red paper, draw a big hill shape for the base of the gumball machine. Then, on the white paper, trace a large circle using a bowl or lid, as well as a small hill shape. The circle will be the bowl of the gumball machine, and the small white hill shape will be the door where the gumballs come out.
Cut out the shapes you traced and drew, then assemble and glue onto the black background paper. If you like, cut-out and attach a small red rectangle or semi-circle for the top of the gumball machine.
Now, it's time to make lots of colorful gumballs! This is where a circle punch comes in handy. You could trace and cut a bunch of little circles, but that would get pretty tedious. The circle punch is a fun tool to have on hand – even my four-year-old can press the lever to make perfect paper circles.
Using colorful construction paper scraps, punch out a bunch of circles.
Once you have a nice pile of colorful circles, use a glue stick to fill the gumball machine with paper gumballs. You can even add a gumball coming out of the little door! Your kids don't know it, but sticking down all those little circles is excellent fine motor work for their little hands.
I love how bright and cheerful these gumball machine collages are! After we finished our super-cute gumball machine, we had fun guessing and counting the gumballs inside. We also had so much fun punching paper circles, that we can make even more gumball machines!
Even more fun with gumballs: