It's midsummer and I'm pretty much out of fun kid's activities. My idea reservoir has run completely dry. And we still have about a month and a half left of summer. Luckily it's part of my job to round up easy and entertaining ideas for you guys! My kids LOVE chalk- do yours?? I decided it was time to switch up our same sidewalk chalk routine and try some different ideas. I found 9 Now Ideas for Getting Crafty with Chalk Art and I knew I had to share them with you. Hooray for new ideas to keep our kids entertained this summer. I need all the help I can get.
9 Now Ideas for Getting Crafty with Chalk Art
1. DIY Sidewalk Chalk Paint: This is one of our FAV chalk activities. Seriously the easiest chalk paint ever. You're kids are going to love it- and it washes off with water!
2. DIY Spray Chalk: The possibilities are endless with this DIY spray chalk. It's easy to clean up, and the kids can start with a blank canvas again.
3. Sidewalk Chalk Games: Dots and boxes is one of the best games to beat boredom! We play this in restaurants or on road trips. Take it outside with chalk on the driveway.
4. DIY Chalk Art Racetrack for Kids: Need to beat the heat this summer? Take the chalk art inside with this DIY racetrack activity. DISNEY THEMED TOO – our fav! (via My Frugal Adventures)
More Ideas for Getting Crafty with Chalk Art:
5. Color Changing Sidewalk Chalk: Only 3 ingredients to make this super cool color changing sidewalk chalk. So fun right?? AND easy! (via Frogs and Fairies)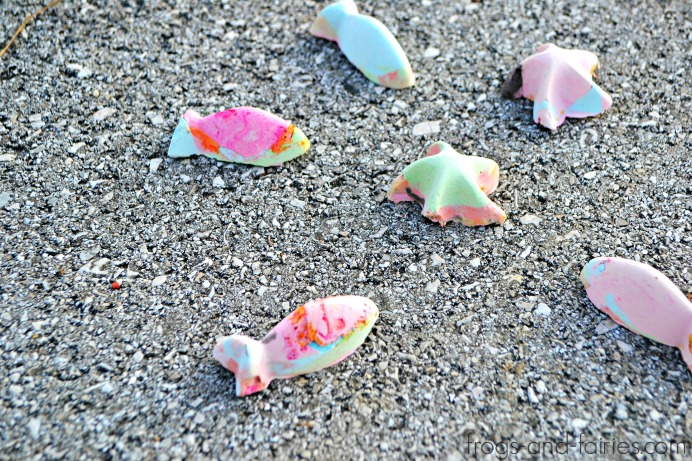 6. Wet Sidewalk Chalk Activity for Kids: Here's a chalk hack that will change your sidewalk decorating for the better! This tip makes the chalk colors more vibrant and easier to work with. (via Happy Hooligans)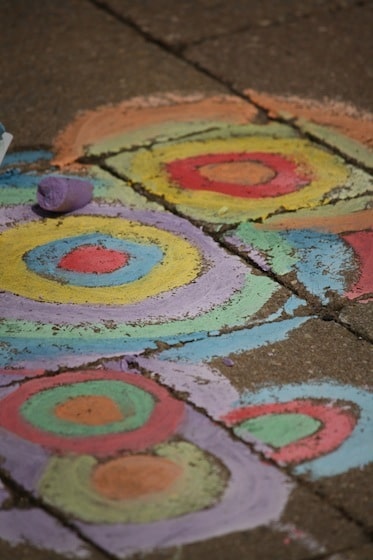 7. Sidewalk Chalk Board Game for Families: Get outside with your family and play a giant board game on the driveway or sidewalk with chalk. Your kids will go crazy for this awesome idea. (via Views From a Step Stool)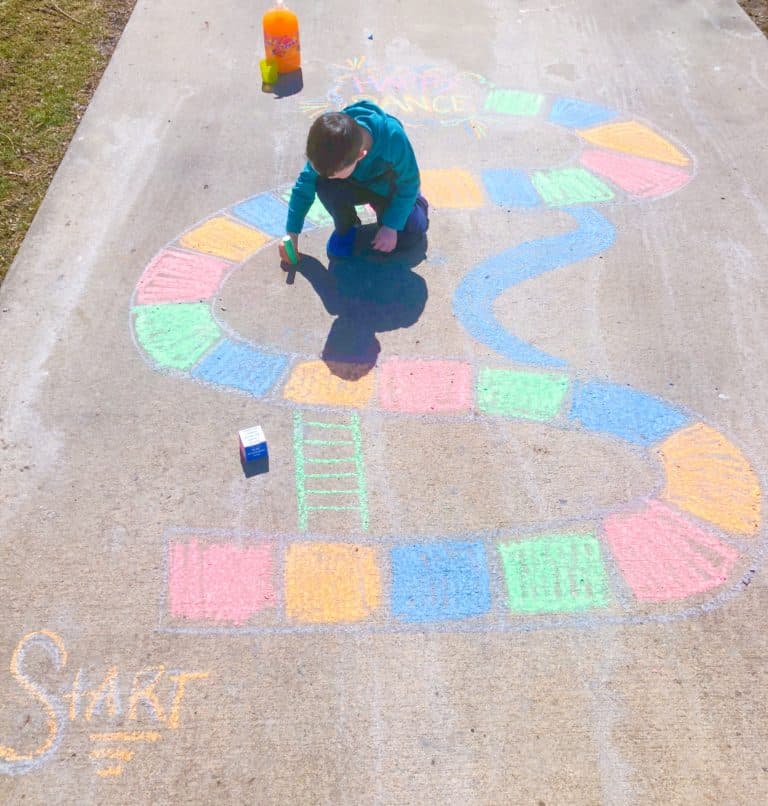 8. Easy Stained Glass Sidewalk Chalk Art: Create the most beautiful chalk stained glass look with just one tool – painters tape! How simple is that? (via Hip2Save)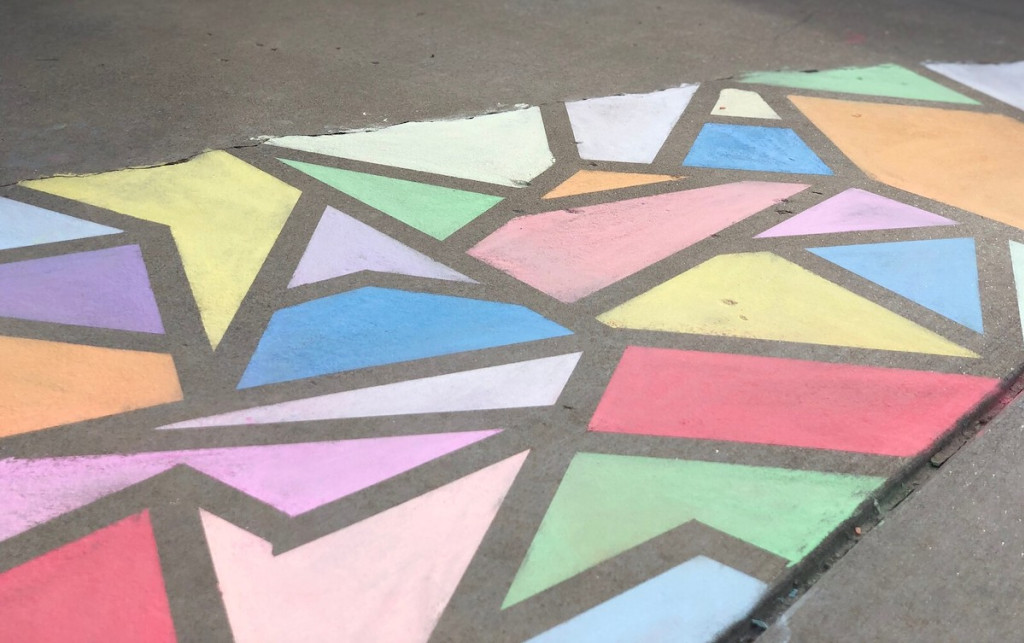 9. Chalk Art Shooting Star Craft Idea: I love a cute and easy kid's craft- this one is perfect! You'll need black construction paper, sidewalk chalk, scissors, glue, and a few other things you can find through the link. (via Glued to my Crafts Blog)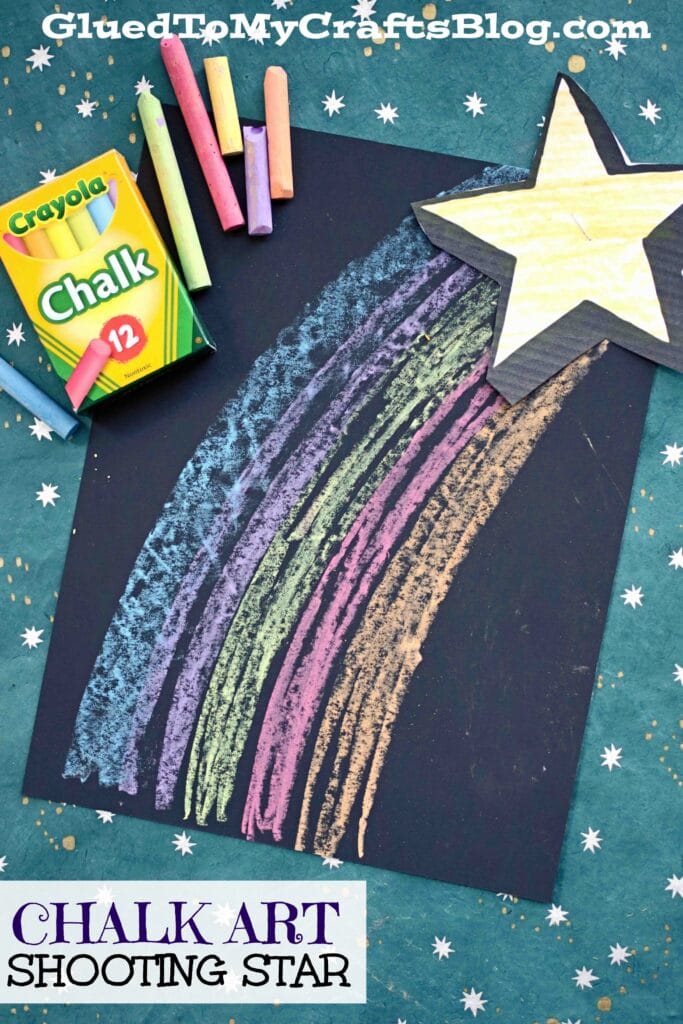 Pick one of these ideas, grab your sidewalk chalk, and get started!